Stellaris is the best flawed game I played in 2016. There was so much potential in Paradox's spacefaring grand strategy game, whether you were looking for Star Trek or Star Wars or Babylon 5 or Battlestar Galactica or some other science fiction icon. Stellaris had the seeds of all of them.
Mentioned in this article
Stellaris [Online Game Code]
Price When Reviewed:
$39.99
But just the seeds. Every system felt a bit underdeveloped, and the late-game especially became a chore—there wasn't enough to do, nor anything to really see. The galaxy discovered, your neighboring empires entrenched, your own empire consolidated. Boring.
Luckily "So Much Potential" is the realm Paradox loves to inhabit most, with its fondness for releasing expansion after expansion after expansion. The first of those major expansions? Utopia, which we got a brief look at last week.
As previously announced, Utopia revolves around Megastructures: Dyson Spheres, Ringworlds, Sensory Arrays, and Science Nexuses. These are late-game structures which, even flush with cash, will still take years and years to construct. Ringworlds, for instance, require building the basic structure, then building the individual sections into something livable to expand your population.
Each has staggering benefits and equally staggering consequences. Most interesting is the Dyson Sphere—while it provides a staggering 400 Energy to your empire, it turns out that encircling the sun in solar panels has dire consequences. Namely, all planets in the system turn into the "Arctic" type. Ringworlds? A construction project that needs big resources, and by resources I mean "It consumes all the planets in the system."
For those who want to play god to a lesser extent, there's also the Not-So-Megastructure, the Habitat Station. "Not-So-Mega" is a relative term though, as it entails building an entire artificial planet, allowing you to expand your population even if your empire hides away in a remote corner of the galaxy. It's still a huge undertaking, though without the dire consequences of its larger siblings.
Megastructures are just the eye candy for Utopia, though. And weird eye candy at that, given some of these are already well-known Stellaris mods.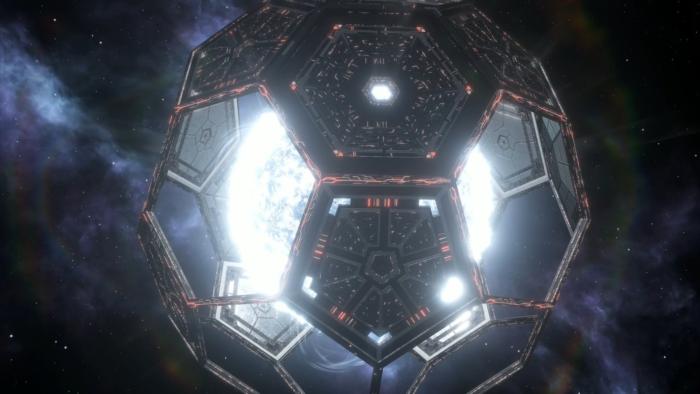 More interesting are the various Ascension paths added—late-game choices that determine the future of your up-and-coming species. If Paradox's games are about using systems to drive stories, Ascension paths are Utopia's way of adding pages to the book.
Borrowing from Civilization, your empire will now progress down various Civics trees in addition to technological research. Finish a tree, you'll get an Ascension point and can opt for one of three paths: Biological, Synthetic, and Psionic.
It's pretty standard science fiction. The Biological path enables your race to take further advantage of Stellaris's gene modding, while Synthetics will first turn into cyborgs and then later into a fully robotic race. Most intriguing are the Psionics, which Paradox said will eventually "breach the shroud" between dimensions, with potentially dire consequences.
Now, how much depth there is to this system? And how much it will affect your playthrough? I don't know. We were rushed through a twenty-minute or so demo, which also had to cover the various Megastructures and some other nifty features—for instance, you can now indoctrinate pre-FTL societies to your own ethics and culture, essentially becoming the butt-probing aliens of yore.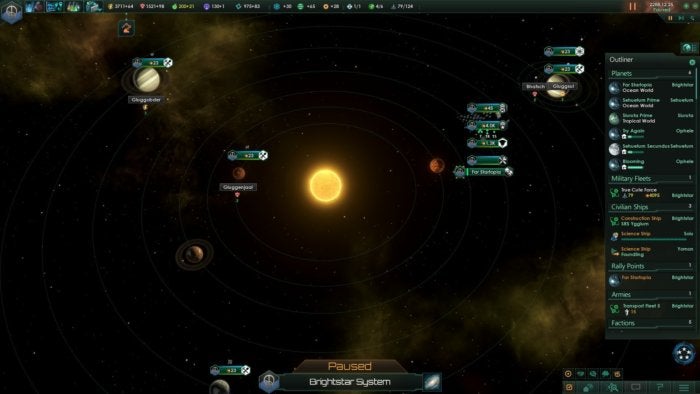 As with a lot of Paradox's stuff, it'll take many hours to see how it all comes together. And I'll admit—part of me is frustrated more of Utopia wasn't in the base game. I love Stellaris, but it could really have used some good late-game content without shelling out for a $20 expansion.
Still, I'm happy Paradox supports its games for the long-term, and happy that the Stellaris team has the time and wherewithal to expound on all that latent potential. Given two or three more years, I'm hoping we'll look back (like with Europa Universalis IV and Crusader Kings II) and say "Rough launch sure, but look at it now." Utopia is a solid first step in that direction—hopefully one that's worth the price.