At a Glance
Expert's Rating
Pros
Impressive styling
Excellent performance with large files
Creative setup routine provides FAT and OS specific partitions
Cons
Weak performance when writing lots of smaller files and folders
Expensive for the capacity
Our Verdict
If you want to impress your mates or office compatriots, pulling this drive out of your briefcase will do it. Slim and light, it's also a good overall performer. That said, it was one of the slowerUSB 3.x drives we've tested when writing large batches of smaller files and folders. Still, a very nice product.
Some would say that there's rarely anything sexy or unique about a USB hard drive. Some would say never. LaCie disagrees, and makes its point with stylishly designed products such as the 2TB Porsche Design Type-C Mobile hard drive. It's undeniably eye-catching, and features a clever dual-partition/file system setup that combines top performance and near-universal compatibility.
This review is part of our roundup of best external drives. Go there for details on competing products and how we tested them.
Compatibility solved
The compatibility of which we speak concerns the FAT/FAT32/exFAT file system, which is supported by all major operating systems, including those embedded in car stereos, DVD players, industrial controllers, and other devices. Its weakness is the relatively slothful manner in which it writes large batches of small files. NTFS on the PC, and HFS+ are much faster with small files on their respective Windows and OS X platforms.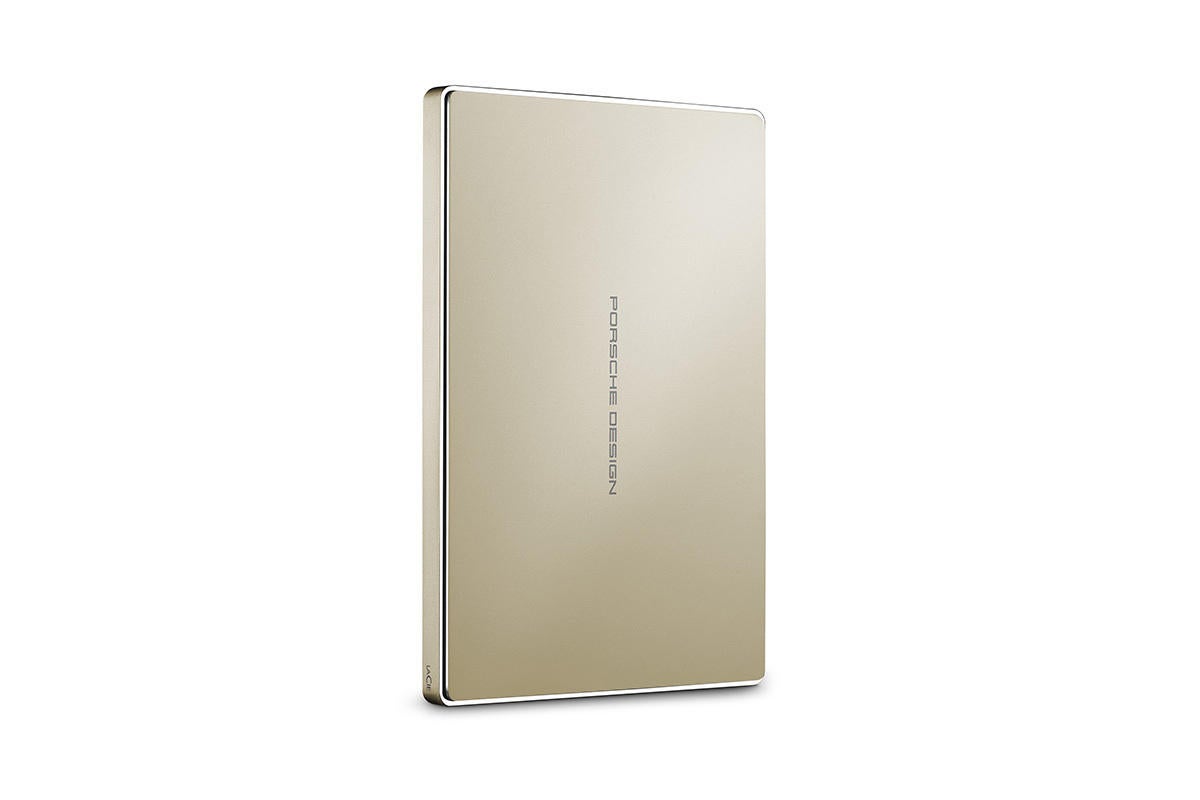 LaCie has made it easy for even the most inexperienced user to glean the benefits of both file systems by dividing the Porsche Design 2TB into two partitions: a smaller FAT32 "Share" partition for compatibility across all systems, and a larger partition that defaults to NTFS under Windows PC, and HFS+ under OS X, under the guidance of a utility that you launch at first run. Slick.
You may, of course, reformat the drive to any scheme you'd like, and any drive can be set up in this manner if you know how. But the utility is a great touch, and as we said, handy for those who don't possess extraordinary computer savvy. LaCie also provides its Desktop manager utility software for formatting, etc., as well as OEM versions of Intego backup and Genie TimeLine backup.
Design
Our test 2TB Porsche Design Mobile hard drive sported a matte light-gold finish (pictured), and measured 3.3 inches wide, 5 inches long, and only about about 0.4 inches thick. It's also available in rose gold and silver, and in 1TB, 2TB, and 4TB (0.8 inches thick) capacities for $110, $150, and $220, respectively. At around 7 ounces, it's relatively light given its rugged construction, and it sports a USB Type-C connector. All models are warrantied for two full years.
LaCie includes both USB Type-C to Type-C and Type-C to USB Type-A cables (for older systems). USB-C's biggest claim to fame is that it's orientation-neutral: You can insert a connector into a port without worrying about which side is the top or bottom, very much unlike USB-A. USB-C has also gained notoriety as the only type of port offered on newer MacBooks. Those are actually Thunderbolt 3 ports, which now use the Type-C connector as well and can operate in USB or Thunderbolt 3 modes. The Mac is the key market for LaCie.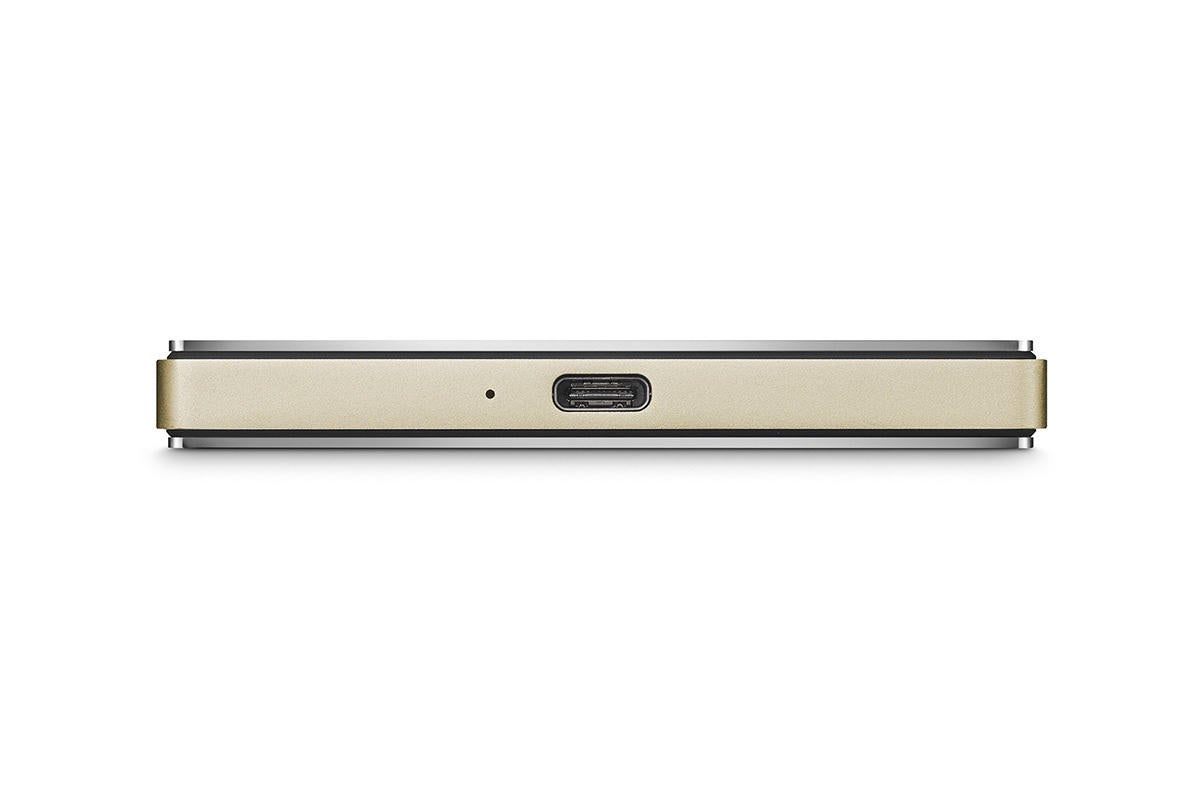 Something that still confuses many users is the relationship between Type-C, USB 3.1, and 10Gbps. Type-C is just a connector, albeit a very welcome one, which was introduced with USB 3.1. The USB 3.1 standard also brought with it 10Gbps transfer rates, doubling USB 3.0's 5Gbps. However, in a real puzzler—nearly as confounding as USB 3.0's "recommended" rather than required color coding for the various speeds—the USB forum didn't mandate that all USB 3.1 Type-C ports support 10Gbps.
Instead, vendors market USB 3.1 drives and Type-C ports that are no faster than USB 3.0. This is called USB 3.1 Generation 1, and the Porsche Design 2TB supports that standard. If it's any consolation, there's no hard drive in the world that will overtax USB 3.0/USB 3.1 Gen 1's 5Gbps transfer rate, so this standard is fine for external hard drives (excluding some RAID setups). This is not the case with SSDs, but that's a different article.
Performance
The Porsche Design's performance lived up to expectations with large file transfers. However, at the point in our 20GB small file and folder write tests where most USB 3.0 drives kick up to around 100MBps, the LaCie drive curiously hovered around 80MBps, hitting 100MBps or higher only with the largest files. This a phenomenon that we generally see only with FAT32, but the LaCie and its competitors were all formatted to NTFS.
We noticed this anomaly with the Seagate Backup Plus 5TB as well. LaCie is owned by Seagate and likely employs a Seagate hard drive, though we didn't pry open the Porsche Design to confirm.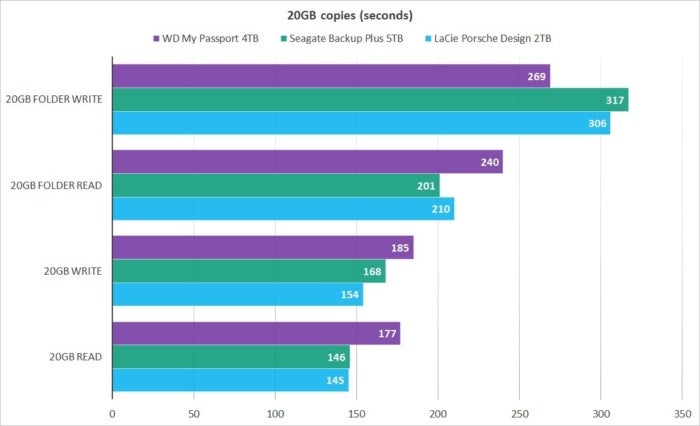 CrystalDiskMark emphatically backed up our copy test results when it came to raw sequential throughput. A read speed of 135MBps is very good for a USB hard drive.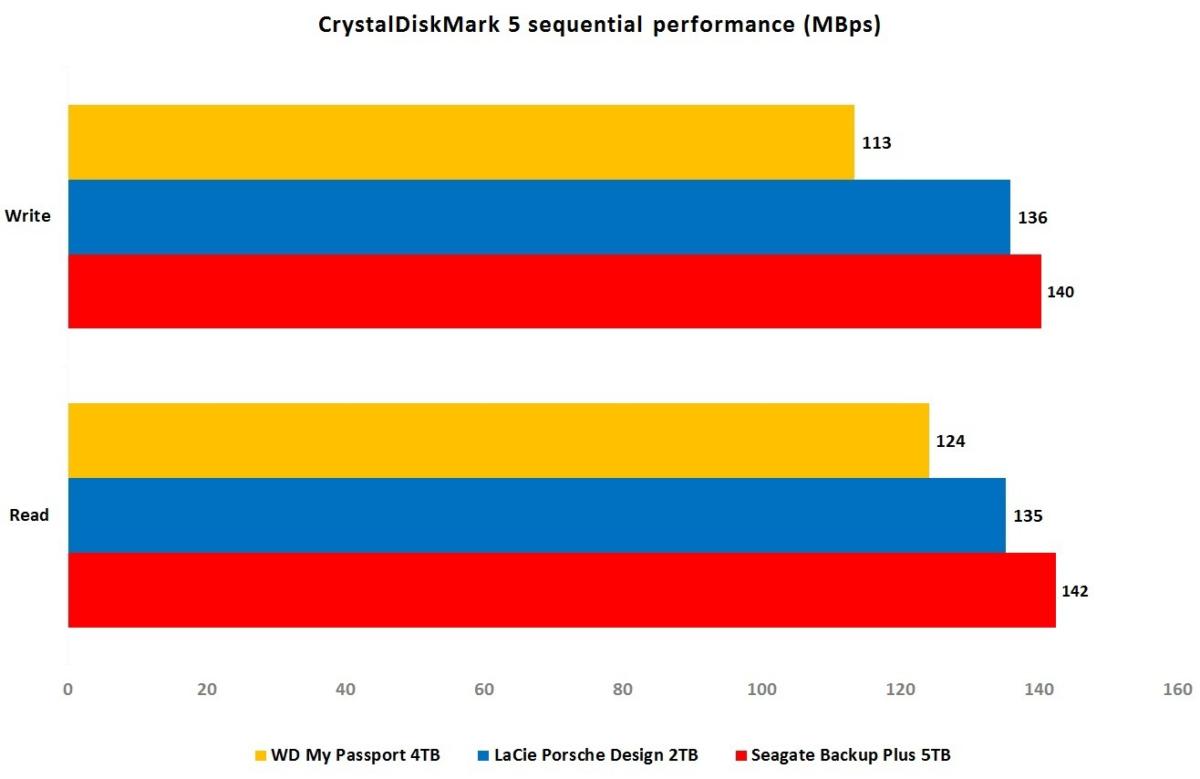 Overall, the LaCie Porsche Design 2TB's performance is equal to or better than average for a USB 3.1 external hard drive of either generation, so you're free to buy on looks alone.
Conclusion
The LaCie Porsche Design drive looks good. Real good. That's more important to some than to others, but let's face it: Pulling this puppy out of your pocket is more likely to impress than extracting a generic, flat-black monolith. Depending on the crowd, of course. The Type-C connector also makes the Porsche Design Mac-friendly and cuts down on insertion hassles.
Alas, those impress-the-boss moments are going to cost you. A WD Passport 4TB is a mere $10 more than a 1TB Porsche Design Mobile at the moment. Still, you know who you are and what you want. Buy accordingly.