At a Glance
Expert's Rating
Pros
Most compact design for a 13.3-inch laptop
Fastest integrated graphics performance
Cons
Mediocre battery life
Expensive
Dell's XPS 13 Gold Edition laptop reveals a little-known secret about consumer tech. Apparently, when it comes to perceived value, consumers aren't as swayed by specs like a quad-core processor, SSD, or graphics as much as they are by a device's color.
Yes, fashion often trumps functionality—but luckily, Dell's latest XPS 13 offers flashy looks and equally flashy performance.
First, it's gold. And as we know, gold is best.
Second, its top-of-the line Core i7-6560U processor features Iris Graphics. That's Intel marketing speak for the company's fastest graphics core. Besides having twice the graphics execution units as a typical HD 520-equipped laptop, like the standard XPS 13, it also features 64MB of RAM embedded in the CPU package. This embedded DRAM functions as a cache that helps overall graphics performance. According to Intel, because it rejiggered the cache design for its 6th-gen Skylake parts, that cache will give other applications a boost in performance, too.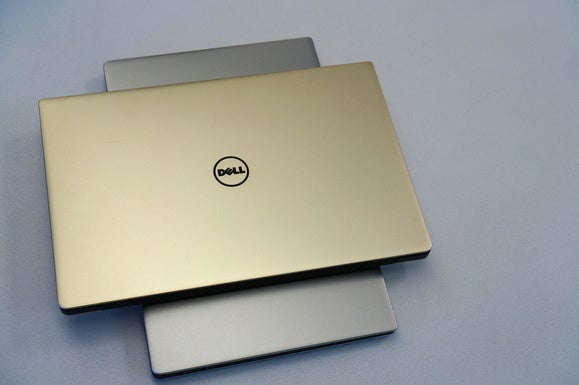 Different, but the same
The rest of the XPS 13 will feel identical to the last version I reviewed. It has the same sturdy build quality, with a carbon fiber deck and aluminum encasing the top and bottom. It has Thunderbolt 3 and charging built into it its USB Type C port, in addition to a dedicated charging port. And, of course, it has that "InfinityEdge" bezel, which gives you a 13.3-inch screen in a body that most other companies would pair with a 12-inch or even 11-inch panel.
While the silver version of the XPS 13 comes with different configuration options, the Gold Edition is limited to a fixed configuration and price. In addition to the gold body, you get a 3200×1800 panel, a 10-point touchscreen, 8GB of LPDDR3-1866 RAM, and a 256GB PCIe SSD.
The price for this on Dell.com is $1,750, which is about $50 more than a duplicate configuration in silver. Fortunately, the street price is less painful—we found the XPS 13 Gold Edition on Amazon for $1,390.
If you're like us, you care less about the color and more about the specs and performance, so let's find out what that top-end Intel CPU gets you.
Handbrake performance
Our first test involves encoding a 30GB MKV file into a smaller MP4 using the Android Tablet preset in Handbrake. This task punishes the CPU beyond what the average person will do on an ultraportable laptop, but its runtime is a good indicator of how much a laptop will slow down as it heats up.
The results put the XPS 13 pretty much dead even with the Core i7 versions of the Microsoft Surface Book and Razer Blade Stealth. I also threw in the Core i5 versions of the XPS 13 for comparison (a 5th-generation Broadwell model, and a 6th-generation Skylake model without Iris graphics). You get a pretty decent boost over the original Broadwell-based XPS 13, but not enough to justify an upgrade from a current Skylake CPU with Intel HD graphics.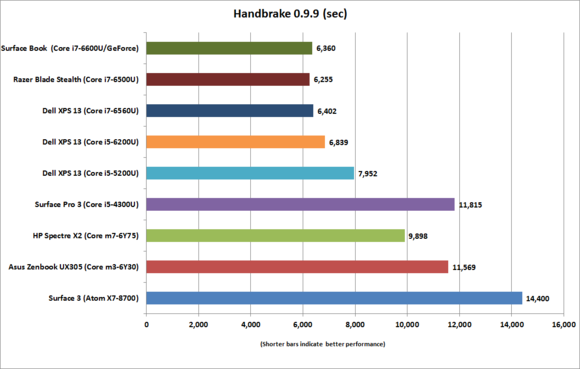 CineBench R15 performance
One issue with our Handbrake test is the thermal load it puts on laptops. As the laptops heat up, they typically slow down. A more reasonable measurement of CPU performance is achieved with CineBench R15, which uses Maxon's 3D rendering engine and takes just a few minutes to run.
The XPS 13 Gold Edition with a Core i7-6560U is basically dead even with the Core i7-6500U in the Razer Blade Stealth. The Core i7-6600U in the Surface Book takes top honors.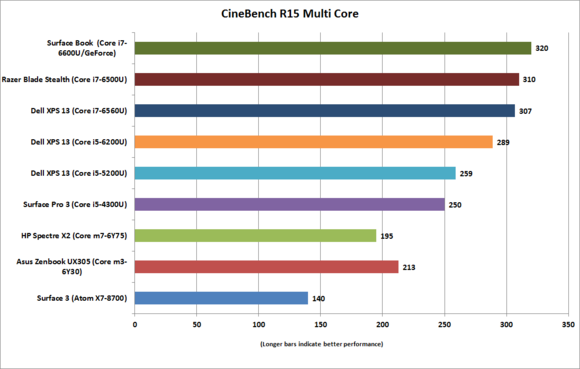 At A Glance
XPS 13 (Gold Edition)
Price When Reviewed:
$1750
Work performance
Since most people don't expect to run 3D rendering programs or encode video on a 3-pound laptop, we used PCMark 8's Work Conventional test to measure the XPS 13's speed while doing office-drone tasks like word processing, web browsing, and video conferencing. As you can see, in these tasks, most people won't be able to tell the difference between a Core m3 or Core i7 processor. If you have a system with an Atom X7 chip, however, you will notice.
So if you're buying an XPS 13 Gold Edition because you "need more performance to use Outlook and Word," you're really just trying to justify the fact that you like this laptop's color.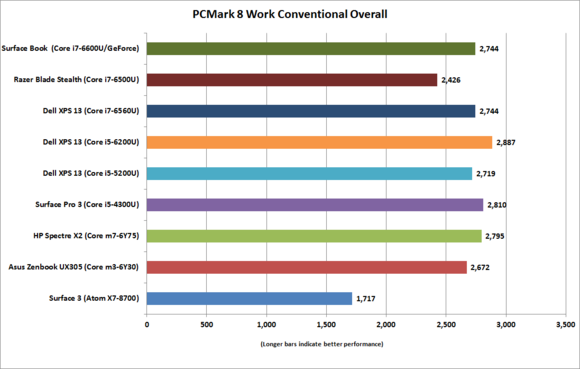 Graphics performance
The Core i7-6560U holds fairly strong in the CPU benchmarks, but where it shines is graphics performance. In Futuremark's 3DMark Cloud Gate test, you can see that the Core i7-6560U's Iris graphics easily take the lead among the machines equipped with integrated graphics.
However, the Surface Book with its GeForce graphics (which we believe to be a GeForce GT 940 chip) is top dog. That's no surprise—a discrete GPU with its own GDDR5 RAM is expected to win.
What does translate to? My own experience says that very old titles, such as Counter Strike: Source or Portal, will turn in reasonable performance. Games such as Minecraft should also function fine. For anything modern, though, you should buy a gaming laptop.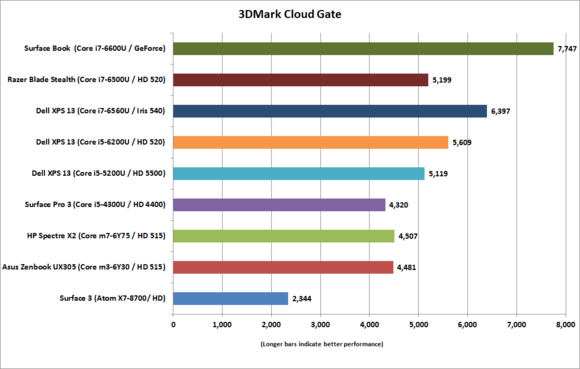 Battery life
Though it has the same 56WHr battery as its silver counterpart, the XPS 13 Gold Edition's battery life is much shorter, dropping from a reasonable 529 minutes to 322 minutes.
Some of that juice is going to the higher-resolution panel and touchscreen, of course. As for the rest of the power consumed, I'd point the finger at Core i7-6560U, even though I have no definitive proof that the higher-performance graphics core and eDRAM are to blame.
Regardless of the exact reasons for the shorter battery life, it's not great. It's not horrible—I have seen worse—but considering how large the battery is in this XPS 13, just over five hours of runtime is pretty lackluster.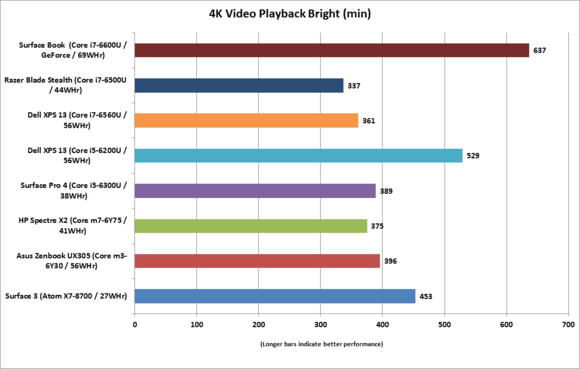 Conclusion
There are really two upgrades going on with the XPS 13 Gold Edition. The first is the color, which has a cosmetic appeal that's self-explanatory.
The second is the CPU. The Core i7-6560U with Iris graphics arguably gives you the best graphics performance in an ultraportable laptop today. You also get pretty much top-tier performance shy of going to a quad-core chip.
The only real negative with the XPS 13 Gold Edition is its mediocre battery life, which can't be avoided since Dell's more power-friendly, no-frills model is only available in silver. Is the gold coating worth that much? Not to me—and probably not to you, either—but to a lot of people, style trumps all.