Motorized standing desks sound great in theory, but what happens if you have a desktop tower PC with multiple monitors, speakers, and peripherals attached? One snagged wire could bring a bunch of things crashing down.
Lian-Li, a designer of some pretty crazy PC cases, may have solved the problem by letting users build a computer into the desk itself. The final DK-04 build is a refined version of the prototype revealed at CES 2016 (shown in the video above), with a removable motherboard tray with support for ATX or mATX boards. It can also hold extra-long graphics cards (up to 320 mm), and allows up to 10 hard drives—two on the motherboard tray, and eight across a set of four detachable hard drive racks.
On the front panel, the DK-04 has four USB 3.0 ports, HD audio input, an optical disc drive bay, and a dimmer/controller slot for an optional lighting kit. The desk aims to support high-end gaming as well, with four 120 mm intake fans and four exhaust fans on the back, all of which can be swapped for water cooling radiators.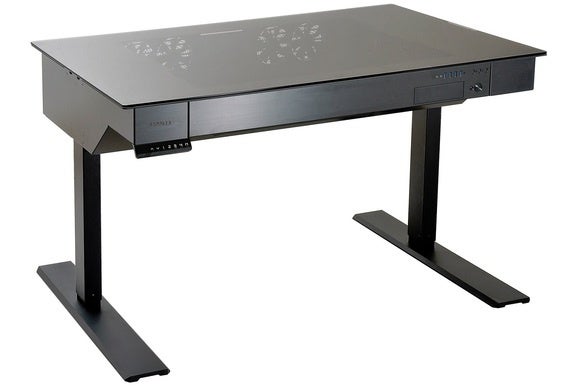 The desk itself is built from aluminum, with iron legs that support up to 220 pounds, and a tempered glass top measuring 47.2 inches wide by 29.5 inches deep. The motor can elevate the desk from a minimum 30.7 inches (for when you want to sit) to a maximum 46.1 inches (for when you want to stand), and it includes four buttons for height presets.
Lian-Li says the desk alone will go on sale on May 10 for $1500, which doesn't include any PC components or the operating system. It's unclear exactly where the desk will be available, but Lian-Li's U.S. retail distributors include Newegg Business, MicroCenter, and PhantomPCs.
Why this matters: Research still conflicts on how helpful standing desks are for your health, but if you're planning to sit down for a few hours of uninterrupted gaming, it might not hurt to spend some time on your feet first. While there's no shortage of motorized standing desks on the market already, a desk with the gaming PC seems more conducive to keeping your monitors and speakers from tipping over.