After successfully launching a version of its browser that offered ad blocking, Opera just won't quit. On Wednesday night, the company released a free VPN service with unlimited bandwidth, built right into its latest beta. The Opera release is developer edition version 38.0.2204.0 for the Mac and the PC.
Opera also won't make you pay for the amount of bandwidth that you route through the VPN—which would normally cost you about $48 per year.
A virtual private network spoofs your IP address, pretending that your PC is actually physically located in London, for example, when it's actually sitting in Los Angeles. That offers all sorts of possibilities: It helps hide your identity when surfing, or allows you access to a website that you normally wouldn't be able to see. VPNs are also common in countries like China, whose so-called "Great Firewall" insulates the Chinese Internet from the rest of the world.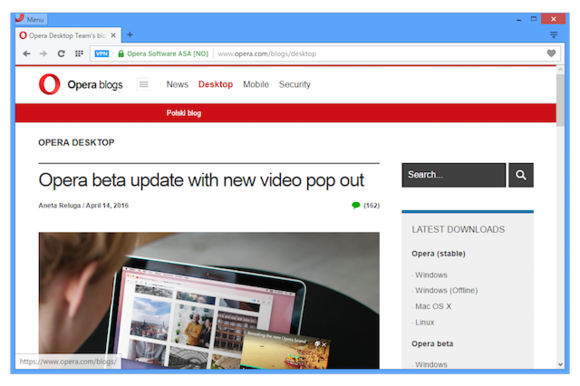 Of course, a VPN may also enable illicit activities. For years, international users watched Netflix via VPN so they could see movies that weren't available in their country—until Netflix cracked down. And, of, course, people use VPNs to evade the prying eyes of government watchdogs when downloading data via BitTorrent.
Why this matters: Free, unlimited VPN is an enormous coup for Opera. There are two major questions that Opera will need to answer, though: First, what are the terms of service of the VPN, and the acceptable use policy? "Unlimited" services rarely are. Second: What will the performance of the VPN network (and the browser, too) be under load?
No surprise to Opera watchers
The integrated VPN may not be that surprising if you've been watching Opera for long. About a year ago, Opera bought SurfEasy, a Canadian VPN provider whose network Opera is apparently using as the backbone of its services. (A few days ago, SurfEasy promised to protect BitTorrent downloads, possibly preparing for the Opera launch.)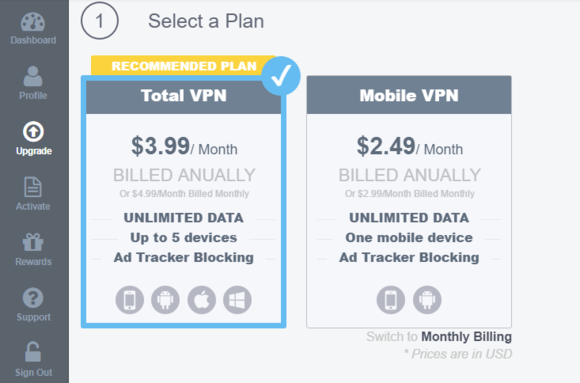 Today, you can take advantage of SurfEasy's network through downloadable plugins from Chrome and the release version of Opera. Just by signing up with an email address, you'll receive 500MB of secured data per month, for free. Confirm your email, and you'll receive 250MB more. Follow them on Twitter, and it's 100MB more, and so on.
Normally, SurfEasy's unlimited VPN service costs $3.99 per month and includes support for up to five devices—including Mac and Android devices. Now that the service has been integrated into the developer edition of the Opera browser, however, all of those limitations have apparently gone away.
How can Opera get away with paying for all of that user bandwidth? "We know it's expensive but we have a great advantage of scalability due to our hosting of Opera Mini," Krystian Kolondra, the senior vice president responsible for new products, said in an email. "
"We realized early this year that browsers were not paying proper attention to what people really need in 2016," Kolondra added. "Hundreds of millions of people are using VPN and ad blocking software, but still the browsers have only supported such things through, often half baked, extensions. We decided to build features people really need in 2016."
This is the sound of a beta crashing
Unfortunately, I had one heck of a time getting the developer edition—which, obviously, is far less stable than the release version—to work.
Opera provided me with a test build of the browser, which downloaded and installed just fine. To enable the VPN function, click the Opera ("O") menu, then scroll down to Settings. Under Privacy & Security, you'll need to click the checkbox to enable the VPN function. When I did so, I didn't notice any differences—though I hadn't tried to surf anywhere yet. I then turned off the ads using the native ad blocker that Opera had installed in a previous edition of the browser, and tested everything on PCWorld's homepage.
I didn't notice anything within the interface that signaled whether the VPN service was working. (A popup window in the ad-blocking edition, on the other hand, alerted me that the feature was there, and how and why to take advantage of it.) I closed and restarted the browser.
Unfortunately, that was a mistake. I haven't been able to open it since, as it promptly crashes on launch. I tried uninstalling it, and received error messages. I tried manually cleaning out the files, removing most of them. After re-downloading and re-installing the browser, though, I still experienced the crash-on-launch bug.
What Opera tells me, however, is that the VPN encrypts data with 256-bit encryption, hiding your actual IP address behind a virtual one. You can select an IP address in the United States, Canada, or Germany. More location options will be available as Opera rolls out this feature in release form.
I did download the SurfEasy VPN plugin for Chrome, and I can report that the service works as advertised, though slowly. Don't expect to be able to watch an overseas version of Netflix, though: The service reportedly uses rotating IP addresses, and though I was able to log into Netflix UK, only one of three shows actually began playing. (Otherwise, Netflix kindly informed me I was using a VPN, and to cut it out.) The movie that did play was somewhere below 1080p resolution, though the audio was perfectly acceptable.
Kolondra said that Opera will leave the SurfEasy VPN plugins for Chrome and Opera in place, as it's a more full-featured service for more than just the browser. And it appears that Opera is determined to give users all the VPN bandwidth they need. The best part? It won't cost you a dime to find out.
Updated at 9:36 AM with additional comments from Opera's Kolondra.