I'm a OneNote user these days, but I used to be a die-hard Google Keep user. Google's cloud-backed note-taking app doesn't have a ton of features, but it's a solid tool for saving shopping lists or ideas you don't want to forget.
Google recently added a few new tools to Keep, including some that will make life easier when you want to add notes while at your PC.
Chrome extension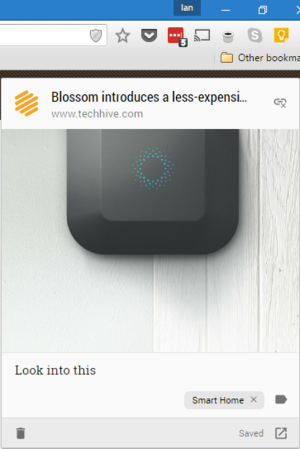 You can use a new Keep Chrome extension to save content from webpages to Keep, such as URLs, text, or images.
Using the extension is pretty simple. All you do is land on a webpage, click the Keep icon, and you'll see a drop-down window with the URL included. From here you can add your own note, and then add a label (more on that later). If you highlight any text or images, that content will be automatically added to the Keep note when you click the extension icon.
The Keep extension also adds options to the right-click context menu to create a note from highlighted text, or save an image to a new note.
Labels
Google also added labels to Keep to make it easier to organize your notes by subject, such as shopping lists, ideas, personal notes, work notes, and so on. By default, Keep has three labels: Inspiration, Personal, and Work. Adding a new one is easy. All you have to do is create a hashtag, such as #readingList, and you'll see an option to create a new label. The Keep extension includes a button for adding labels.
Keep for the web doesn't allow you to use spaces in your labels (but the extension does). The easiest way around this is to use camel casing, where the beginning of each word has a capital letter, such as #shoppingList or #remindersForVacation.
Then, once you're finished working with Keep on your PC, all your notes will also be available on your Android or iOS device.