The fans have spoken. It wasn't enough last year for me to compare Microsoft's Surface Book to Apple's MacBook Pro 13. Silly me, I figured a dual-core 13-inch laptop should go up against a dual-core 13-inch laptop. But nooooo, fans cried: For this to be a "fair fight," I should have pitted the Surface Book against a MacBook Pro 15.
Normally, comparing the 4.5-pound, 15-inch, quad-core MacBook Pro 15 to the 3.3-pound, 13-inch, dual-core Surface Book would be just the sort of Apple-to-orange mismatch I'd never consider. But the fans argued the price was the thing—comparing a loaded-up, $2,699 Surface Book to a top-of-the-line, $2,700 MacBook Pro 15 was "truly fair."
Well OK then, fans: You want it, you got it. Let's ignore form factor and focus on price and performance, and see what happens.
Unfortunately, I don't have a current MacBook Pro 15 to put up against a Surface Book, so I decided to do the next best thing: Put a $1,500 Dell XPS 15 (config here in Dell's store) up against a $1,500 MacBook Pro 13 (here's the config in the Apple store).
Same price. Same everything? Hardly. Read on to see just what you get for the money.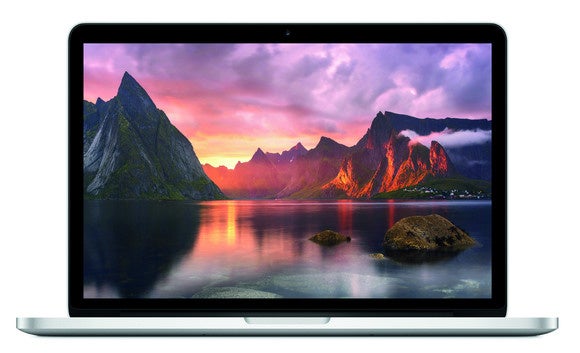 The dual-core contender: MacBook Pro 13
The MacBook Pro 13 used for this showdown is the current 2015 model with a dual-core Core i5-5257U, 8GB of LPDDR3/1866 and 256GB PCIe drive. Even though it rolls Intel's 5th-gen (Broadwell) CPU, I didn't pick this architecture to put the Mac at a disadvantage. The simple fact is Apple only just put out its first laptop with Intel's current Skylake CPU, and that 12-inch MacBook has no business in this fight.
That aside, the MacBook Pro 13's design boasts a beautiful screen, a very good keyboard and "force" trackpad. It's pretty much what you expect of a premium product at a premium price. There's no discrete graphics inside the MacBook Pro 13, but it does pack Intel's Iris Pro 6100. All told, this laptop sells for $1,500 as of this writing.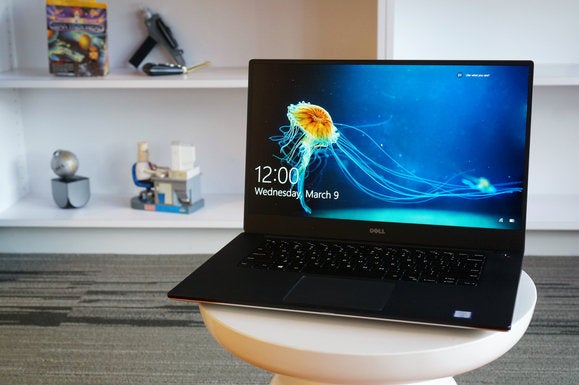 The quad-core contender: Dell XPS 15
Dell's latest-generation XPS 15 gets the "infinity bezel" treatment on its screen. It has a quad-core Core i7-67700HQ, 8GB of DDR4/2133 RAM, GeForce GTX 960m, and a 256GB PCIe NVMe SSD. It doesn't feel quite as solid as the MacBook Pro does, but it has decent build quality with a decent trackpad. The screen on this particular unit is a 1920×1080 IPS with an anti-glare finish. It's OK, but clearly the MacBook Pro 13's screen has more pizzazz with its higher pixel density and glossy finish.
Dell offers the same laptop with multiple configurations, but this one is probably the best bang for buck. At $1,500 you get a PCIe SSD, while lower-priced configurations use hard drives. That's a deal-breaker for many—or at least, it should be. You could get a 4K UltraHD touchscreen and larger SSD, but they'd add significantly to the cost.
The best bang for 1,500 bucks
Because the original focus of my Surface Book vs. MacBook Pro story was performance, I'm not going to compare ports or screen and speaker quality. This is about how much bang for the buck you're getting for $1,500. This "pro" category, after all, is about people who really need all the CPU and GPU performance they can get in a laptop that may be their daily driver.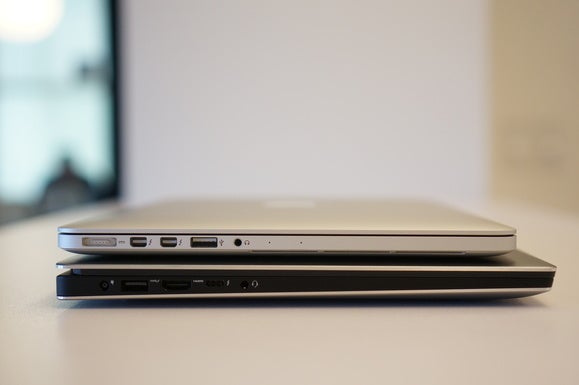 Geekbench Pro 3 Multi-Core Performance
The Geekbench Pro 3 test actually originated on the Macintosh but has since been ported to Android, iOS and Windows. I'm not totally sold on its use as a cross-platform comparison test and, in fact, it's quite controversial. But when you're comparing the same CPU architecture on OSX and Windows it seems less exposed to the shouting matches that erupt over the validity of what it tests and how it applies to actual computing.
Here's the result from the Multi-Core test: There are clock speed differences between the dual-core Broadwell in the MacBook Pro 13 and the Skylake chip in the Dell XPS 15, but we can see the nice scaling between two cores and four cores here.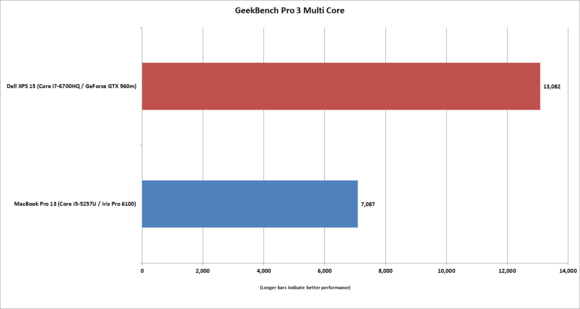 Cinebench R15 performance
Cinebench R15 is a popular rendering benchmark that got its start on the Amiga. It's a "real-world" test in that the same engine is used on Maxon's Cinema 4D product. The free CPU benchmark tests a PC's performance at rendering a single scene, and it loves CPU cores. Throw more at it, and you get a higher score.
No surprise: Like Geekbench, the scaling favors the quad-core in the XPS 15 over the dual-core in the MacBook Pro 13.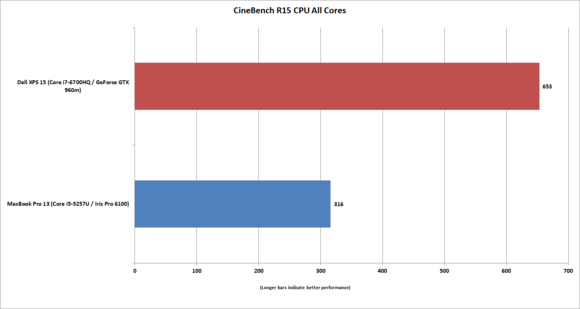 Blender Performance
Finding cross-platform OSX and Windows tests can be difficult, but a handy one is the open-source Blender test. It's a popular free 3D app that's been used to produce the effects in many indie films. For this test I downloaded the 2.77a version of Blender and ran Mike Pan's BMW benchmark file on both laptops. Blender allows you to use the CPU to render a scene or opt for faster GPU rendering too. I tested both.
The CPU side is interesting: The Dell XPS 15 is still faster by a good clip, but we're seeing far less scaling going from the XPS 15 to the MacBook Pro 13. So for folks using Blender, pursuing more cores may not yield the performance you expect.
Going to the GPU, though, you can see a huge performance benefit, as the GeForce GTX 960m in the Dell eats the lunches of both the Intel quad-core and and dual-core chips. When I tried to run it on the Macbook Pro 13's Iris Pro 6100 graphics, it bombed out. Perhaps tinkering with it could have helped, but looking over the Blender results at Blenchmark.com, I'm not seeing any submitted results from an Intel IGP. That tells me this one test may be beyond the capability of Intel's graphics.
Either way, the Dell XPS 15 again destroys the MacBook Pro 13.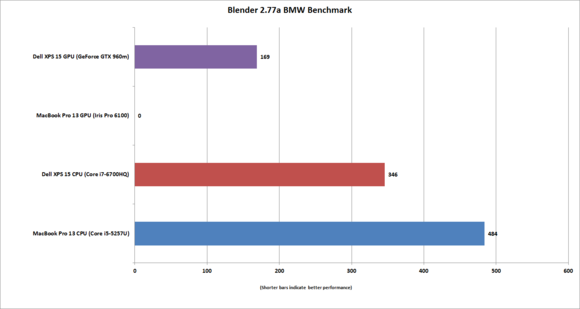 Cinebench OpenGL Performance
As you can see from Blender, the world isn't just about the CPU. To drive home that point I also ran the OpenGL benchmark in Cinebench. The results are quite predictable: While the Dell XPS 15 might offer twice the CPU performance of the MacBook Pro 13, its GPU performance is three times the MacBook's. Yes, we are talking about discrete GeForce GTX 960m with 2GB of GDDR5 vs. integrated graphics, but those are the cards we're dealt.
And no, Apple doesn't actually offer the MacBook Pro 13 with discrete graphics. It's available only on pricier versions of the MacBook Pro 15.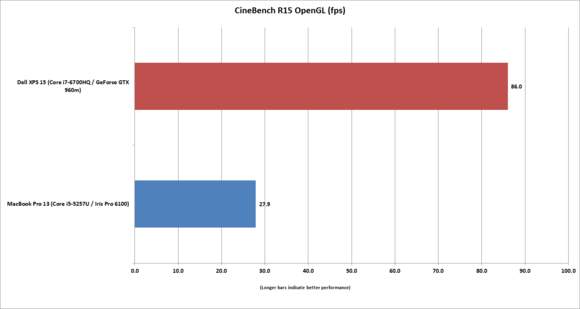 Tomb Raider Performance
The second graphics benchmark I ran was the game Tomb Raider. In this game, it's even more of a beat-down. The MacBook Pro 13 isn't really pushing the minimum standard of 60 fps even with very low-ambition graphics settings: We're talking 1280×800 resolution at Normal, and the MacBook Pro 13 at sub-30 fps. Not good. The takeaway: GeForce GTX 960m > Iris Pro 6100, and XPS 15 > MacBook Pro 13.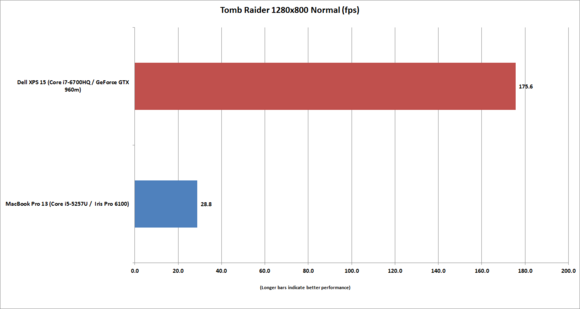 Battery Performance
For the most part, any logical person can see the Dell XPS 15 pounded the MacBook Pro 13 up and down the field in anything performance-related. The one area I expected this to flip around was battery life. To test that, we play a 4K video using iTunes on the Mac and Windows 10 Movies & TV player on the PC, with the brightness set to 250 to 260 nits and earbuds connected.
Here's where all that hardware in the Dell XPS 15 takes its toll. The MacBook Pro 13 has a huge advantage in run time, some of that from Apple's having packed as much battery capacity into the laptop as possible. The MacBook Pro 13 runs a 76-watt-hour cell, compared to the Dell XPS 15's 56-watt-hour battery.
Dell does offer a larger capacity 84-watt-hour battery. That's basically 50 percent more battery capacity, which would probably translate into a maybe 480 minutes' run time in our test. That's better, but still short of the MacBook Pro 13's run time.
Dell supporters might also argue that you could run an external battery pack, which would likely take the XPS 15 past the MacBook Pro 13. Don't go there. The larger battery isn't available on the lower cost XPS 15 configurations, and that external battery pack is more stuff to carry around and a $120 option. In the end, the MacBook Pro 13 wins the battery run-down test handily. Suck it up XPS 15 fans: You already cleaned the Mac's clock everywhere else. You can let this one go.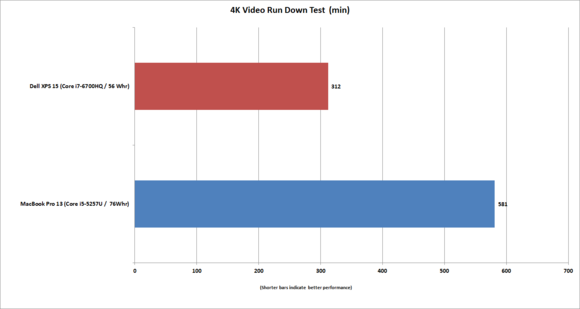 Conclusion
Just in case the various benchmarks I just ran you through don't convince you, I'll sum it for you: the $1,500 Dell XPS 15 destroyed the $1,500 MacBook Pro 13 in everything performance related with its one Achilles heel being just ho-hum battery life.
This shouldn't come as a surprise to you. A quad-core, is going to be faster than a dual-core in anything that uses those cores. And a discrete GPU of any competence smokes integrated graphics so much, it's illegal in the state of California.
Were these results unexpected? Not from me. This deck is stacked.
The upshot is that yes, that $2,700 heavier, larger MacBook Pro 15 would have indeed mercilessly beat a Surface Book silly in performance-related tasks. The same argument cuts the other way: a $1,500 Dell XPS 15 whips the snot out of a $1,500 MacBook Pro 13, which we just proved.
So maybe, just maybe, that comparison between the Surface Book and MacBook Pro from last year was the right way to run this showdown.