Apps like IFTTT (If This Then That) connect services in logical ways: texting your spouse, for example, when you leave work. Microsoft has created a business-oriented preview service called Flow that acts in much the same way, but with its own software and partner apps.
Flow isn't an app, but a way to connect apps and ask them to do specific tasks. To help users get started, Microsoft has created a series of "templates" of common use cases: for example, having Twitter tweets saved in a CSV file in OneDrive, or having a text sent to yourself when you receive an email from your direct superior.
"I get hundreds of emails every day, and my notification options are all-or-nothing," James Phillips, a Microsoft senior vice president, wrote in a blog post. "It's hard to keep up with all that traffic when I'm travelling. I'd like to get an SMS when specific people, like a key customer prospect, reach out directly to me."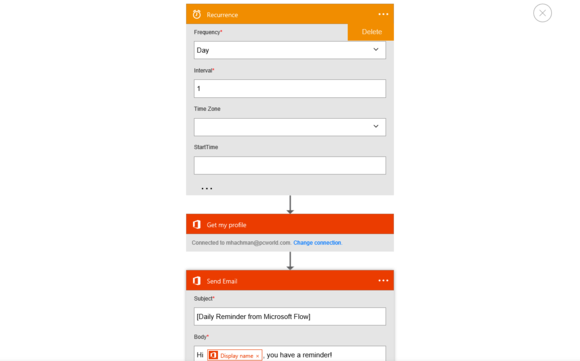 Why this matters: Microsoft has oriented its services around productivity, and one of the key obstacles to getting things done is constantly being interrupted with busy work and irrelevant details. Automating tasks isn't that new; users have created custom scripts and macros to simplify workloads for years. However, that sort of automation has generally been confined to a particular app or service. Flow allows you to essentially program different apps to work together, one of the key tenets of Microsoft's latest Office apps. (Microsoft also announced a more sophisticated version of Flow, called PowerApps, that allows businesses to create their own custom business apps.)
How to get started with Microsoft Flow
For now, Microsoft only allows you to work with a selected list of apps, as well as specific functions within those apps—it's a preview, after all. The list includes Box, Dropbox, Dynamics CRM, Facebook, Github, MailChimp, OneDrive, Salesforce, SharePoint, Twitter, Wunderlist, and Yammer, as well as general HTTP (Web) connections and Swagger APIs.
If you'd like to start using Flow, your best bet is to begin editing the templates that Microsoft has already created. I selected a recurring reminder that I asked Microsoft's Office 365 to send me on a daily basis. Using Edge, I merely had to sign into my existing services to connect them to Flow. And configuring the template proceeds naturally: I chose how frequently I wanted the emails to be sent, then specified what name I wanted to be used. It's still a bit clunky, however: The field where I could configure what time a reminder could be launched didn't seem to accept conventionally formatted times like "9:00 am."
Obviously, adding additional apps and functions will be the key to Flow's long-term success. An video demo, for example, shows how Flow could search Twitter tweets for a particular mention, follow them, and send a nice reply. For now, it appears that the only way to interact with Twitter is to search out a new tweet.
Still, Flow appears to be another tool in your pack to chip away at the mountain of busy work we all face—and that's a good thing.