At a Glance
Expert's Rating
Pros
Durable chassis withstands two-foot drop onto concrete
Tough Gorilla Glass 4 display
Designed for repair and upgrading
Cons
Keyboard separates from tablet surprisingly easily
A little heavy compared to the competition
String attachment for pen is awkward
Our Verdict
You could drop HP's Elite x2 convertible and it probably wouldn't blink, which is probably a good thing considering how easily it falls off your lap. That's the give-and-take of this durable, repairable convertible, a solid corporate performer with a few design drawbacks. Still, it's one of the better Surface clones we've seen.
HP designed its 12-inch Elite x2 convertible tablet with notebook-class ruggedness in mind, and it largely succeeds. But while it offers seriously solid competition for the Microsoft Surface Pro 4, a few features fall short of the bar.
Unlike Microsoft's Surface Book, which emerged after several generations of Surface tablets, the Elite x2 evolved from HP's notebook line as well as its more consumer-focused predecessor, last year's Spectre x2 convertible tablet. Buy an Elite x2, and you'll probably be pleased with the stability of the keyboard, the integrated Windows Hello fingerprint sensor, and the superb trackpad. Just be wary of using it on your lap: The magnets holding the tablet in place seem weaker than their competition, potentially allowing the x2 to tumble to the ground.
That's OK, however, because HP says the Elite x2 can withstand a 36-inch drop onto a wooden floor. My wife accidentally tested that claim, knocking it off a low 24-inch table onto thin carpet without a scratch. Even a Wide World of Sports crash will just necessitate sending the x2 to your IT department. HP expressly designed the x2 to allow access to its innards for upgrades, or component replacement, including the screen.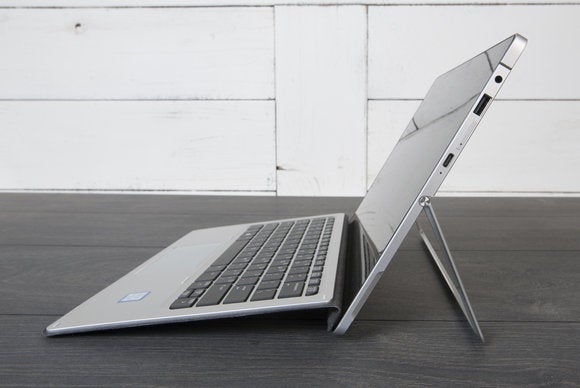 The SUV of convertible tablets
Though Microsoft's Surface series is often considered to be the premium, priciest tablet option, Microsoft's Core m3 version of the Surface Pro 4 costs just $899, with 4GB of RAM and 128GB of storage. (You'll need to buy the $130 Type Cover, too.) HP, however, chose to architect what might be called a premium budget tablet: The $1,399 Elite x2 version we tested houses a 1.1GHz Core m5-6Y54 chip inside (with Core m3 and Core m7 options), a slightly less powerful alternative to the Core i3, i5, and i7 chips found in the upper-echelon Surface machines.
Still, the Elite x2 blows away the SP4 with low-power DDR3-1866 memory options up to 8GB, plus SSD storage up to 512GB using either a SATA or even a PCI Express interface. Furthermore, it supports Intel's vPro technology, giving IT administrators access to a suite of manageability technologies and justifying that premium price to corporate bean-counters. The keyboard is included in the price of the tablet, too.
The Elite x2 measures 11.8 x 8.4 x 0.3 inches, widening to 0.6-inch thick with its keyboard connected. All that stability translates into more weight, however: With its keyboard, the Elite x2 tipped the scale at 2.64 pounds, slightly more than the Surface Pro 4 (2.4 pounds) and the Lenovo X1 Tablet (2.28 pounds). The charger adds another 0.56 pounds, for a total of 3.2 pounds.
Out of the box and ready to go…
Out of the box, the Elite x2 convinces you that it means business. The busy keyboard is covered with LEDs and multiple key functions, a visual break from the minimalistic Spectre x2. Unlike the Surface Pro 4 or Lenovo ThinkPad X1, HP coated the top of the keyboard in aluminum, though underneath lies the familiar quasi-fabric of the competition. Add to that the rugged metal kickstand, and the overall impression is that the tablet will hold up to repeated use.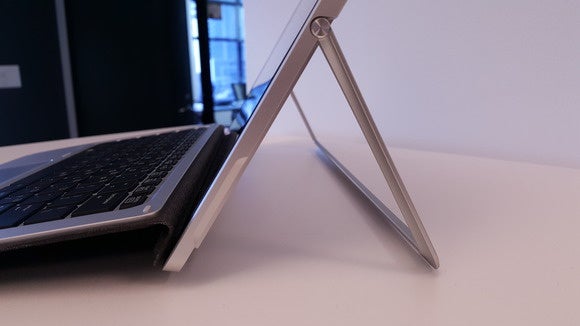 One of the features that distinguishes the convertible tablet is the kickstand. The Elite x2's metal kickstand swings out from the midpoint of the tablet on a hinge, freely reclining the entire tablet to a maximum of about 40 degrees. Resting the pointy end of a kickstand on your thighs still isn't particularly comfortable, though the slightly chamfered edges are thick enough to avoid the picnic-knife edge of the Surface tablets.
Three features sell the Elite x2's keyboard. First, a series of small rubber bumpers serve as resting points for the screen, protecting it when folded down. Second, the Elite x2's trackpad is superb, providing both a glassy smooth surface and a satisfying click. Finally, HP slipped in a numeric keypad for data entry. You'll need to turn on the Numlock key, though, which dedicates the existing "U I O" keys, as well as those above and below, for number-pad duty.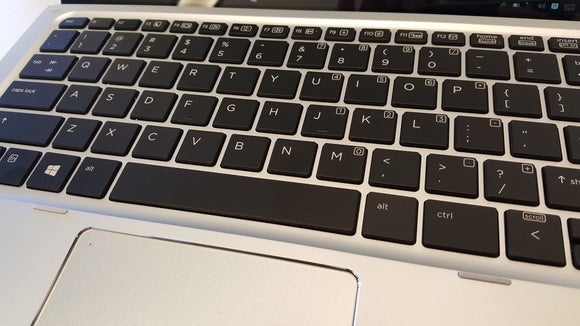 Though I still prefer the keys of the ThinkPad X1 Tablet or even the older Surface Pro 3 Type Cover, you should find the x2's keyboard comfortable enough for prolonged use. HP embeds all of its LED indicators in the keys themselves. A full row of function keys at the top includes controls for muting your mic and speakers, adjusting the volume, and so on.
Otherwise, however, HP has to make the same sacrifices as other convertible tablet makers do: The keyboard is thin, which gives the scissor keys a decidedly hollow sound when you type. HP offers a pair of keyboard options: The $149 HP Elite x2 1012 G1 Travel Keyboard, which we tested, measures 0.24-inch thick and weighs 0.85 pounds. The other option is the $199 Advanced Keyboard, which is a slightly thicker (and presumably sturdier) 0.34 inch and 0.99 pounds. (The latter includes NFC and a smartcard reader.) Both are full-sized keyboards and offer 1.5mm of key travel, which was sufficient for my tastes.
…but a weak keyboard connector is a design flaw
Laptops are called "laptops" because they're built for resting on your lap, and we should really expect convertible tablets to do the same. But on my lap, a laptop isn't comfortable to type on until it perches at or near the end of my thighs, near my knees. A laptop's chassis holds the display in place. With a convertible tablet, only the magnet keeps the tablet itself from tumbling off.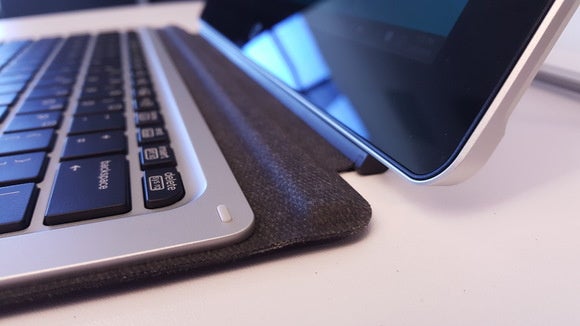 Tablets like the Elite x2, the Surface Pro 4, and others generally have two points of magnetic contact: a shorter strip that houses the electrical connections between the keyboard and the tablet, as well as a secondary magnetic hinge that folds back from the keyboard, against the tablet.
As I work, what usually happens is that I unconsciously inch the notebook or tablet farther and farther out, until it begins to teeter. If it falls, look out! But that's how I tested the Elite x2 against the Surface Pro 4: I eased each back to the end of my legs, until they toppled over onto a pillow. (We hope to show this in a future video.)
The differences were clear: With the Surface Pro 4, the magnetic strip held just enough to prevent the tablet from falling. The Elite x2, on the other hand, plunged time after time. (Naturally, shoving the tablet harder added momentum, and the SP4 would fall as well.) To be fair, though, it looks like the Surface Pro 4 was simply built with this risk in mind. The Lenovo X1 Tablet flopped as easily as the HP Elite x2.
Fortunately, HP almost challenges you to test the Elite x2's durability. The Elite x2 is rated to survive drops from as high as 36 inches onto a wooden floor, and 20 inches on concrete. Gorilla Glass 4 helps protect the 12-inch FHD LED-lit 1920×1280 screen. That's a slightly smaller screen than the 2736×1824 Surface Pro 4, but it pushes fewer pixels than either the SP4 or the 2160×1440, 12-inch Lenovo X1 and Samsung Galaxy Tab Pro S. The massive screen bezel helps, too.
Pen, peripherals, and connectivity
Though the Elite x2 lacks what many equate with Windows Hello—facial recognition—HP added a fingerprint reader on the rear of the tablet. Setting up and using fingerprint recognition mimics Hello's facial identification: Pick a finger, swipe it over the reader several times to establish a good reference image, and you're good to go. Though you can't actually see the reader without peering behind the tablet, the sensor's ridges are easy to detect. So far, the whole setup worked perfectly, except for one occasion where it simply could not read my fingerprint. I defaulted to my Windows password instead.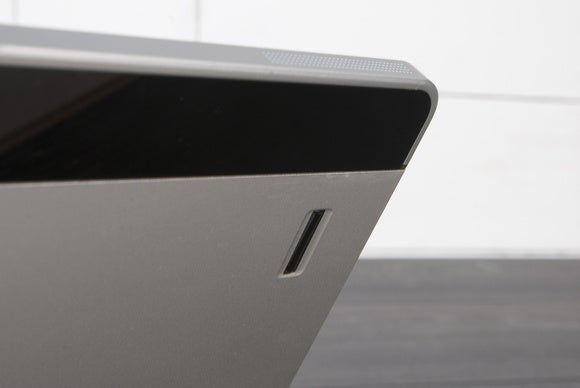 The other feature that distinguishes the convertible tablet from today's notebooks is the pen or stylus, which the Elite x2 includes. But tablet makers treat the pen like a gawky teenager treats his hands: They're never sure where to put them, exactly.
HP's solution is to supply a user-installable string loop. which literally ties the pen to the tablet itself. That helps keep the pen from wandering off while in a briefcase. On a desk, though, it's like the proverbial note pinned to a child's shirt to ensure it doesn't get lost.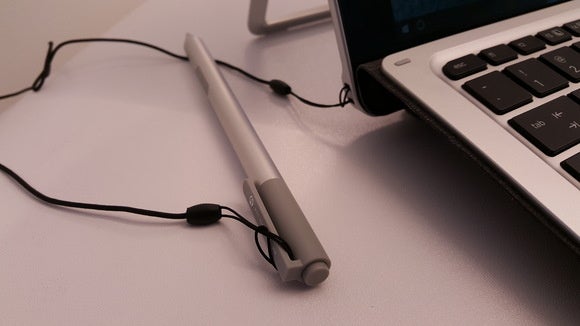 Otherwise, the pen is fairly standard, with "select" and "erase" buttons as well as a "eraser" button that doesn't actually erase; it just launches OneNote. Inside is a AAAA battery. If you're a digital artist, you'll like the fact that the Wacom digitizer boasts 2,048 levels of pressure, double that of the Surface Pro 4. To me and the average office user, however, that's an abstract number with no real value.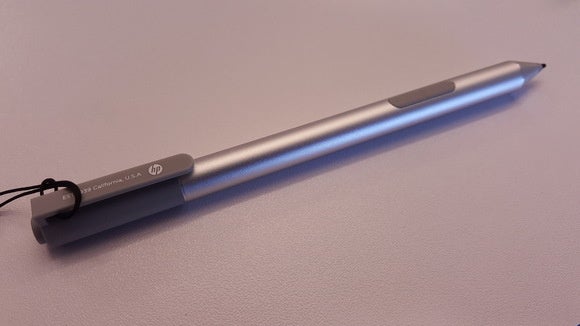 As with the Spectre x2, I found the Bang & Olufsen speakers somewhat faint, especially compared against Microsoft's surprisingly loud Surface 3 speakers. Otherwise, the Elite x2 is part of the new generation of USB-C tablets, with the USB-C port combining Thunderbolt and USB 3.1 capabilities for both charging and docking. There's also a more conventional USB 3.0 port. Inside the tablet hides 2×2 802.11ac Wi-Fi capabilities, Bluetooth 4.2, WiGig wireless display, as well as optional LTE broadband. HP included a microSD slot as well. Incidentally, if you're wondering why the Elite x2 has such a massive bezel, blame the wireless, especially the WiGig connection, HP says.
Somewhat disappointingly, there's only a 2MP camera in front, with a 5MP camera in in back. Rear cameras are useful for scanning documents and recording meetings, but there should be a higher-resolution camera in front for Skype calls.
HP also offers some optional peripherals: USB-C to HDMI or VGA adapters, plus a dongle to connect USB 3.0 to Gigabit ethernet. An optional $209 dock also includes a USB-C port that charges devices up to 15 watts; two DisplayPort 1.2 ports; a VGA port; a Gigabit ethernet port, and three USB 2.0 ports, with a fourth supplying power. HP didn't supply any of them for review.
How it performs
HP's Elite x2 competes well with the new crop of convertible tablets, which provide a compelling argument that they represent the next iteration of mobile productivity—smartphones aside, that is. We mixed in a small number of notebooks as well, just to gauge whether the tradeoffs are worth it.
The Elite x2 is passively cooled, and all that aluminum dissipates heat superbly. I stress-tested the x2 under 100-percent CPU load for 15 minutes, and noticed absolutely no thermal throttling, as measured by Intel's Extreme Tuning utility. The rear of the tablet grew warm, but not excessively so. HP says that's due to the Intel Power Framework, a technology that knows the orientation of the tablet and can rev it up when the keyboard is attached and it's in laptop orientation.
That said, the Elite x2 delivers adequate performance for most tasks—sufficient for an office environment. Using the PCMark 8 Work Conventional (native resolution) benchmark, we can see that the Core m chips deliver dramatically better performance than the Atom processors Microsoft shipped with the Surface 3. At the time, we felt those chips were adequate; now performance simply continues to increase ever higher. Note that since we did not have a Surface Pro 4 with a Core m chip inside to test, we used a Core i5 model.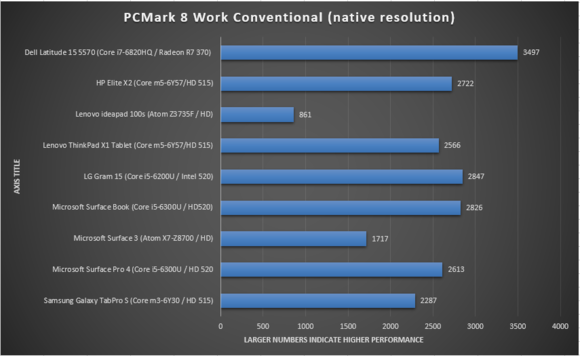 Given that the Elite x2's native resolution pushes fewer pixels than its competition, you might think its benchmark scores would rise accordingly. But at 1080p resolutions, the X2 outperforms its competition by a similar amount.
We then threw our standard CPU-intensive tasks at it, including the Handbrake 10.2 video transcoder benchmark as well as Cinebench, a content-creation benchmarking tool that stresses the CPU further as it renders a photorealistic scene.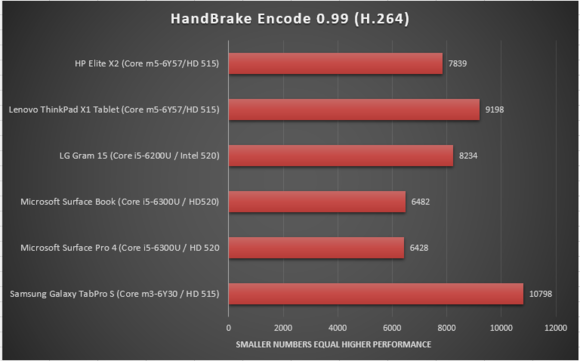 In each test, you can see that the Core m chips carve out their own niche, somewhat beneath that of the Core-based notebooks. Overall, the Elite x2 outperformed my expectations.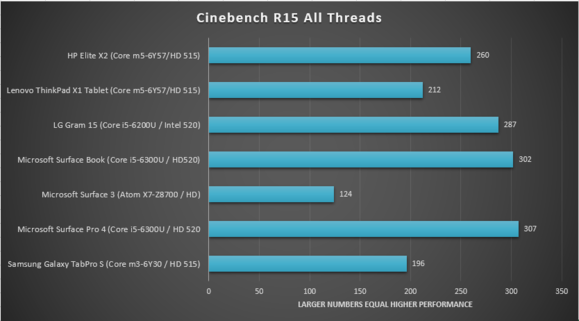 Though I doubt you'll be playing any high-powered 3D games with the Elite X2 (even the recent free game for Windows 10, Forza Motorsport 6: Apex, requires a dedicated GPU) we tested the Elite x2 against its competition using the 3DMark Cloud Gate benchmark. Again, note how close it comes to Core i5-based systems, including a version of the Surface Book without a dedicated GPU. (We also ran the Sky Diver benchmark; the Elite x2 returned an overall score of 3,277, which compared rather similarly against other systems.)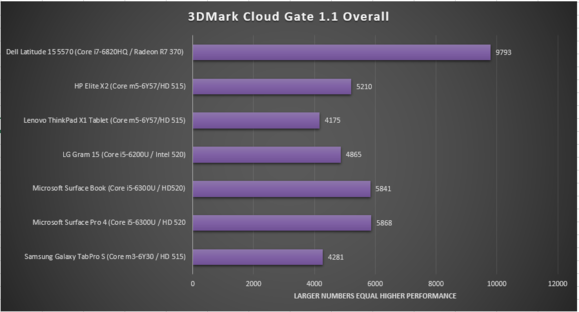 One question we always ask, though, is how long will it last? HP's Elite x2 performed well in our battery life test, looping a high-definition video for 7 hours, 4 minutes until the battery expired. If battery life is your number-one priority, however, consider the Samsung Galaxy TabPro S, which lasted a whopping 8 hours, 50 minutes. The Surface Book, a quasi-notebook with batteries in the tablet and base, performed even better.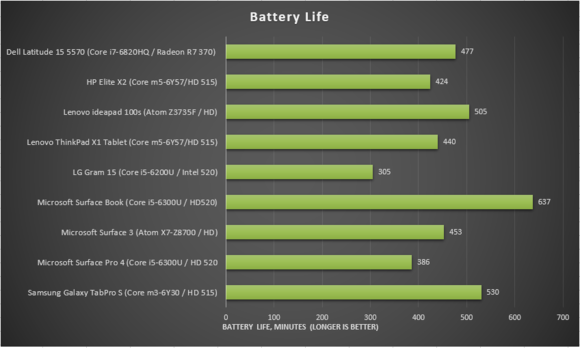 Microsoft originally set out to manufacture the Surface Pro 4 and Surface Book with the goal of creating a new category that its hardware partners could improve upon. It seems like HP is up to the challenge.
If you do end up with HP's Elite x2 1012 G1 on your desk, chances are the money won't have been pulled from your pocket; the vPro package is aimed squarely at corporate budgets. Still, there's no need to complain. Just be a bit careful when using it during a packed seminar.
Note: When you purchase something after clicking links in our articles, we may earn a small commission. Read our affiliate link policy for more details.
As PCWorld's senior editor, Mark focuses on Microsoft news and chip technology, among other beats. He has formerly written for PCMag, BYTE, Slashdot, eWEEK, and ReadWrite.