This week my love affair with keyboard shortcuts continues. Shortcuts can make life so much easier and far more efficient. Today, I've got two Chrome tools that will help when you need to quickly scan an online video.
Car maker Mini recently released an extension for Chrome called Mini Fast Forward that works with Facebook, Netflix, and YouTube. As its name suggests, the extension allows you to quickly fast-forward through a video. All you have to do is lean back and tap the S key on your keyboard.
The downside of this extension is that it's more or less a marketing ploy—use the S key, as in Mini Cooper S. It's fast, get it? The marketing ploy also means each video gets a Mini logo watermark in the upper-left-hand corner of all compatible videos (see the image at the top of this post). Unfortunately, there doesn't appear to be any way to disable it.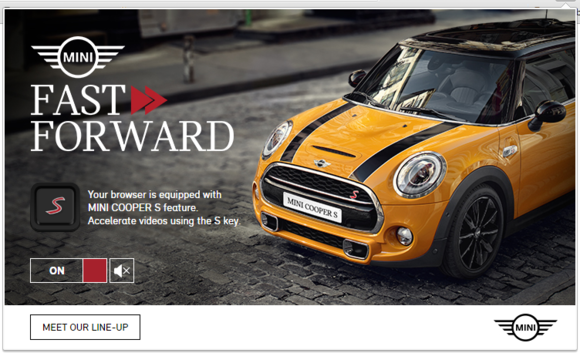 Mini also treats you to the sound of an engine revving each time you press the S key. Thankfully, that's something you can turn off. Just click on the Mini icon that shows up to the right of the address bar. Then click on the volume icon in the extension's interface (see above) to turn it off.
If you watch a lot of Netflix on your PC the Mini logo can get annoying fast, but for Facebook and YouTube it's probably not a big deal.
An alternative is Video Speed Controller.
Fair warning: out of the box, VSC does not work with Vimium. If you want to use VSC and you're a Vimium user you'll have to remap some of the keys in VSC's settings.
VSC works really well. It definitely adds complexity compared to Mini Fast Forward since it has more than just a fast-forward button. Nevertheless, it's an independent creation, customizable, offers far more control, and doesn't contain advertising.
Using VSC is fairly simple. By default tap Z to rewind, X to fast forward, D to increase speed (play the video and audio at a faster speed), S to decrease speed (take that, Mini Cooper S), and R to reset everything back to normal.
If all you want to do is fast-forward, just remember to use D to move ahead and R to return to normal. VSC works on any site offering HTML5 video, including all the same sites as Mini Fast Forward. Similar to Mini's extension, VSC also puts a watermark in the upper-left corner. But it's just a speed indicator that provides useful information about how fast your video is moving.
There you have it. Two Chrome extensions that make it much easier to manipulate online videos without a mouse.