Microsoft's latest Insider preview build is out and it's brimming with a bunch of minor goodies that should be headed to the Windows 10 Anniversary Update this summer. The biggest improvements to build 14342, which was released to users on the fast ring late Tuesday, include more functionality for Microsoft Edge, extended dark theme support, and a number of other small additions that many users will appreciate.
Let's dive into the details.
Further reading: How to join the Windows 10 Insider preview program
On the Edge of greatness
As was widely covered last weekend, Microsoft recently added AdBlock and AdBlock Plus Edge extensions to the Windows Store. These are some of the earliest of what Microsoft hopes will be many Edge extensions headed to the Windows Store, and they're easier to install than the very first Edge extensions. Users on version 14342 can now download and install extensions directly from the Store instead of extracting them from a folder on their PC.
Any fast ring user currently using Edge extensions will lose them, and they'll need to be reinstalled from the Store. But watch out! This build has an annoying bug. If you disable all Edge extensions instead, the browser may not close and context menus may not work. Microsoft advises you to uninstall any extensions you don't want to use instead of disabling them to avoid the bug.
Microsoft's also rolling out much-needed desktop notifications with this build of Edge. The feature allows "participating websites" to send desktop notifications that show up in the Action Center. Glancing at Microsoft's developer site it appears the new notifications conform to the W3C version of Web notifications. That means sites such as Facebook that are already using desktop notifications should work with Edge.
Finally, Microsoft has added a swipe gesture to navigate backwards and forwards within the browser. The feature will land on mobile devices in the next mobile build for Insiders.
Give Action Center the middle…button
With this build you can now dismiss notifications by middle-clicking on them in the Action Center. If you middle-click on a program's name inside the Action Center panel, you'll dismiss all notifications for that program.
Symbolic Bash
Symbolic links that are within the Windows Subsystem for Linux will now work on mounted Windows directories. In addition, users with non-Latin Windows usernames can now use Bash for Windows 10.
Go Dark
With this update the Skype universal platform app offers the ability to set a dark theme, and adds multi-account switching.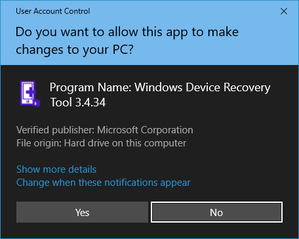 In addition to Skype, the User Account Control dialog will also support dark mode. In dark mode, the header of each UAC alert will be blue, as seen here.
The other two additions to Windows 10 include a new settings panel for the eventual addition of the "apps for websites" feature. This will allow websites to redirect a user from a site to a local app. Finally, Microsoft added smart features to the Feedback Hub that will auto-suggest category and sub-category selections based on your feedback's title and description.
Why this matters: Microsoft didn't add anything that's particularly outstanding in this build. Nevertheless, a lot of these little features will help make users' Windows 10 experience just that little bit better. A focus on the smaller details also reinforces the view that the big feature work is done and that Microsoft is getting closer to refining what should become the Anniversary Update release. Summer is just over a month away, after all.