Nearly every hard drive manufacturer improved in reliability but one manufacturer still leads the pack, according to the latest hard drive survey from BackBlaze.
The hard drives in question power BackBlaze's cloud backup data center and total some 61,590 spinning drives with more than a billion hours of operation among them.
Why this matters: Hard drives aren't sexy anymore but a failure means expensive recovery fees or simply the loss of one's precious memories. BackBlaze's annual survey of a large sample of drives has come to represent a way for consumers to discern what brand and what model to buy.
Survey says: Hitachi
The latest BackBlaze survey shows Seagate drives greatly improving on failure rates. In BackBlaze's 2015 survey that includes one year of data ending on March 31, Seagate drives experienced the most problems, with a 10.68 percent failure rate.
This time around, though, Seagate dropped its failure rate to 3.48 percent on a total 36,863 drives. That's good, but the overall winner is still Hitachi, which has tracked at just about 1 percent for the last three surveys.
Hard drives from Toshiba and Western Digital are also represented, but one weakness of the data is the much smaller sample size. BackBlaze has just 238 Toshiba hard drives in service, with Western Digital drives pushing the sample to 1,691. It's better than a typical consumer's sample size of one, but clearly the 22,731 Hitachi hard drives and the 36,863 Seagate drives lend more credibility to the survey.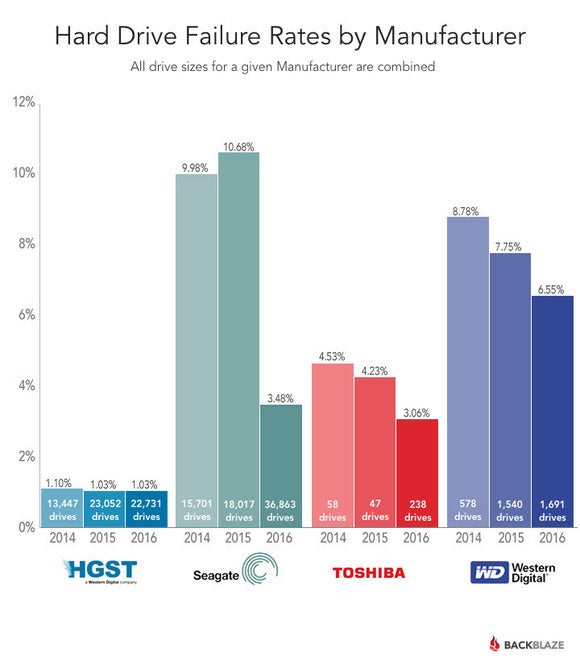 BackBlaze's numbers aren't quite straightforward, though. The annual failure rate figure is calculated based on a certain drive failing with the service life factored in to it.
Why are mainly Hitachi and Seagate drives in BackBlaze's data center? The company said it just can't source other brands at the prices it wants.
Potential problems
BackBlaze's methods haven't been without controversy either. In the past, the company has been criticized for changing its storage pod designs, which can impact the reliability of a certain cluster of drives.
And rather than order 1,000 drives directly from a manufacturer, the company in the past has said it sourced hard drives by buying consumer external backup drives and "shucking" the hard drives to repurpose in its data center. The drives also run on a 24/7 duty cycle, which hard drive makers have said is outside the design of a consumer hard drive. BackBlaze waded into that criticism by comparing failure rates of 24/7-rated enterprise drives with consumer hard drives and it found the difference to be very little. In fact, BackBlaze's numbers showed consumer drives to be more reliable.
No matter what statistics and failure analysis nerds think of its methodology, there's still a lot of nuggets of gold. For example, the Seagate 3TB model ST3000DM001 has a one-year failure rate of 13.92 percent with a sample of 4,074, The Seagate ST4000DM000 has one-year failure rate of 3.83 percent on a sample of 8,800.
Of course, you can look at the Hitachi 4TB model HDS5C404ALE630 with a 0.81 percent failure rate on 4,552 after three years of use and think, well, maybe I need to buy that one instead.