The rumors were true: Starting with the GeForce GTX 1080, Nvidia is discontinuing official support for 3-way and 4-way multi-GPU SLI setups, rolling out rigid new high-bandwidth bridges that limit SLI configurations to just two graphics cards.
Well, sort of. It's complicated.
The new SLI HB connectors (shown above, which work only with Nvidia's new Pascal GPU-based graphics cards) occupy both SLI connectors on a GeForce graphics card in order to transfer data between them at 650MHz, compared to the 400MHz that traditional SLI bridges run at. This allows dual GPUs to deliver a smoother gaming experience at 4K-plus resolutions and on multi-monitor Nvidia Surround setups, the company says. That of course means there's no room to extend SLI configurations to more than two GeForce cards now—and Nvidia says it's A-OK with that.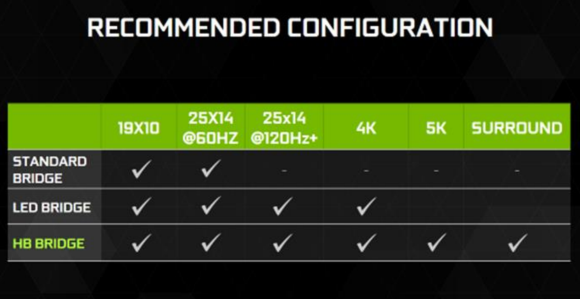 From Nvidia's GTX 1080 whitepaper:
"By default, GeForce GTX 1080 SLI supports up to two GPUs. 3-Way and 4-Way SLI modes are no longer recommended. As games have evolved, it is becoming increasingly difficult for these SLI modes to provide beneficial performance scaling for end users. For instance, many games become bottlenecked by the CPU when running 3-Way and 4-Way SLI, and games are increasingly using techniques that make it very difficult to extract frame-to-frame parallelism."
The story behind the story: Peering between the lines, 3- and 4-way SLI support has always been a big engineering headache for a setup used by so few people, so Nvidia's cutting it loose now that it has an excuse in the GTX 1080's raw power and DirectX 12's inherent multi-GPU flexibility.
I'm not dead!
That doesn't mean overpowered GPU configurations are dead, necessarily. You can still use a 3-way setup with two GTX 1080s in SLI and a third dedicated to PhysX alone. Nvidia also says that developers can manually support 3- and 4-way graphics card setups using DirectX 12's multi-display adapter and explicit linked display adapter modes. (MDA is the magical DX12 tech that lets GeForce and Radeon cards work together on the same game.) Those configurations won't get any quality assurance support from Nvidia, however.
Individual games will still be able to code in support for 3- and 4-way SLI setups going forward as well, which makes sense as DirectX 12 is only in the initial stages of its rollout. For those games—and for hardcore, deep-pocketed PC enthusiasts who sneer at the idea of running just two graphics cards—Nvidia's offering a workaround.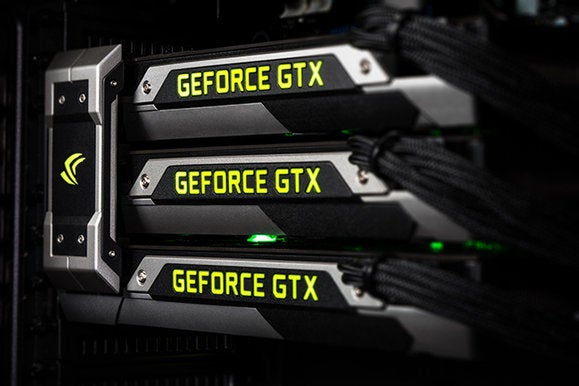 You can connect three or four GTX 1080s together using the LED-lit SLI bridges that appeared over the last year or two. Traditional single-slot SLI bridges won't work. Then you'll need to download an Enthusiast Key generated for your specific, individual GPUs from a new Nvidia Enthusiast Key website, which isn't live yet but will be in time for the GTX 1080's May 27 launch. Running the Enthusiast Key on your machine will unlock 3- and 4-way SLI functionality, as well as crank the LED SLI bridge's clocks up to the same 650MHz as the new SLI HB bridges.
Oh, but Nvidia's not guaranteeing that this Enthusiast Key will necessarily work in any specific games. You're on your own taking this overpowered path.
Realistically, unless developers go the extra mile to add in DirectX 12 multi-display adapter support—which first appeared in Stardock and Oxide's Ashes of the Singularity—it sounds like 3- and 4-way SLI is being all but written off for dead going forward. If we're being honest, few gamers rocked such fire-breathing rigs, and multi-GPU support in general seemed lackluster in 2015, with numerous top-tier games failing to support SLI or CrossFire for months after release. So the real-world impact may be minimal, a problem for PC gaming's proverbial 1 percent.
But damn if it still doesn't feel like the end of an era. It'll sure be interesting to see if AMD's Polaris GPUs support 3- and 4-way CrossFire setups when they launch later this year.