Windows 10 users who haven't got enough OneDrive in their lives now have three ways to access Microsoft's cloud storage service from their PCs. Late Monday night, the company released its OneDrive universal Windows platform (UWP) app for Windows 10 PCs and the Surface Hub.
The OneDrive Windows Store app for Windows 10 doesn't look all that different from the Windows 8 version that many of us ignored back in the "dark days." Now that Windows Store apps can operate in windowed mode instead of full screen-only, some traditional PC users might actually want to access OneDrive this way.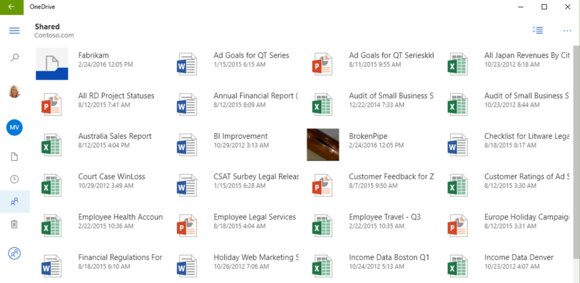 The impact on you at home: The app landing on Windows 10 PCs also means anyone rocking Windows 10 on a touchscreen device will have an easier time handling their files in tablet mode, but the new app also has some nice advantages for the rest of us.
Placeholders-ish
Don't call it placeholders, but now you can approximate the functionality by turning to the universal app on a Windows 10 PC. Placeholders for OneDrive was a feature in File Explorer on Windows 8 that allowed you to view all your files stored in OneDrive—even if the files weren't on your PC. The interface for placeholders left a lot to be desired, however, and was really only a top feature for power users—though Dropbox recently showed us how it should've been done.
Rumors have been floating around since late 2015 that Microsoft intended to bring placeholders, or something close to it, to Windows 10. For now we'll have to be content with the new UWP app.
As the UWP app is pretty much the web version in Windows Store app form, you also have similar functionality to the website. You can, for example, restore files from the OneDrive Recycle Bin, drag and drop files to upload (which you can also do in File Explorer), and take a look at the recently opened documents section.
If you want to add the UWP app to your desktop, you can download it now from the Windows Store.