The Microsoft Band wearable has offered tracking for running, cycling, golf, and other cardiovascular pursuits, but it's lacked a basic hiking component, until now. The new Explore tile even offers something a bit special—an actual "map" on your Band itself, along with comprehensive information such as altitude and even hydration reminders.
Naturally, you can track your progress in greater detail with the Microsoft Health app for Windows phones. Or, in the absence of a Windows phone, Microsoft said Monday it will begin pushing a version of the Microsoft Health app to Windows 10 PCs and tablets this week. (It's merely existed as a Web app until now.)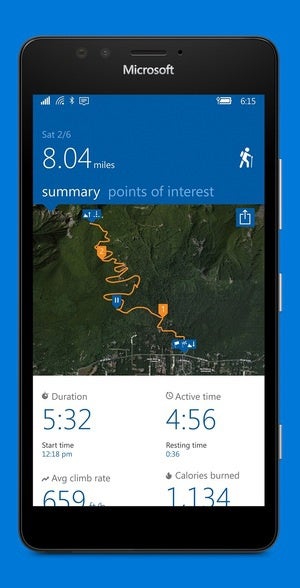 In all, the new Explore tile seems to offer a well-thought-out approach to hiking, using its various sensors as a cohesive whole. Because hikes often take several hours—if not all day—the new tile takes advantage of the GPS Saver feature Microsoft turned on in February. The Band 2 (now apparently just referred to as the Band, without the "2") is one of the few fitness wearables that tracks your distance based on GPS location, but the constant polling can drain the battery. GPS Saver tracks your progress intermittently, prolonging battery life.
Microsoft also turns on its UV sensor, and will alert you if it thinks you need to apply sunscreen or drink water. It will also send a notification if it senses inclement weather, based on its barometric pressure sensor. Finally, it can use that same sensor to track how far you've climbed, as well as the absolute altitude you've achieved.
Microsoft even displays a small "map" of your route on the Band itself, so you can see how far you've hiked—handy when you're climbing a mountain, say, and returning on the same route. You can even flag points of interest, such as that shady stream you passed, where you can schedule a breather.
When you're done with your hike, you can sync your Band with your phone or PC—via the standard USB cable, unfortunately—and dig through all the details. Microsoft said it has turned on some of its social elements as well, so that the Health app displays anonymized fitness information of others who share the same age and Body Mass Index, as a means of motivation.
Why this matters: It makes sense that Microsoft targeted runners first, then walkers; there were over 45 million runners in 2008, compared to 29 million hikers and backpackers, according to Statista. I'd guess that the number of "casual" walkers is far higher, however, and that a considerable number of them want to know more than just their step count. All in all, this appears to be a well-thought-out addition to the Band's repertoire.