At a Glance
Expert's Rating
Pros
Value. Windows, Android, and a keyboard for one low price
Keyboard base is sturdy and grips the tablet tightly
Screen is surprisingly good for such a low-cost device
Cons
Benchmark performance is some of the lowest we've seen
Trackpad inexplicably triggers unwanted gestures
Some apps refused to launch
Our Verdict
Chuwi's dual-boot HiBook convertible tablet looks great on paper, but doesn't offer more than the bare minimum of performance.
More than a few of us, I'm sure, own both a Windows 10 portable device for productivity and an Android device for fun. Chinese tablet maker Chuwi proposes we combine the two, with its HiBook dual-boot convertible tablet.
Unfortunately, while this sounds great in theory, the reality of Windows 10 and Android Lollipop rooming together inside the same Atom-powered, 10.1-inch tablet is fraught with compromises. For one, things can get cramped, unless you pay a little more for an SD card to store your apps. And although Intel's "Cherry Trail" Atom processor might seem like it's up to the task, the numbers simply don't bear that out: The HiBook is woefully underpowered, far slower than our crop of recent Core m convertibles.
Still, there's something to be said for a device that can swap between Android and Windows with just a single tap (and a reboot in between)—and for just $210 (on Amazon), the value is certainly undeniable. (The docking keyboard, which Chuwi supplied for this review, is sold separately for about $57.) Think of the HiBook as a basic tablet for basic work: Web browsing, some Android apps, editing documents. Anything more is too much of a strain.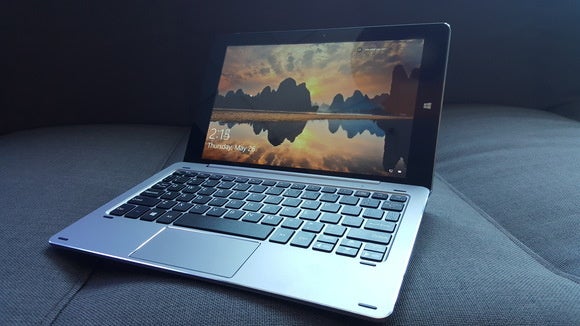 Not for beginners
Of course, you don't get to that low price without cutting a few corners, and that includes the documentation. While the HiBook CWI514 is readily available from Amazon's fulfillment centers, it's best suited for an experienced consumer who can figure out that what's labeled as a "TF" card slot actually accepts microSD cards. What little documentation there is was written in poor English. Otherwise, Chuwi packages everything else well, though the charger I received for review was a 220V European one, and necessitated me hunting down an adapter plug.
Within the scant documentation, I found two possible gotchas: First, Chuwi strongly advises you to use the included charger and cable, a not altogether unusual warning in this day and age. It also covers itself in the event that an app or the tablet crashes, warning you not to run CPU-intensive apps for too long.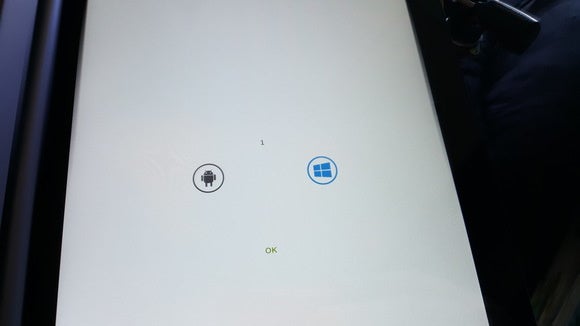 Tap the power button, and the HiBook launches into a preboot screen, where you'll have the option to choose either Android 5.1 (Lollipop) or Windows 10. (Oddly, you make your selection using the keyboard arrows, rather than touch.) Toggling back and forth between operating systems requires a reboot, either via a soft control (on Android, where you'll have to swipe down from the top of the screen) or a SwitchNow utility (on the Windows desktop). Note that for each OS, you'll have to set up Wi-Fi, Bluetooth, and other settings, as data resides on independent disk partitions.
Chuwi says the tablet ships with 64GB of eMMC flash, but the available space is far smaller, since it's partitioned between Android and Windows. In reality, you'll have about 9GB that Chuwi allocated for use with Android for apps and data, and just under 32GB for use with Windows.
You can increase the available space by adding a microSD card up to 128GB in size. Windows 10 allows you to download and store new apps to SD cards, and Android allows you to move some apps to SD cards, as well. Each OS wants to reserve the entire SD card for its own use, however, meaning you can't use the same card for both. I'd recommend that you spend $30 or so on an 128GB SD card for whatever OS you think you'll use more frequently.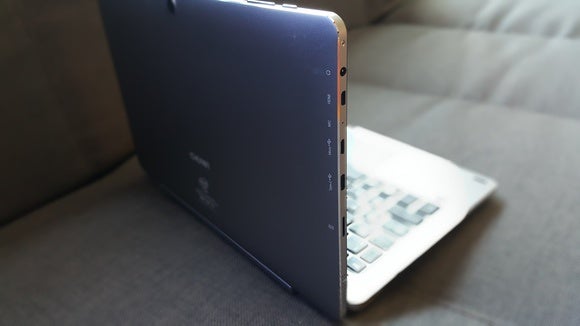 All told, the Chuwi HiBook's specs include a 10.1-inch, 1920×1200 screen; a 1.44GHz Atom X5 Cherry Trail Z8300 chip; 4GB of DDR3L memory; 64GB of eMMC storage; and 802.11b/g/n Wi-Fi. There's a Micro HDMI cable output and a 128GB SD card slot, but no WWAN option. The tablet also includes a 5MP rear camera as well as a 2MP front camera.
A sturdy notebook, but with flaws
I have decidedly mixed feelings about the HiBook's build quality. Out of the box, the HiBook feels impressive, with a firm heft that seems fit for the long haul. The keyboard base is the sturdiest I've encountered outside of the Surface Book, easily surpassing that of the HP Elite x2. Furthermore, the tablet's 10.1-inch screen looks great, with a lovely 1920×1200 IPS panel that rivals the 1920×1280 display on the $1,400 HP Elite x2. You'll be patting yourself on the back for spending just a bit north of $200.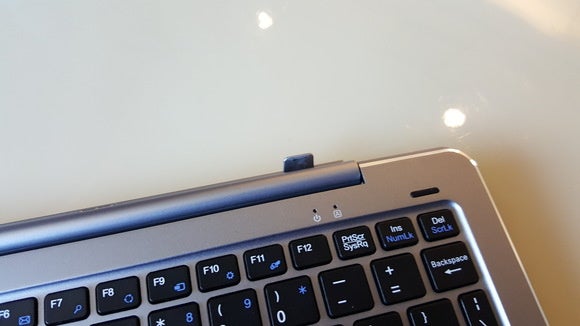 Dig deeper, and the HiBook holds up. A pair of pegs support the tablet when docked on its keyboard, and magnetic clamps hold it fast. Even though it reclines far less than its competition—about 60 degrees from the horizontal, you're left feeling like you're holding a small but sturdy notebook.
You'll pay a slight price for its robustness, though: At 2.4 pounds with the keyboard attached, it's noticeably heavier than, say, the 12-inch Lenovo ThinkPad X1 Tablet (2.28 pounds). Altogether, the HiBook itself measures 12.5 x 8 x 1.5 inches when docked, with the keyboard folded shut.
Unlike rival convertibles, the HiBook's keyboard isn't entirely dumb: On each side of the keyboard is a USB 2.0 port, which causes the keyboard to bulge a bit near its intersection with the tablet. Data is passed between keyboard and tablet through a 5-pin pogo-pin connector. On a couple of occasions Windows seemed to forget that the keyboard was attached—not unusual for USB devices connected to Windows 10, unfortunately.
In use, I'd rate the HiBook's keyboard as slightly below average, due to a definite lack of resilience and slightly disappointing key travel. The Enter key is a bit small (and the Ctrl and Alt keys surprisingly large), but otherwise things are organized as you'd expect.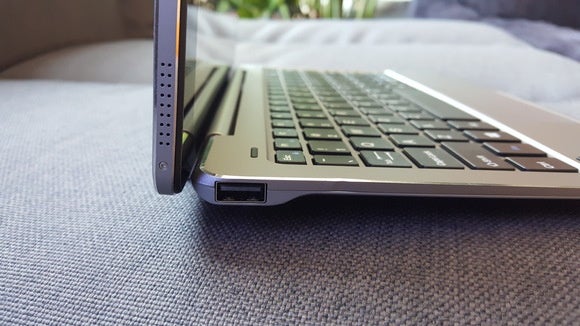 I'm halfway convinced that the HiBook's trackpad is haunted, however. The tracking surface is smooth and the clicking action about average, but many, many times the trackpad would interpret a normal one-finger swipe as a three-finger gesture to launch Windows' task view and other shortcuts. On several occasions I just gave up using the trackpad to navigate through branching Windows menus and used the touchscreen instead. A short time later, though, the trackpad would return to normal. Voodoo!
Finally, be aware that though Chuwi touts the HiBook as a "one glass solution," it's actually not. As the company admits in the Q&A on its Amazon page, there is indeed a slight gap between the glass and the digitizer, making it a poor choice for stylus work—not that it ships with one, however.
Performance: As basic as basic can be
Chuwi's HiBook reinforces the enormous chasm that exists between basic computing and the high end of the market. Intel executives justify their multicore gaming CPUs by talking up "macrotasking," such as simultaneously performing multiple CPU-intensive applications, like transcoding video streams. At the other end, the HiBook's little Atom chokes after opening more than a handful of tabs in Google Chrome.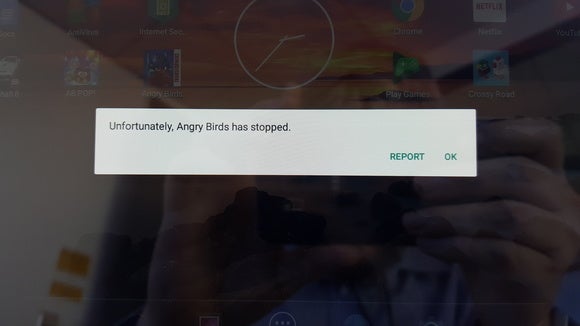 Worse still, certain Android apps merely failed to launch for me, such as Angry Birds: Transformers, a 3D side-scroller shooter from Rovio that repeatedly crashed when loading the 3D portion of the game. On the other hand, Asphalt 8: Airborne, a high-speed 3D driving game, opened and ran acceptably.
Overall, the HiBook seems to perform basic tasks capably enough, especially if you simply want to run one or two at a time. Opening a Last Week Tonight clip on YouTube in HD quality via Microsoft Edge ran perfectly smoothly, and working in Microsoft's Office Online was also painless. (Unlike some tablets, the HiBook doesn't ship with an activated copy of Office 365.) Absolutely consider running Opera or at least blocking ads, though, as a streamlined browser will improve your experience considerably.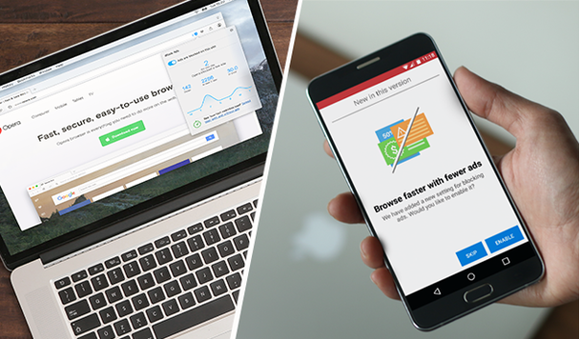 Within Android's more optimized environment, the HiBook performs competently. A large number of Android games use 2D sprites, don't demand a great deal of performance, and look great. Again, don't ask too much of the HiBook, and it won't let you down.
Chuwi's choice of a poky Atom chip certainly contributes to the HiBook's limitations, but I think the 64GB eMMC drive is as bad, if not worse, for performance than even the CPU. It's not unusual for phones and some tablets to be built around eMMC technology, which is essentially a flash card plus controller logic built onto the same die. Most of the tablets we've recently tested though use full-fledged SSDs, and the read/write tests that we ran using the CrystalDisk benchmark reveal the stark differences.
Though we've compared the HiBook against a number of convertible tablets, the most apt competitor is the Microsoft Surface 3, Microsoft's own an Atom-based tablet. While not an exact analogue, Microsoft's closest Surface 3 model comes with 2GB RAM, a 64GB SSD, and a slightly more powerful Atom x7-Z8700 processor for $499.
As our tests prove, the HiBook is slightly better than the Surface 3 in read/write performance from the embedded flash—but this is the only category where it wins. There's a clear hierarchy ranging from the basic Atom-based systems, to the storage used by the Core m convertibles, to the premium Dell XPS and Surface Book 4 machines. Don't think of these as direct competitors—they're not! We've just added them to give you an idea of how the performance scales against higher-performance competition.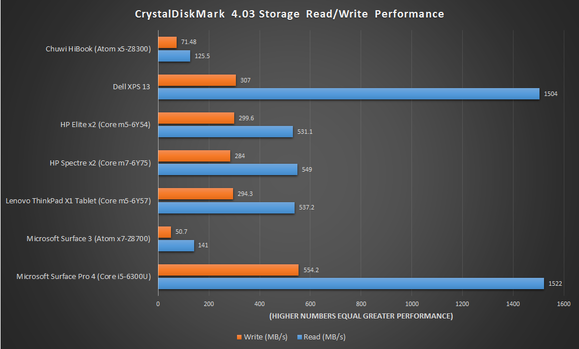 The slow access speeds don't do the HiBook any favors, as our standard PCMark 8 tests indicate. If you do buy the HiBook, it's likely you'll be using it for a combination of work and play; we threw the Home, Work, and Creative benchmark suites at the HiBook to test its performance. Most of the higher-end laptops and tablets we test are simply too powerful to deliver truly meaningful results, but the Home tests (photo editing, Web chat, gaming) and the Creative tests (video editing, media transcoding, group video chat) seem particularly suited to evaluate the HiBook's strengths.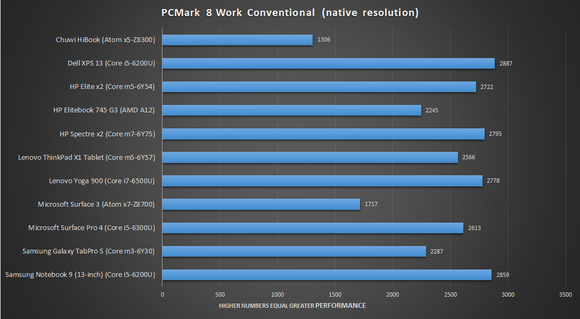 Unfortunately, the HiBook falls behind in even the basic Work workloads, and the HiBook's performance in the Home benchmark is about the same.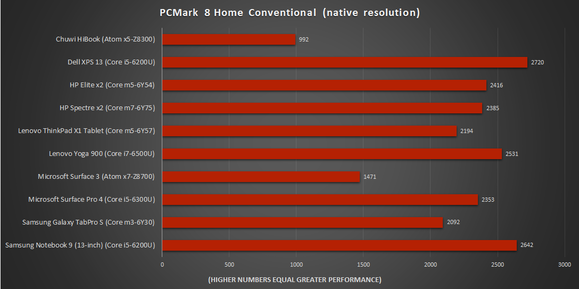 The Creative benchmark, which taxes the system even more, also puts the HiBook way behind.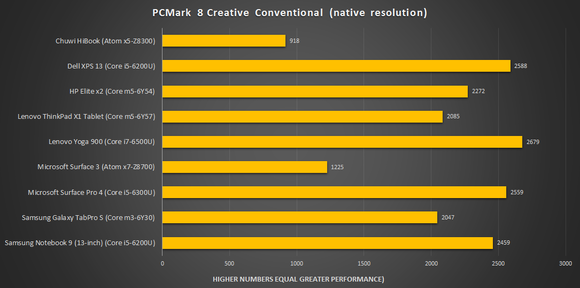 After completing the PCMark workloads, we usually tax the system more thoroughly with a suite of media encoding and transcoding tests. Unfortunately, we ran into an unexpected snag: Because the HiBook's available storage is split between separate Android and Windows partitions, we didn't have enough physical storage space for our source video file on the tablet itself. We therefore couldn't run our standard Handbrake 0.99 benchmark.
Fortunately, the Cinebench benchmark, which has the processor render a photorealistic scene as quickly as possible, was under no such constraints. Again, however, the HiBook finished at the back of the pack.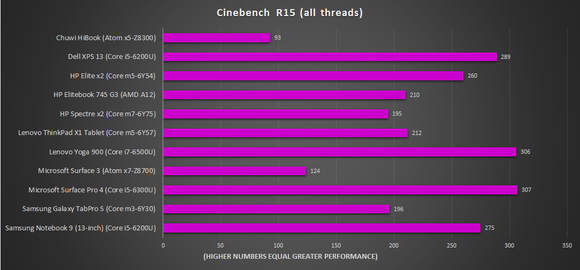 About the only app I couldn't run within Windows was Intel's Extreme Tuning Utility, which doesn't support its own Atom processors. I thus couldn't determine if the HiBook thermally throttled itself, which would be one explanation for such a lousy showing.
Just for fun, I also tested the HiBook against the FutureMark 3DMark series of tests, specifically choosing the Ice Storm Extreme test for low-cost tablets and smartphones, but taking advantage of the higher screen resolutions that the HiBook can achieve. I also used the Cloud Gate benchmark, optimized for what FutureMark considers "typical home PCs." The results were the same, however: The HiBook simply couldn't measure up.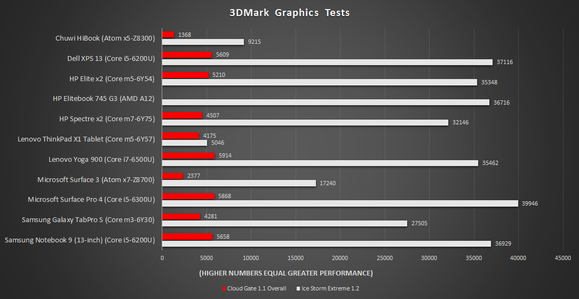 Finally, the HiBook contains a 33Whr battery that's slightly larger than the 27Whr battery found in the Surface 3. But it still gets pummeled in battery life.
Here, though, there are a couple of caveats that help the HiBook's cause: For one, the HiBook's 1920×1200 display pushes a few more pixels than the 1920×1080 display of the Surface 3; second, a bug prevented me from looping the test movie on Windows 10's Movies & TV app until the battery expires. I had to turn to Windows Media Player to conduct the test on the HiBook, which consumes about 3 percent more CPU power on average than the Movies & TV app. In all, I think it's fair to say that the HiBook's battery life is slightly better in comparison than what our tests indicate, though still not enough to challenge the Surface 3.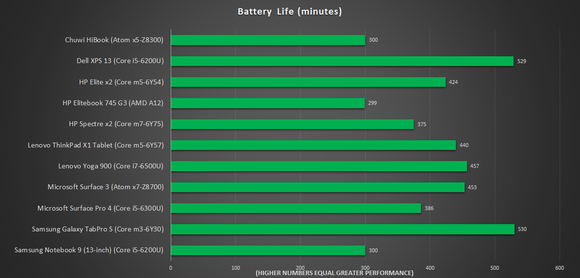 Final thoughts
A number of factors drag down the HiBook's final score: lousy performance, apps that don't launch, a trackpad that sometimes has a mind of its own. If I was going to assign a rating based on that alone, I'd give the HiBook two stars.
I do think, however, that certain aspects justify a higher rating. Running potentially millions of Android apps on the same tablet as Windows, without emulation, is what drew me to the HiBook in the first place. Though I find the keyboard a bit too cramped for long-term use, I especially like the solid, cohesive feel of the tablet and keyboard docked together. Finally, there's the price: All this costs about $250, though we're comparing them to convertible tablets that cost hundreds more.
In all, I'd rate the HiBook as an average Android tablet, coupled with a fairly poor Windows tablet experience. Reports say that Chuwi will soon release a "Pro" version, with a fully-laminated 2560 x 1600 display, but that still doesn't solve the problems I had with the tablet's performance.
If Intel could commit to a long-term high-performance Atom strategy I could see the market for these types of dual-boot tablets flourishing over time. For now, however, I would buy the HiBook CWI514 only after accepting that what you'll receive is fairly limited.