Beginning with Microsoft's Anniversary Update this summer, Microsoft Edge browser notifications will be turned on by default, sending a stream of updates to Windows 10 if you opt in.
The notifications will be sent to the Windows 10 Action Center, where they'll live alongside updates from Mail and other Windows 10 apps, alerting you that you may need to respond. And they'll be on by default, Microsoft said Tuesday, though you'll need to give each site explicit permission to actually send you updates.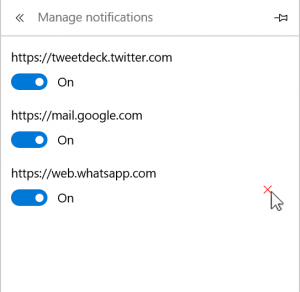 Both Google Chrome and Mozilla's Firefox have already implemented Web notifications, all of which require your consent to receive notifications from a given site. What sort of notifications a site delivers is up to the site itself—it could be a new article that the site published, a charge applied to your account, or a message that a friend has signed on. With Chrome and Firefox, however, notifications can be sent your way even if the browser or that site isn't actually open; Edge has yet to implement this feature, and the company is "investigating" whether users actually want it.
Another difference in the way that Edge implements notifications is the degree of control it offers you. When a so-called "toast" notification slides into view, you can either act on it—clicking on it will launch the site in a new tab—or let it slide into the Action Center for later review.
Right now, those toast notifications will be lined up chronologically, but soon they'll be organized by app, the company said. And if a site is simply spamming you with updates, you'll be able to right-click on the update and choose to opt out of all further updates, from either the website or even Edge itself. Naturally, sites accessed via InPrivate anonymous browsing will not be able to send notifications, Microsoft said.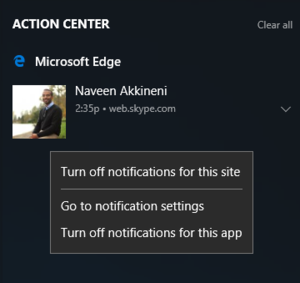 The question, Microsoft said, is how long those notifications should persist (seven days is the default) as well as whether they should be active even when Edge is not loaded. Pushing notifications without a browser being active may be necessary to enable them with Windows 10 Mobile, the company said.
Why this matters: Nobody wants to receive notification after notification, especially from sites that seem to publish new content every 10 minutes or so. But as long as you can turn them off—and websites don't somehow require them to keep their Daily Average User count on the rise—this might be a feature we can get behind. But it will only be palatable in small doses.