At a Glance
Expert's Rating
Pros
RGB lighting on a budget
USB and audio passthrough
Cons
Tacky faux-metal finish
Kailh switches have a middling reputation
Our Verdict
It's packed with features, but the Tesoro Lobera's faux-metal and plastic rivets could use an overhaul for 2016.
Best Prices Today: Tesoro Lobera
Everybody and their uncle is making an RGB-enabled keyboard these days, but that's small consolation if you don't want to spend a fortune. Most are on the high end of keyboard prices, to say the least—like, $150 or more. Quite a premium to pay just so you can feel like you live in Tron.
But not Tesoro! Sure, the company is using straight-up Kailh keys and the design is a bit less sleek than other keyboards, but that doesn't change the fact the Tesoro Lobera Spectrum lists for $140 but can be found on Amazon for under $100.
So let's take a look.
Note: This review is part of our best gaming keyboards roundup. Go there for details about competing products and how we tested them.
It's a brick…house
Okay, so the design could use some refinement. With modern design trends skewing towards "It looks like a normal keyboard," the Lobera really stands out. We're talking faux brushed metal, faux diamond plate, and even fake rivets.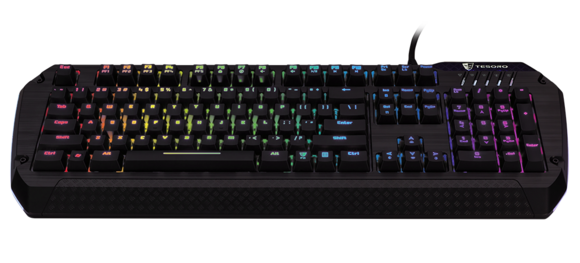 It's also a pretty chunky keyboard. Not in terms of weight—it's actually pretty light, because most of the casing is plastic. But the bezel is massive, with angular protuberances jutting off in all directions. This thing takes up more room on my desk than the already-oversized Razer BlackWidow Chroma.
And then there's the typeface emblazoned on each key. It sits somewhere between "Generic Industrial" and "Consolas." Thick, chunky, somewhat illegible.
Point being: It's not a looker. I wouldn't focus on it so much, except for the fact you're buying an RGB keyboard. Looks are literally the whole selling point.
There are some nice touches. The cable is sheathed fabric which is a welcome luxury, and two translucent strips on the sides provide a bit of underlighting, like a tricked-out street racer. It's silly but looks pretty good from afar.

Overall though, this keyboard's aesthetic feels outdated and overlarge. It's one of the last holdouts in a world that's mostly moved away from the tenets of 2005-2010 "Gamer-centric" design and towards sleeker, more professional setups.
Price to performance
I did mention you can find it for under $100 though, right? And from a pure performance perspective, the Lobera is pretty damned competitive. A hydra of connections give you USB, headphone, and microphone pass-through which is a relative rarity.
There's also a button dedicated to Game mode and one for Macro recording, with five profiles available for on-the-fly swapping (mapped to F1 – F5). There are no dedicated macro keys but all buttons are fully programmable and the keyboard carries onboard memory for settings storage.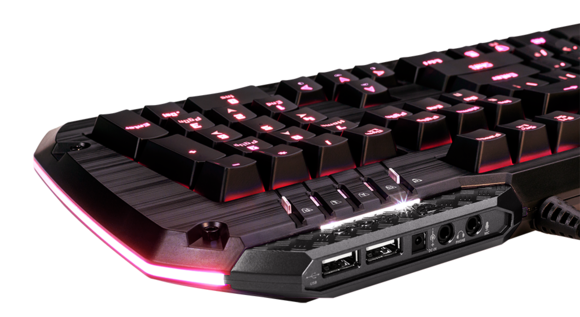 And in terms of raw backlighting, the Lobera is on par with Razer's more expensive models—no surprise, given the fact they use the same technique for embedding LEDs. Lighting is bright, the gradients between colors are smooth, and (another nice touch) there are a number of default modes you can cycle through on the keyboard itself sans software-tweaking.
Cons to the Kailh/Razer style of backlighting: It's uneven. LEDs are embedded at the top of each key, so letters and main functions look good. Any secondary key functions look faded and dim, though.
Razer "solved" this defect by making it so secondary functions simply aren't illuminated. Seeing the Lobero, I understand why. The Function row here suffers from two-toned lighting, the upper edge bright and the lower edge (with Play/Pause, volume controls, etc.) looking wispy even in dark rooms.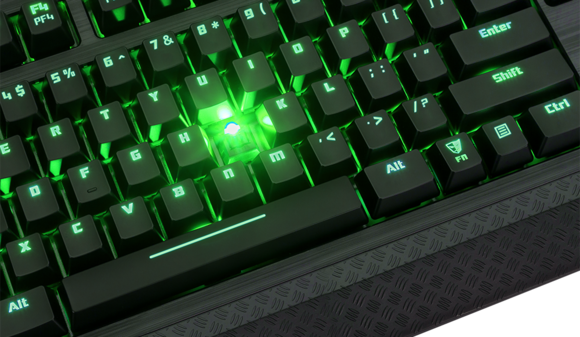 But that's a minor quibble—to be honest, it's not even as obnoxious as the faux-metal palm rest.
If you want more control, you'll need to download Tesoro's software. Problem being: It's not great, and it doesn't actually get you much more control—not without a bunch of hassle, at least. It took me over an hour to figure out how to change per-key lighting. So you know: You'll need to head into Lighting Effects, then Spectrum Color, then click on each key and set a color one at a time. I don't think there's a way to set an entire zone or a group of keys at once, and if there is a way, well, I couldn't decipher this 2001-MP3-player-looking program enough to figure it out: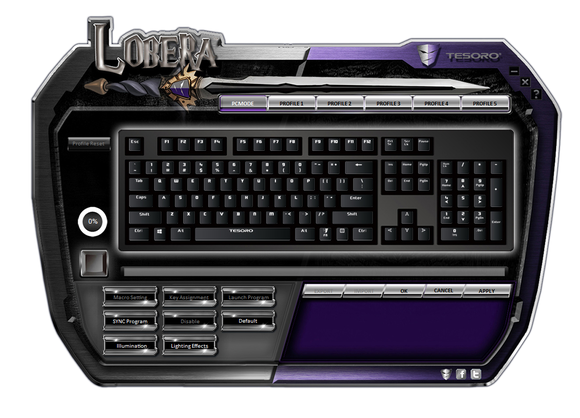 There's also a mysterious "Audio" mode that I couldn't get to work no matter what I tried. It's apparently supposed to react to whatever audio is being played, like a hardware visualizer, but the Lobera stayed resolutely dark whether playing music through Spotify or films through Netflix.
A note on switches
One last thing before we go: These are Kailh switches. Some people straight-up enjoy Kailh switches over Cherry MX. Some (a lot of people) can't tell the difference.
It's something to be aware of, though. These are effectively knock-off Cherry switches—they even feature the same Blue/Brown/Black/Red naming conventions, and Tesoro's use of "Gaming-Grade Mechanical Switches" on the packaging helps confuse things.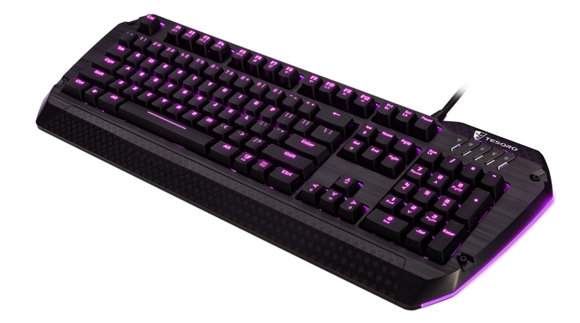 Kailh is generally not as reliable as Cherry. This is based on both my own experiences and on the larger Internet sphere. You're more likely to get a subpar board, manufacturing tolerances aren't as tight, and durability isn't (in general) as high.
Again, will most people notice? Doubtful. If this is your first mechanical keyboard it's still going to seem like a huge upgrade over your rubber dome keyboard or scissor switches or whatever you're using. And I like Kailh's faux-Cherrys more than Logitech's proprietary Romer-G switch.
But keep in mind what you're buying. The price is low in part because it's not banking on the Cherry name.
Bottom line
If you want a semi-customizable keyboard on a budget, the Tesoro Lobera is a decent investment. It may not match the looks or premium feel of RGB keyboards from Razer or Corsair or Logitech, but you can also find the Lobera on Amazon for half the price of those competitors. That's a pretty damned good deal, provided you can live with the hassle of setting up per-key backlighting and this board's tacky faux-metal finish.
Best Prices Today: Tesoro Lobera