At a Glance
Expert's Rating
Pros
Simplistic, unintrusive design
Great price for an RGB keyboard
No need for Tesoro's software
Cons
Tesoro's software is ugly and confusing
No USB or headset pass-through
Hyperstylized typeface on keycaps doesn't match the work-friendly aesthetic
Our Verdict
Tesoro's streamlined Excalibur lets you live in the cyberpunk future without having to drop $150-plus on a keyboard.
So you want to buy an RGB-backlit keyboard without going over-budget, and you can't stand the look of Tesoro's faux-industrial Lobera model. Understandable. That's where the Tesoro Excalibur Spectrum comes in: This bare-bones RGB keyboard lists for $120 and generally sells for even less on Amazon.
Not bad.
Note: This review is part of our best gaming keyboards roundup. Go there for details about competing products and how we tested them.
Business casual
Count me among the Lobera detractors. I'm not totally averse to keyboards that aim for the mid-2000s "eXtreme" gaming look, all weird edges and fake exposed rivets and the like—but in general it's not something I want sitting on my desk.
The Tesoro Excalibur, though? Yeah, I could use this in the office. It's a simple matte-black rectangle, that most generic of keyboard designs. So far, so good.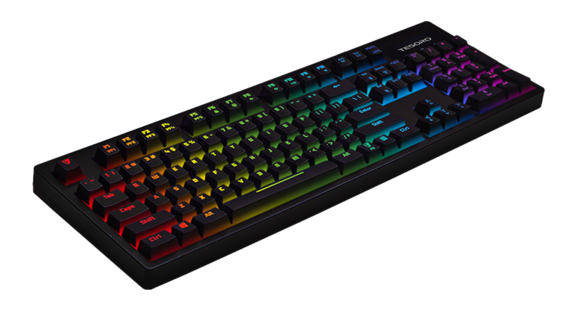 Okay, there are still some issues. Namely, the typeface Tesoro uses on both the Lobera and Excalibur keys, which is a pseudo-Consolas bolded until its nearly illegible. It wouldn't have looked out of place 10 years ago, but with even Razer abandoning this type of "game-y" typeface for lightweight sans-serifs, the Excalibur's branding doesn't quite match its office-friendly shape.
Two other complaints: For some reason the chassis is emblazoned with the words "Break the Rules" under the Home block, like a bad tattoo someone received on spring break. And the Escape key is replaced with the Tesoro logo (I'm pretty sure it's a mask).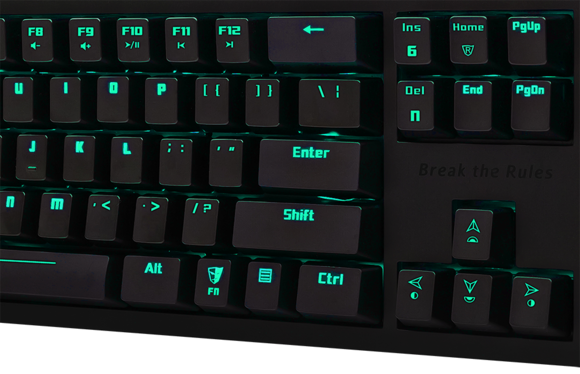 The Excalibur still looks a damn sight less conspicuous than the massive trapezoid that is the Lobera, but there's room for aesthetic improvement.
Not so luxurious
The Excalibur model also ditches a number of the Lobera's high-end features, which is a shame considering the two are priced about equal on Amazon (though the Lobera's list price was initially $20 higher).
You'll find no USB pass-through here, nor heaphones/microphone pass-through. Worst of all, you'll be taunted by this fact when you look at the back of the keyboard—there are clearly designated areas where those features could've been machined into the plastic but were not.
Oh well.
You also lose dedicated Game Mode and Macro-Record keys, which are relegated to secondary functions on the Pause and Home keys, respectively.
Five keys for on-the-fly profile swapping make it onto the Excalibur though (mapped F1 – F5) and every button on the keyboard is programmable, with settings stored in onboard memory. Not too shabby.
And like the Lobera, the Excalibur's backlighting is fairly impressive. Tesoro's using the same lighting method as Razer—an LED lens embedded above the switch. Lighting is bright, color accuracy is solid, transitions are smooth, and the keyboard's a sight to behold in spectrum-cycling mode.
Another nice touch: You can change between some basic lighting modes on the board itself, without installing Tesoro's software. That's excellent, since doctors have yet to study the psychedelic nightmares that no doubt result from using a keyboard in spectrum mode long-term.
Jokes aside, it's also a nice gesture because Tesoro's software is abysmal. Like the Lobera, Excalibur's software looks like a shareware music player or EQ plugin from 15 years ago, and it's about as functional.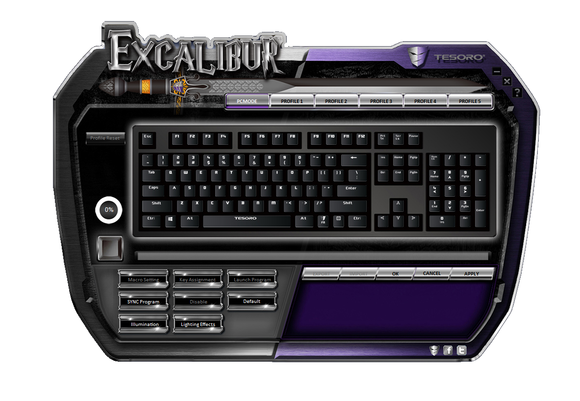 Setting a color for the whole board is fairly easy, as is setting a global effect, but it takes a hell of a lot of digging to figure out how to set per-key lighting. For the record: You need to go into Lighting Effects, click on the Spectrum Colors setting, and then click on each key individually and set a color. There's no way to set colors across common zones (say, the Function row) nor can you click and drag or Shift-click multiple keys at once.
Just to rub salt in the wound: I couldn't find a way to set a new default color, so if you want a weird shade of green or whatever you'll need to enter the precise RGB coordinates for every single key. More hassle than it's worth.
Still, put in the time and you have access to most of the same functionality you'd find on a Logitech or Corsair or Razer board, with lighting that's on par with the latter's much-more-expensive models.
A Cherry by another name
Be sure you're comfortable with Kailh switches, though. That's an important part of this story. While some of Tesoro's non-RGB boards use Cherry MX keys, the Spectrum line uses Kailh switches—and thus the similarity to Razer's RGB-enabled line.
Why is that a crucial distinction? Well, for some of you it probably isn't. Kailh switches are pretty expert Cherry knock-offs, even borrowing the same Red/Black/Brown/Blue categorizations. It's a wholesale clone.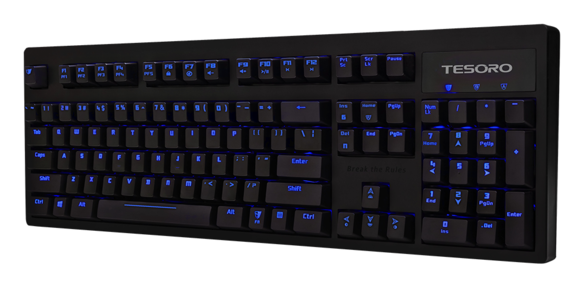 But Kailh is generally less reliable than Cherry, with broader manufacturing standards. Problems seem to crop up more often with Kailh boards, be it phantom keystrokes or unresponsive keys or what have you. It's unlikely you'll get a bad Kailh product, but it's more unlikely you'll get a bad Cherry product, if that makes sense.
Still, if you're upgrading from a busted ol' rubber dome keyboard or a scissor switch-equipped laptop? Anything's going to seem like a huge upgrade.
Bottom line
It may not have as many top-tier features as the Lobera, but the Excalibur packs the same RGB lighting into a more palatable chassis. No fake rivets! No fake metal! Just a simple black rectangle with rainbow lights.
And at half the price of Corsair or Razer's RGB boards, even Kailh switches seem like a decent compromise. If you've got $110 and time to kill messing with the obtuse software, then the Excalibur's probably the best all-around budget RGB keyboard you can buy at the moment.