I've had a small problem on Windows 10 that has been driving me nuts for months. I couldn't easily copy links to apps I found in the Windows Store. Recently, thanks to a tip on Ghacks, I found a way to solve this problem. It's also a handy solution for any other Windows UI apps that don't want to let you easily copy text, links, or images to the standard Windows clipboard.
As a writer, I often want to put Windows Store links in my stories. Sometimes I also want to share these links via a webmail client, but the current share method for the Windows Store doesn't allow for that. I've either had to go to the browser and find the link on the Web version of the Windows Store, or use the share option to send the link to OneNote or Twitter, and then copy it from there.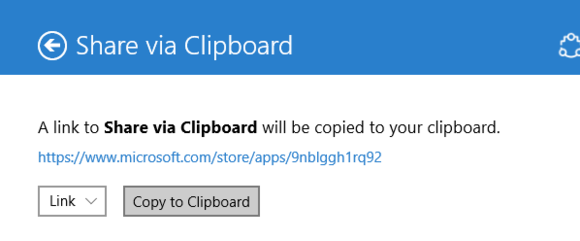 The solution to this small problem is, of course, another app. There are several to choose from, but one that works well is called Share Via Clipboard (link copied via the app itself, natch).
SVC doesn't need to be launched; it just shows up in the pop-out panel when you hit the Share option inside an app.
Once you click on SVC inside the Store app's share menu, for example, SVC gives you the option to either copy the full text (the name of the app and the link) or just the link. Select your preference and the material is on your clipboard ready to go. Microsoft's News app also works nicely with SVC for copying the lead image or grabbing a link to the story.
It's a minor problem, but if you've been frustrated by the inability to copy content from a WIndows Store app, give SVC, or one of the other alternatives, a try.