Google is adding Android app support to Chrome OS, but your Chromebook might not get it. Despite Google's promise of a five-year lifespan for Chromebooks, most Chromebooks released more than two years ago will be left out.
Check Google's list
Google published a list of Chromebooks, Chromeboxes, and Chromebases that will get Android apps. This isn't necessarily a complete list yet, and new devices may be added.
If you want to be one of the first people to get your hands on this feature when it debuts in the developer channel with Chrome version 53 in June 2016, you'll need an Asus Chromebook Flip, Acer Chromebook R11, or Google Chromebook Pixel (the 2015 model only).
A variety of other Chromebooks—primarily ones less than two years old—will receive Android app support later in 2016. But older Chromebooks—even very capable ones—are left out.
Surprisingly enough, even Google's first Chromebook Pixel, released in 2013, won't get Android app support. The original Chromebook Pixel was made by Google itself and includes a touchscreen and faster CPU than many current Chromebooks that will receive this support, so that's surprising.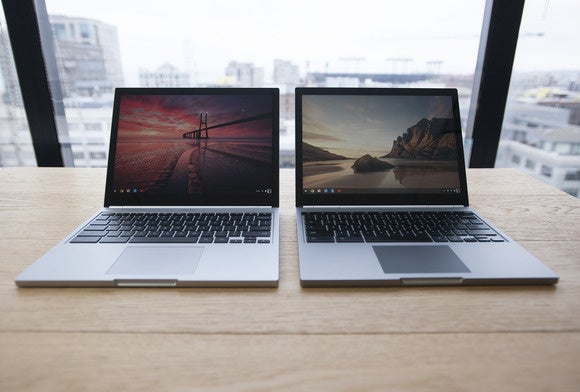 What about the five-year lifespan?
Google's End of Life policy page states that Chromebooks and Chromeboxes will be supported with software updates for at least five years from their release date. It lists end-of-life (EOL) dates for a variety of Chrome devices, so you can see when support will be up for the device you own.
Google's policy ensures that Chrome OS devices will continue receiving security updates for five years, but nowhere does it promise that all big new features will come to older Chromebook hardware.
Google hasn't officially said why it's omitting older Chromebooks. As a company engineer explained in more detail to Ars Technica, the support comes from running Android in a container—earlier attempts at Android app support were based on Android Runtime for Chrome (ARC) technology, but that required a lot of additional work from app developers, so it was thrown out. With the container, low-level features may require a newer version of the Linux kernel than is running on these omitted Chromebooks. And it could potentially be a lot of work to upgrade them for compliance. Google would also have to put more time into testing the kernel upgrades and Android app support on a much wider range of hardware.
It's possible that enterprising hackers could port Android app support to older Chromebooks, but I don't recommend holding your breath. This feature is closed-source, so no one outside of Google can even get at the source code to work on a port. If you want Android apps on your Chromebook and you have an older Chromebook, you should think about buying a new one.
But there's not necessarily a rush—if you're content to wait for the stable release, there will probably be new Chromebooks that come optimized for this feature later this year. If you must have the support ASAP, I hear the Asus Chromebook Flip is good. I just bought one, myself.