In late 2014, HP teased the return of the Omen—a line of always-stylish luxury PCs produced by VoodooPC, which HP acquired in 2006—with a 15.6-inch laptop. Now, HP is bringing Omen back in full force with two sleek-looking laptops and a stylish, powerful desktop tower.
All three rock some interesting specs. Let's dive in.
When we looked at the late 2014 Omen laptop we said the device offered "bags of style and reasonable gaming performance in a thin and fairly cool chassis." In that respect, not a whole lot has changed with these new models.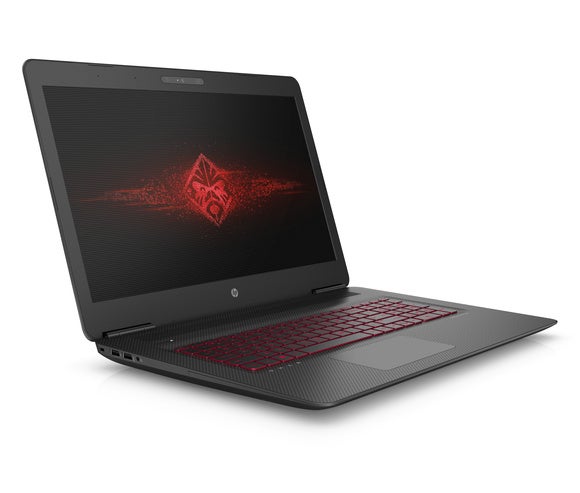 The new Omen laptops come in 15.6- or 17.3-inch display sizes and up to a quad-core, 2.6GHz Intel "Skylake" Core i7-6700HQ processor. Both laptops come with either 1080p or 3840-by-2160 display resolutions, up to 16GB of RAM, and a variety of storage options that max out at a dual-storage 4 terabytes worth of hard drive space and a 128GB hybrid drive. If you really want to go all out, you can also upgrade to an Intel RealSense cameras for various purposes, including gesture control on compatible games.
The graphics are where these Omen devices get into "reasonable gaming performance" territory. Both laptops come with up to Nvidia's GTX 965M—a respectable little GPU, but one firmly in the entry-level gaming category.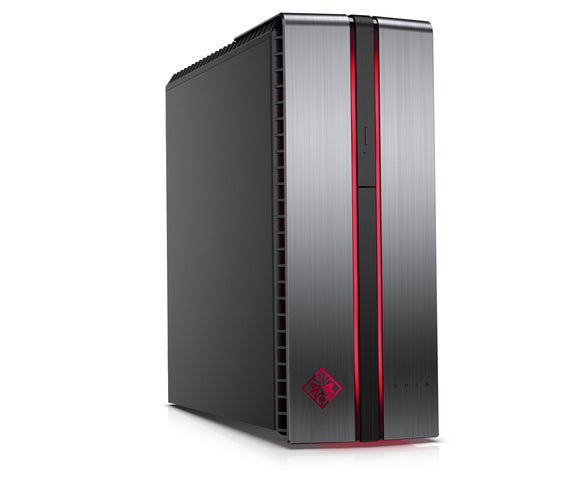 It's hard to describe the desktop as "reasonable," however. For those who want the jaw-dropping best of the best, the HP Omen desktop can be kitted out with up to an Nvidia GTX 1080 graphics card—or, as we like to call it, "the most badass graphics card ever created." There's also an eminently respectable AMD R9 390X option.
HP says the Omen desktop is ready to work with HTC's Vive VR headset out-of-the-box. Beyond the graphics card, options go up to an quad-core, 4GHz Intel "Skylake" Core i7-6700K processor, 32GB of RAM, and a 512GB SSD and 3TB hard drive. The device has four USB 2.0 ports, two with USB 3.0, one USB 3.1 Typce C port (select models), a media card reader, and dual-HDMI out.
Overall, the new Omen PC's a nice, stylish-looking desktop, but it's about what you'd expect if you married gamer sensibilities with the current trends in PC hardware design. It's pretty, but hardly a conversation piece.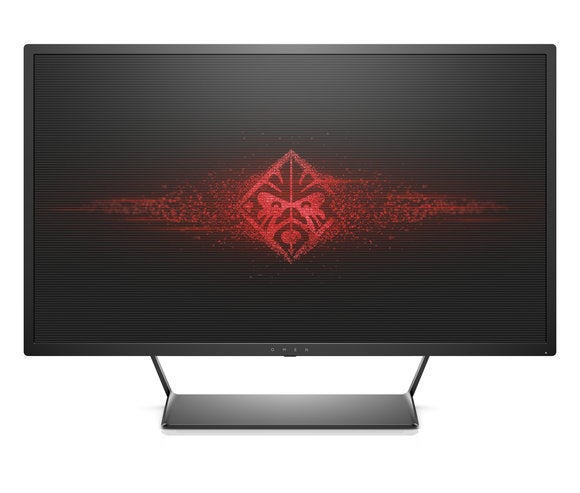 HP's also pairing the desktop with a new 32-inch 2560-by-1440 FreeSync-compatible display with two HDMI ports, one DisplayPort, and a USB hub. Pricing for the display wasn't announced, but it will release in August around the same time as the desktop, which is also lacking a pricing announcement. The new OMEN laptops roll out on July 10 with prices starting at $900 for the 15.6-inch and $980 for the 17.3-inch.
The story behind the story: What's interesting about HP's announcement isn't so much what it said, but what it didn't. HP is introducing its new devices less than a week before the Computex trade show begins—and less than a week before AMD is also expected to potentially introduce its first graphics cards rocking the Polaris architecture. If AMD was rolling out new high end gear to match the GTX 1080, you'd think HP would hold off on this announcement. That suggests the rumors may be spot on when they claim AMD will start with mid-range graphics products for Polaris.
It's also curious that the laptops will rock the 965M and not something new. Perhaps that means new mobile parts also aren't coming for gamers at Computex next week as the new graphics generation is only just now lurching to life. Typically, companies that are including unannounced components in their new hardware will say things like "this laptop features an Nvidia GPU" or something similar without getting into specifics. That's not the case here.
That's all speculation though. We should have a better idea of what's going on in the graphics world once Computex wraps up.