We love Gmail because of the many ways it allows us to optimize our email experience. One of our favorite ways is to visit Gmail Labs. As the name implies, it's the playground where Google rolls out its experimental features. The successful ones, such as "Undo Send," eventually become part of Gmail. But you don't have to wait for Google to put its official stamp of approval on them; many are plenty useful in their beta state.
We peek in on the Labs from time to time, and we've found a few more that can make your inbox more productive right now. To enable any of them, click the gear icon in the top-left of the Gmail pane. Then go to Settings > Labs. Scroll down to the feature you want, select the Enable radio button, and click Save Changes.
Authentication icon for verified senders
The incidence of cyber crooks using the names of well-known institutions is on the rise. They do this by spoofing, say, PayPal's email address to trick you in to revealing your personal or financial information.

Google's email authentication gives you some protection from these phishing schemes, but you can beef up your defenses with the "Authentication icon for verified senders" lab. Once you enable this lab, Gmail will display a key icon next to authenticated messages from trusted senders, including PayPal, eBay, and Google Wallet. Next time you get an email from one of these domains without the authentication icon, you'll know to approach it with caution.
Multiple inboxes
Gmail's powerful search makes it fairly easy to find a critical message in even the most unruly inbox. But how much easier it would be if you could have Gmail sort your most important emails into designated sub-inboxes.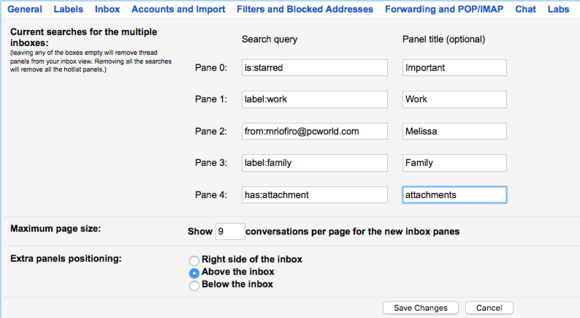 The Multiple inboxes lab does just that. It allows you to split your inbox in to up to five panes you can display above, below, or to the right of your primary inbox. Using any of Google's advanced search operators, you can customize each inbox to include a different category of email, such as messages from your boss or only emails with attachments. Once you've enabled the lab, go to the new Multiple inboxes tab under Settings to set it up.
Google Maps previews in mail
You get an email from a client confirming a lunch meeting that includes the address of the restaurant. Chances are your next stop is Google Maps to scope out directions.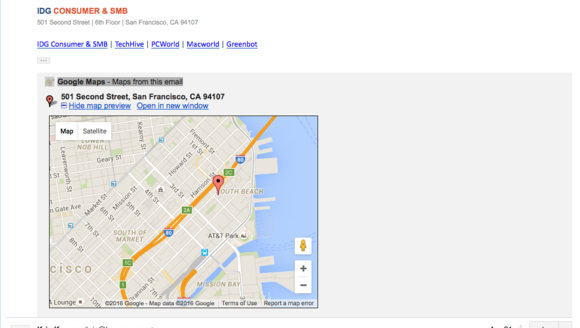 This lab eliminates a step by including map previews for any addresses within an email message. If your work involves frequent travel—locally or abroad—this one is a real time-saver.
Google Voice player in mail
If you're a Google Voice user, you're probably used to getting voicemail notifications in Gmail. With this lab, you can listen to the voicemail in Gmail as well.
Just enable the Gmail Voice player in mail lab, and you'll receive the voicemail audio along with the transcription in your notification message. You'll be able to check all your messages—email and voicemail—from one place. Best of all, everything is synced—any voice message you play in Gmail will be marked "read" in your Google Voice inbox.