On paper, Intel's massive new 10-core—yes, 10—Broadwell-E gaming chips top out at 3.8GHz. But buying one is like purchasing a lottery ticket to free overclocking—without voiding your warranty.
The flagship feature of the new Broadwell-E line is something Intel calls Turbo Boost Max Technology 3.0, a technology that tests each individual core on the chip and figures out which one can be safely pushed beyond its normal limits.That's on top of a 20- to 25-percent improvement over its previous gaming chip, the Haswell-E generation, Intel claims.
"It's the biggest, baddest CPU we've ever done," said Frank Soqui, the general manager of the enthusiast client platform division at Intel, in an interview prior to the Computex show in Taipei, where the chip was announced Tuesday.
Four new chips make up the Broadwell-E family, including the mammoth 6950X, a 3GHz, 10-core beast that includes a whopping 25MB of onboard cache, with a thermal design power (TDP) of 140 watts. All that power comes at an enormous price: an incredible $1,723, more than $700 higher than the $999 Intel usually charges for its premium CPUs. At $1,089, the 6900K isn't much better.
Broadwell-E is so powerful, simply playing a single game or running an application isn't enough. Intel's new message is "megatasking." The Broadwell-E chip can handle scenarios where the chip is being asked to one, process 4K games at 60 frames per second; two, encode that gameplay; and three, stream it out at 1080p resolution to a live stream. Who would have thought that CPUs would begin to outstrip everything we would normally think to throw at them?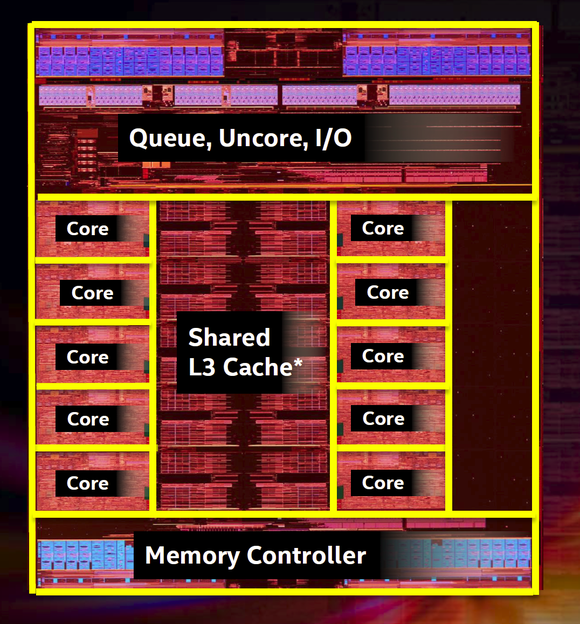 Speeds and feeds
For the story behind Broadwell-E's specs, check out Gordon Mah Ung's deep dive into benchmarks. Broadwell-E's key improvements over its predecessor, 2014's Haswell-E 22nm gaming chips, include:
A jump from 20MB to 25MB of cache
An increase from 4-channel DDR 2133 memory to DDR 2400
Several overclocking-specific features
Thunderbolt 3.0
The new Turbo Boost Max 3.0
Intel considers its four new unlocked Broadwell-E chips its "extreme performance" lineup, perching on top of its existing, unlocked 4-core 6700K and 6600K chips.
Though Intel releases its chips in a "tick-tock" cadence—first a process shrink of the previous generation's core, than a redesigned core on the same process—that pattern doesn't really hold true with its high-end processors. Intel's 14nm Broadwell generation was released before the 14nm Skylake chips, but Intel usually waits to release its E-series gaming chips until last. In other words, Intel's 6700K chips are actually members of the latest Skylake family, which require new motherboards compatible with the latest LGA 1151 socket. But the very latest 6950X, 6900X, 6850X and 6800X chips are all members of the older Broadwell generation.
Why is that important? Because the new Broadwell-E chips are drop-in replacements to the previous Haswell-E gaming chips, using the same LGA 2011-v3 socket and X99 chipset. Just make sure that the board vendor enables the appropriate BIOS update to take advantage of the new Turbo Boost Max Technology 3.0. (Antonio Vera Jr., an Intel desktop platform marketing manager, said board vendors should be releasing their BIOS updates at the chip's launch on Tuesday.)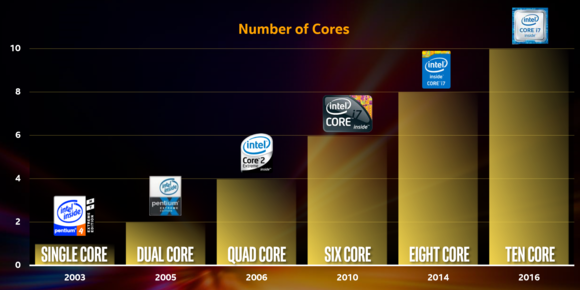 As it's done with previous generations, the low-end 6800K is priced within shouting distance of the previous flagship, the 6700K. Unfortunately, what you'll save in keeping your old motherboard, you'll probably be plowing into the cost of the chip.
Early leaks of the chip suggested that the single-core performance of the new Broadwell-E parts was actually slower compared to the Skylake chips already in the market. It's not hard to see why: Each new core is clocked relatively low. That's been done to accommodate the higher number of cores within the same 140W thermal envelope as its predecessor, Soqui said.
"We didn't want to do that," Soqui said. "It's a consequence. So what we did was design something that was designed to eliminate the need to reduce frequency."
The flagship feature: Intel Turbo Boost Max 3.0
If you've been a PC enthusiast for a while, you've undoubtedly heard of "bin splits" or "speed binning." Slight variations in the chip's capacitance, for instance, or in how the various layers line up, can affect the maximum clock speed of a particular chip, according to Dean McCarron, an analyst with Mercury Research. These variations allow a lucky overclocker to push the CPU (or GPU) far above the rated speed. Somewhat ironically, McCarron added, chip designers actually hate these variations, and over time the industry has worked to smooth them out.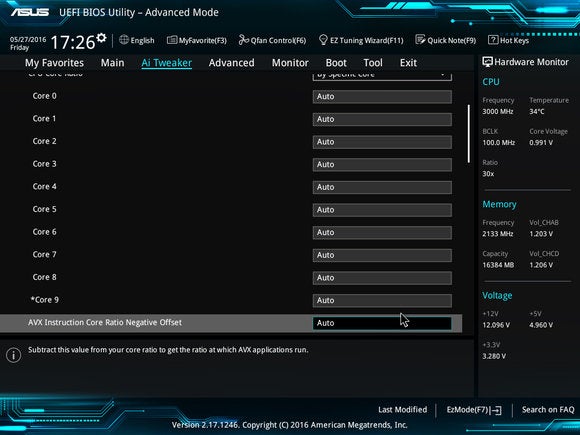 Intel's Turbo Boost Max 3.0 uses these variations to your advantage. A chip like the 6950X runs at a core clock speed of 3GHz, "turbo boosting" to 3.5GHz when needed. What's new here is that the chip will actually pick the highest-performing core and, through a driver, allow you to "pin" a particular application to it.
Consequently each core will "bin out" at different speeds, with a variation of about 15 percent, Soqui said. If an app suddenly demands all the single-core performance it can get, that core will be boosted—beyond the "turbo boost" frequency specified by the chip. Put another way: On paper, the 6950X turbo-boosts to 3.5GHz. Tack on another 15 percent, or 0.5GHz, and your chip boosts to 4GHz for free.
"We know you're going to get higher than Turbo Boost Technology 2.0," Soqui said. "And here's the most important part—you're not going to void your warranty." That's because by Intel's definition, Turbo Boost Max 3.0 isn't overclocking. There's a fun little bonus for those who spend more to buy more cores: The more you buy, the greater the chance that you'll get a "lucky" Turbo Boost Max 3.0 core.
If you are an overclocker, however, Intel has also tossed in three overclocking-specific features: per-core overclocking, AVX ratio offers, and VccU voltage control. Per-core overclocking is the most obvious, tapping into the individual core controls of Turbo Boost Max 3.0. AVX ratio offsets allow overclockers to dial down the amount of resources dedicated to the new AVX instructions, as opposed to the older SSE instruction set. Finally, VccU voltage control allows overclockers to tweak the "ring" voltages used by the chip, all in the name of higher clock frequencies.
Thunderbolt 3.0 is now available, too
Intel's older Thunderbolt technology has had middling success, largely appearing in Apple's Macs and not much else. Thunderbolt 3.0, however, has jumped into the Windows PC space with both feet, sharing the USB-C port on a number of Skylake PCs. Now, X99 motherboards can include Thunderbolt 3.0 as well, a 40GBps, bi-directional interface that Intel claims is 8 times faster than USB 3.0 and 40 times faster than FireWire.
With Thunderbolt 3.0 (and the appropriate devices, of course) you'll be able to daisy-chain six devices on a single port, including dual 4K displays. Alternatively, two PCs can be connected at 10-gigabit ethernet speeds.
Intel's new Broadwell-E chips already support 40 PCI Express 3.0 lanes, which the Haswell-E parts did as well. Note that the 6700K, Intel's highest-performance Skylake part, only supports 16 lanes at the moment.
A server chip in gamer's clothing
Analysts say the Broadwell-E is basically a server chip in gamer's clothing; if so, you're lucky you're not paying the several thousand dollars server makers usually pay to Intel for its Xeons.
We've already learned a few things from the Broadwell-E we have in-house. In multi-threaded tests, those 10 cores pay off with very nice dividends. Intel's touting some very respectable numbers, including up to 30 percent faster using the 3DMark Fire Strike benchmark versus the i7-5960X Haswell-E chip, and an 85fps boost on Tom Clancy's The Division when using a 10-core chip compared to a 4-core model.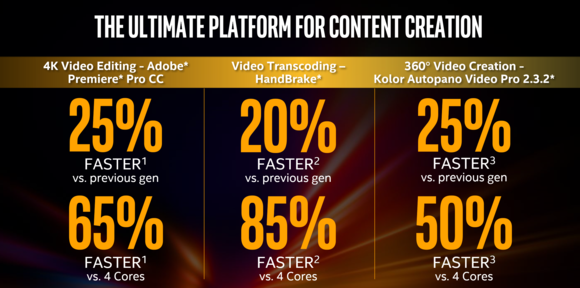 Tapping into everything the Broadwell-E can offer may require multiple CPU-intensive apps running simultaneously, which may be a foreign concept to those raised on tweaking HiMEM.SYS to allow a game to run.
Server makers typically gobble up everything that hardware makers offer, and more, with virtualization environments that simulate several client PCs co-existing on a given CPU. That won't necessarily be the case on the desktop, McCarron said. "Not everybody running a desktop PC will be running enough applications to use up all those cores," McCarron said.
That's not going to matter to gamers with the available cash to buy one, though, especially the cheaper, 6-core 6850X and 6800X models. Although Intel may now consider PCs, drones, and connected toothbrushes as all just generic client devices, gaming PCs is one area where Intel is all in, Soqui said.
Why? In part, because the PC gaming hardware market is expected to grow from $24.6 billion in 2015 to $30 billion by 2018, according to Jon Peddie Research. HP may have just recorded its seventh straight quarter of revenue declines, Chromebooks may have overtaken Macs in sales, and the PC market may still be tanking, but gaming PCs are skyrocketing. With the "bonus" overclocking features Intel has tossed into Broadwell-E, they may well continue.
"All the horror stories in the PC industry don't exist here," McCarron said.