As the notebook PC becomes ever more important to the company's future, AMD debuted its Bristol Ridge and Stoney Ridge integrated graphics APUs for laptops as the Computex show in Taipei kicked off.
Combined, AMD's new 7th-generation APUs represent a total of nine new products intended for low-end, budget notebooks on up to premium devices. Bristol Ridge and Stony Ridge represent AMD's first APU refresh in a year, since the company debuted the Carrizo chips last May.
AMD's traditional argument for its APUs has been that they offer more graphics horsepower for a lower price. This time around, both the Bristol Ridge and Stoney Ridge APUs pack AMD's Excavator core, which will be paired with AMD's Radeon R7 graphics cores on the FX and A12 lines; AMD's R5 graphics on the A10 and A9 lines; and R4 and R2 graphics on the low-end A6 and E2 series, respectively.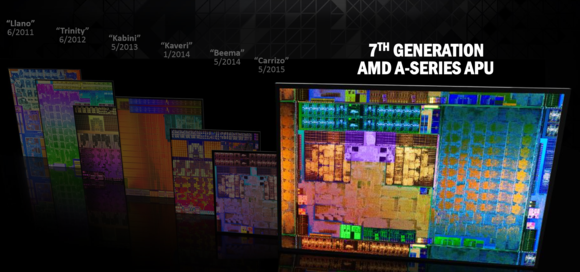 All told, AMD is squarely focused on the PC, according to Kevin Lensing, the corporate vice president and general manager of the client business unit at AMD. "We're not really interested in drones, we're not really pushing hard in automobiles; we're pushing really really hard in PCs," Lensing said, in a swipe at Intel's recent refocusing on the broader device market.
All of AMD's new cores consume either 15 watts or 35 watts, about the same power consumption as Intel's own Skylake parts. Though both 2015's Carrizo APUs and the Bristol Ridge parts used AMD's Excavator CPU cores, it's a first for the lower-end Stoney Ridge APUs. The improved CPU cores and graphics will allow AMD's low-end parts to take a crack at usurping Intel. AMD's A9 APUs will rival the Core i3 with "competitive graphics and system performance," according to AMD.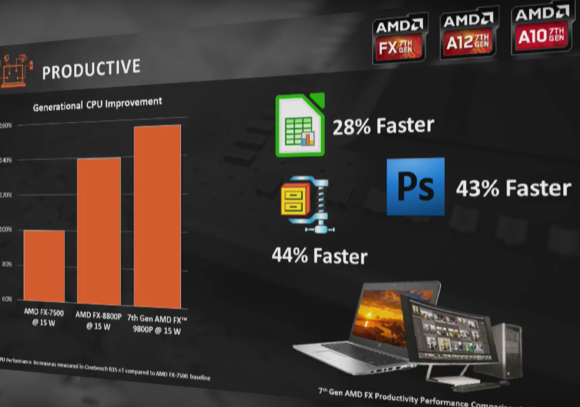 Why this matters: AMD's future increasingly depends on the notebook PC. During the fourth quarter, for example, AMD's shipments of desktop APUs decreased 4.3 percent from the previous quarter, according to Jon Peddie Research, while AMD's shipments rose 30.3 percent in notebooks.
The specs are a bit of a mystery
Unfortunately, AMD's being far more cagey about the specifications of the Bristol Ridge and Stoney Ridge parts than it is for, say, the AMD A10-7860K APU for the desktop that debuted in February. In the A10-7860K's case, the computing's handled by four CPU cores clocked at up to 4GHz in turbo boost, paired with eight Radeon R7 graphics cores running at 757MHz. It's also probably the last time we'll see the Excavator CPU cores before AMD bets big on the Zen CPU core next year; Tuesday night during a Computex press conference, AMD chief executive Lisa Su announced that the next APU would feature the AMD Zen core.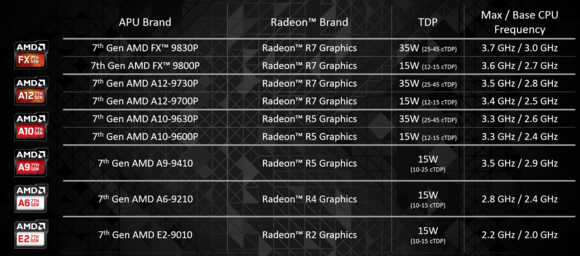 AMD would say only that its high-end Bristol Ridge chips ship with four CPU cores—implying, but not confirming, that they'll ship with eight GPUs as well. It also cherry-picked some head-to-head comparisons—the A12, AMD said, will outperform the Intel Core i5-6200U with 31 percent more gaming performance.
(On Wednesday, AMD clarified: the FX9830P andFX 9800P will have 8 GPU cores and 4 CPU cores; the A12 and A10-series parts will have 6 GPU cores and 4 CPU cores, the A9 and A6 parts will have 3 GPU cores and 2 CPU cores, and the E2-9010 will have 2 CPU and 2 GPU cores.)
AMD's Bristol Ridge APUs—the FX, A12, and A10 APUs—will support DDR4 memory running up to 2400MHz. They'll also include Adaptive Voltage and Frequency Scaling (AVFS), a technology AMD added to the Carrizo chips. AVFS enables what AMD calls the "optimal operating point" for a given mix of power and performance, theoretically allowing the chip to operate at its maximum speed but at a minimal voltage.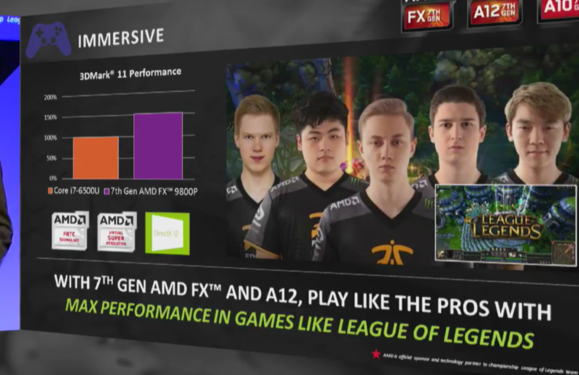 The Stoney Ridge APUs will be slightly slower, with support for 2133MHz memory. They'll be clocked at up to a gigahertz faster than the older Carrizo chips in those low-end categories, however, AMD said. To give you a sense of how the chips stack up, AMD is positioning the A9 chips against the Intel Core i3-6100U.
Lensing also said that AMD pushed hard to increase the performance versus its Carrizo, specifically the AMD A8-7410. Measured against the CineBench 11.5 benchmark, the performance of the A9 jumped by 52 percent.
"Honestly, this was a place we felt like we needed to move fast," Lensing said. "We fell a little back… there's a massive focus in the near term to accelerate the pace."
Both APUs include VP9 and H.265 /HEVC support in hardware, supporting up to 4K H.264 decoding, 1080p VP9, and 4K HEVC support. Basically, the message here is that the three codecs are the most popular used by services like YouTube and Netflix—and AMD supports them all.
AMD will also toss in some games as an incentive to buy—Winning Putt, DiRT Rally, Batman 3, among others—but the real selling point will be the combination of low power, low price, and decent performance. It just remains to be seen what OEMs buy into it—and HP and Dell apparently have.
A representative from Dell announced the Inspiron 15 5000 series, available at $399, which will include the new APU as well as Radeon R7 series graphics and an optical drive. HP also showed off a consumer notebook boasting AMD's APU and discrete graphics to boot.
This story was updated at 1:50 PM on June 1 with additional details.