Think of virtual reality devices as PCs and you'll better understand what Microsoft wants to do with Windows Holographic: establish it as the de facto operating system for augmented reality and virtual reality devices.
At Computex on Tuesday night, Microsoft executives said the company had opened up Windows Holographic to all devices, and had begun working with HTC's Vive team to port the Windows Holographic Windows 10 interface to it. According to Terry Myerson, executive vice president of the Windows and Device Group at Microsoft, "Windows is the only mixed reality platform."
Myerson showed off a video (below) where a HoloLens user was able to "see" the avatar of an Oculus Rift user, and vice versa. The two, plus an additional HoloLens user, were all able to collaborate on a shared project, passing holographic assets back and forth. Two employees did the same on stage, digitally painting a virtual motorcycle that was seen by both a HoloLens as well as an HTC Vive.
"Many of today's devices and experiences do not work with each other, provide different user interfaces, interaction models, input methods, peripherals, and content," Myerson said. Microsoft intends to solve that problem with Windows 10 and Windows Holographic.
Why this matters: Microsoft's announcement shouldn't be too surprising, given that the Rift and the Vive are tethered to a Windows 10 PC anyway. Microsoft boasts that more than 300 million devices today run Windows 10, but an additional 80 million VR devices could be sold by 2020, all of which Microsoft covets as potential Windows 10 devices. Still, in the list of partners Microsoft cited—Intel, AMD, Qualcomm, HTC, Acer, ASUS, CyberPowerPC, Dell, Falcon Northwest, HP, iBuyPower, Lenovo, and MSI—one name is conspicuously absent: Oculus, and its Oculus Rift. It's unclear whether the omission means Oculus isn't willing to play ball, though that's the easiest assumption.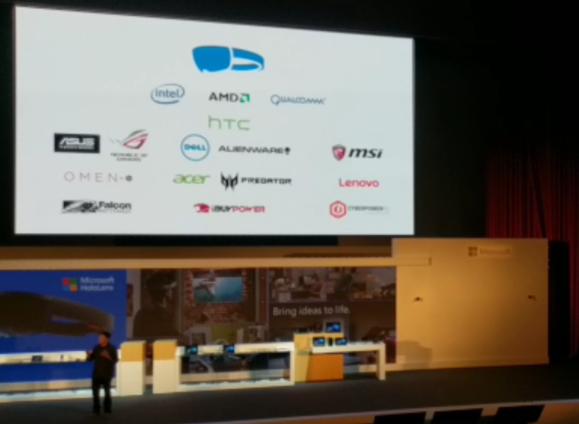 Devices of all sorts, connected by Windows
Windows Holographic and Windows 10 are almost the same thing. Windows 10 essentially powers the Microsoft HoloLens, and the interface uses common Windows 10 apps, a Start menu, and key components like Cortana. Still, the HoloLens is an augmented reality device, overlaying virtual objects onto the real world. VR devices aren't designed to see real-world objects, although analysts believe the two will eventually collide in a future Microsoft is calling mixed reality (and most people call augmented reality).
"Mixed reality is coming to Windows PCs," Myerson told attendees at the Computex show in Taipei. "Together we will break down the barrier between virtual and physical reality." (An unofficial livestream of the event was broadcast by Roland Quandt, and is the source of the images embedded in this article.)
Gestures like the air click that the HoloLens uses can't necessarily be reproduced on other platforms. But Microsoft already began bridging the gap with a physical clicker that the company began shipping to developers, and the company's May update to Windows Holographic added Bluetooth mouse support. Presumably, those same interfaces will be ported to the Vive and other VR devices as well. If they can't be directly translated, it seems likely that Microsoft will use its Cortana digital assistant as an intermediary.
Some of those devices will lack capabilities that the HoloLens enjoys, such as the ability to scan real-world objects into its virtual space. But the implication is that if those other VR devices are running Windows, they'll at least be able to see and manipulate the digital assets that the HoloLens creates.
Myerson acknowledged that Microsoft has work to do, and closed his Computex presentation by asking the VR community to sign up for the Windows Hardware Engineering Conference in Shenzhen, China, as well as Taipei. Those sessions are both scheduled to run between June 28 and July 1, he said.