Priced at $199, the Samsung Gear IconX may be the most expensive earbuds you ever buy. But the story here isn't audiophile-caliber music quality. No, Samsung is pushing the IconX as the ultimate earbuds for workout fanatics, thanks to a completely wireless design, onboard music storage, and built-in sensors for tracking steps and heart rate.
I used the IconX for about five minutes during the same Samsung demo that revealed the Gear Fit2 wristband, and found the earbuds to be hit-or-miss—awesome in some respects, a bit lacking in others. I'll withhold final judgement until my official review, but at this point I can say that Samsung is on to something with the IconX. Indeed, if you require music and exercise data during your workouts, you'll definitely want the feature set that Samsung is offering when the Gear IconX goes retail in the third quarter of this year.
Icon GearX: How it works
Other wireless earbuds, like the LG Heart Rate Earphones, are wired to each other, as well as to a control pod. LG's control pod connects to your smartphone over Bluetooth—and that's what makes the system wireless. But the Gear IconX are completely wire-free. They're not even wired to each other. Instead, Samsung uses a special Bluetooth protocol to connect one earbud to the other, all while maintaining perfectly synced stereo sound.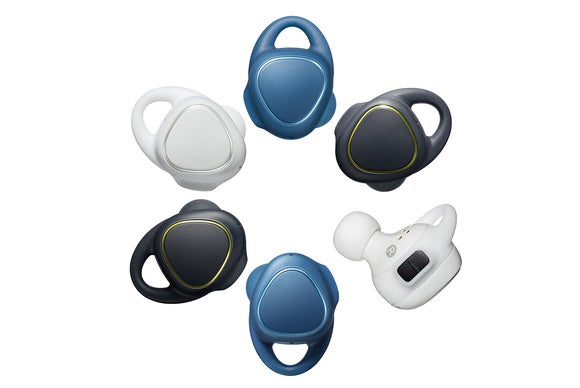 What's more, you won't necessarily need to bring your smartphone with you when you're exercising, as the Gear IconX boast 4GB of storage for onboard music. Just drop the earbuds into their charging case, and then connect that to your computer. Now you can transfer tracks from your music collection to the 'buds.
Battery life is rated for 3.6 hours of continuous use if you only listen to onboard tracks (MP3, WMA v9, WAV, AAC, and M4A are all supported). If you choose to stream music from your phone, battery life drops to 1.5 hours.
I found the IconX incredibly easy to insert in my ears, and they wouldn't pop out no matter how violently I shook my head. Unfortunately, Samsung's system for controlling volume and pause/play/track advance wasn't quite so trouble-free. Each earbud includes a capacitive touchscreen to control these functions, and while swiping to control volume was easy enough, I never mastered the tap methods for playback control during my brief time with earbuds.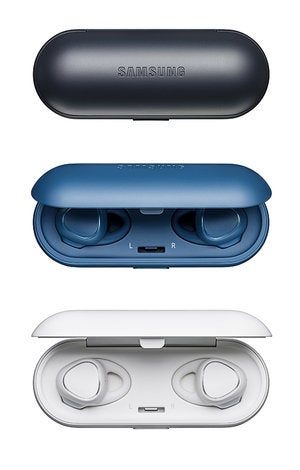 I'm a masochist when it comes to audio volume, and IconX delivered the decibels I need. That said, the earbuds seemed to have poor bass response. Of course, I'll need to use the IconX with my own music selections to really determine bass quality, but based on the EDM track that Samsung played during my demo, I wasn't hearing much thump.
Steps and heart-rate data
The IconX have an onboard heart-rate monitor, as well as an accelerometer to collect step data. I didn't get a chance to experience either sensor in action, but the concept is pretty simple: A Voice Guide feature provides audio reports on your exercise progress and heart rate, directly through the earbuds. The LG earphones boast a similar feature, and while it certainly works, I personally find the interruptions to be annoying.
Luckily, the Gear IconX can also pair with your phone, so you can look at real-time step and heart data directly on any modern Android device via Samsung's S Health app.
Unfortunately, you can't stream IconX sensor data to the just-announced Gear Fit2 wristband. That's a shame, because I've found that heart-rate data produced by ear-based sensors is more accurate than heart-rate data collected by wristbands.
All in all, the Gear IconX look really interesting, and should bring a whole new approach to fitness tracking for mainstream users. I'm concerned about bass response, and I'm also worried about losing the buds themselves. Wired earphones may not be ideal when you're running outside, or jumping from machine to machine at the gym. But those wires do make old-school earbuds easier to find—at the bottom of gym bags and on cluttered countertops.
So if you buy the IconX when they go on sale during the third quarter of this year, you'll definitely want to keep them in their charging case. It might be just large enough to keep from getting lost.