Microsoft first brought the feature to Android users, but now folks on Windows 10 Mobile can also get phone notifications synced to their Windows 10 PCs. The new feature was just added as an addition to Cortana in the latest Windows 10 Mobile Insider Preview on the fast ring—build 14356.
Cortana can send phone notifications and what Microsoft calls "critical alerts" to your Windows PC with the updated version of Windows 10 Mobile. This includes items that already show up, such as regular text messages and missed call alerts, as well as notifications from other messaging apps (WhatsApp, Line, Telegram, etc.), social media alerts, and other app notifications.
Microsoft says it's also working on muting notifications on a per-app basis, but that functionality is not ready yet. You can, however, turn off phone notifications globally if you don't want to fill up Action Center on your PC with phone alerts. Your Windows 10 PC will need to also be enrolled in the Windows Insider preview program to see these new mobile alerts.
The impact on you at home: If you want to check out the improvements to Cortana you'll need to be on the latest version of the Windows Insider fast ring for both Windows 10 Mobile and Windows 10 for PCs. Otherwise, the new features are expected to roll out as part of the Anniversary Update this summer.
Here's how to sign up for the Windows Insider preview program on your PC.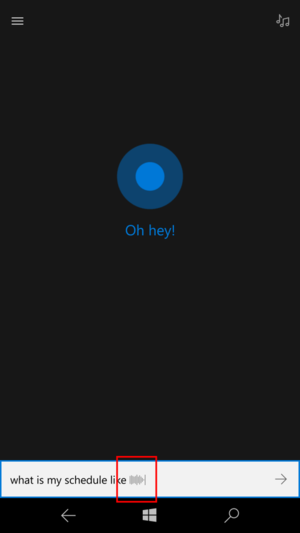 Cortana shares photos
There's also a nifty little feature that lets you send photos from your phone to your PC via Cortana. All you have to do is say, "Hey Cortana, send this photo to my PC" and it'll be pushed to your computer. This feature's currently exclusive to Windows 10 phones, but I'd guess it won't stay that way for long.
Microsoft also added a new animation to show that Cortana is listening as you speak. In the current stable version of Windows 10 and Windows 10 Mobile, Cortana's listening animation is a bunch of letters that change quickly as if the computer is deciphering each word. It's similar to the way movies often depict a computer hard at work decrypting a password.
Cortana's new listening animation looks more like a miniature audio waveform.
On top of the new features, this build adds a ton of fixes for strange quirks like incorrect battery percentage estimates, misbehaving Glance screen clocks, and improvements to Cortana's reliability—let's hope that means the digital personal assistant is becoming less crash happy. You can find the complete list of fixes and known issues on Microsoft's Windows blog.