Some of you out there may hope to play Minecraft and other games on the HoloLens, and one day you might! But Microsoft's focus with its augmented reality platform is still all about the workplace. On Friday, Microsoft's Outlook team announced the roll out of Outlook Mail and Calendar to HoloLens. The new apps are available now in the Windows Store for anyone with a HoloLens Development Edition.
Like other HoloLens apps, the Outlook programs are built on the Universal Windows Platform (UWP) making them very similar to the Windows Store apps available for PCs. In the images Microsoft posted online the two apps look very similar to the Windows 10 PC versions when in Snap mode—Windows' split-screen view for seeing two apps at once. Speaking of which, Microsoft plans to add HoloLens support for running three "flat apps" like these side-by-side simultaneously.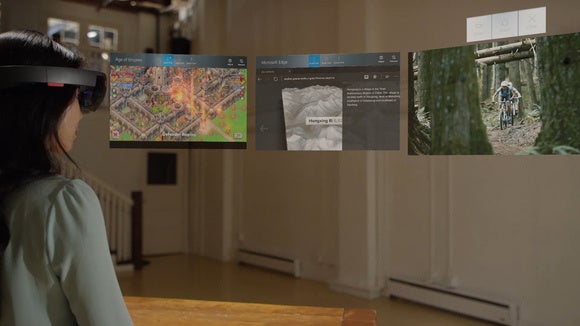 The apps have the same sidebar as they do on Windows, including the same basic views for calendar and your inbox. The title bar is a little different as it has interface elements that are specific to HoloLens. Other than that they appear to be the same.
Microsoft says you can even choose accent colors for the apps to match your surroundings, much like you can on a PC based on your desktop wallpaper. It's not clear if HoloLens is smart enough to choose the accent colors for you, but that would be a neat trick.
Why this matters: Since Microsoft hopes to see HoloLens as a productivity tool it helps to have key apps like email and calendar inside the device. That way users can receive upcoming appointment and new mail alerts inside the "mixed reality" device. If something important comes up, you can answer an email and continue designing that next-generation widget without missing a beat.
Other Office apps such as Word, Excel, PowerPoint, and OneNote are already available for HoloLens.