It's time for summer sales. The vaunted annual Steam Summer Sale isn't scheduled to start for a few weeks yet, but GOG.com kicks off the fun-out-of-the-sun today with massive deals like 50 percent off The Witcher 3, 80 percent off some Infinity Engine RPGs, and 75 percent off a bundle of XCOM classics.
But the best things in life are free, eh? For the next 48 hours you can nab a copy of classic shooter/horror game (and BioShock predecessor) System Shock 2, completely free—provided you're willing to jump through GOG.com's hoops.
The promotion is billed as part of a "stress test" for the GOG Galaxy client, which I'm pretty sure is code for "Please just download it." The ol' Origin method of "If we get our software on your computer, then we win."
In order to claim your copy of System Shock 2 you'll need to download GOG Galaxy here, install it, enter your login info, and then scroll down the sale page it brings up until you see a Claim Your Copy button. It should look like this: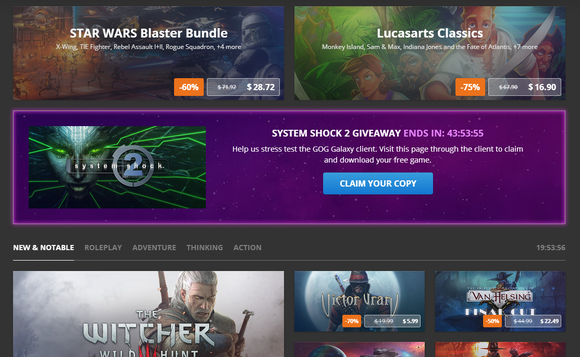 And hey, everything at GOG.com is DRM-free so if you really hate GOG Galaxy you can uninstall it right after you claim your copy, then install System Shock 2 from the website as usual. The game's yours regardless.