We just saw Motorola do something with Android that up to now, only Windows 10 has been able to do. Motorola's OneCompute prototype Moto Mod takes the concept behind Windows 10's Continuum feature—the ability to project a Windows phone onto a PC—and ports it to Android. Shown at parent company Lenovo's Tech World exhibition Thursday in San Francisco, OneCompute could further blur the line between smartphone and desktop.
OneCompute is conceived as one of the magnetic Moto Mods add-ons that can clip on to Motorola's new phone, the Moto Z, announced Thursday. The OneCompute technology uses that Moto Mod as a wireless bridge to a wired dock. The dock communicates with a traditional monitor, providing a desktop-like experience.
Officially, Motorola employees said OneCompute is part of the Moto Mods Developer Kit, designed to show off the power of Moto Mods and lure third parties to the platform. But both the Moto Mod and dock itself are branded and have the appearance of near-final hardware. Without lengthy tests, it's difficult to tell what, if any, bugs may have crept in. But my gut says that Motorola plans to ship this as a product, and soon.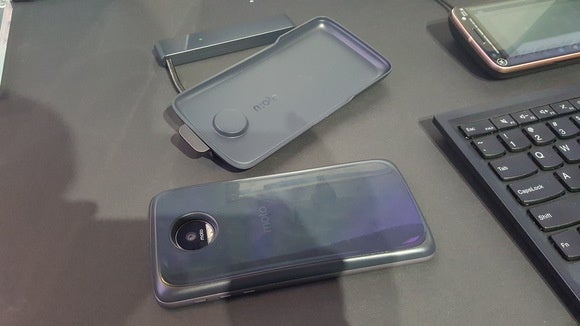 Why this matters: Peter Hortensius, Lenovo's chief technology officer, cautioned reporters not to think of this as an Android version of Microsoft's Continuum. Duly noted. But he also pointed out the relatively low numbers of users who may own a Windows phone. (To be fair, Moto Mods will work with only one Android phone at launch, which means OneCompute's share—when and if it ships—could be equally minuscule.) Motorola showed off the Android version of Word Mobile running on a Moto Z, filling a widescreen monitor like it belonged there. Oh, and it ran in a window that could be snapped to the left or right, just like in Windows 10. A major productivity advantage the Windows Mobile platform enjoyed apparently just evaporated.
A Kiss to die for
On the rear of each Moto Z are sixteen metal bumps, which, when the Mods are magnetically attached on to the phone itself, provide electrical power and pass data back and forth. In the case of the JBL SoundBoost speaker or the Insta-Share Projector Moto Mod, all of the hardware is self-contained. Not so for the OneCompute.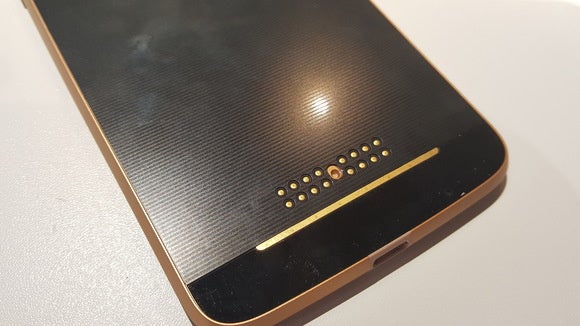 The OneCompute solution uses a Moto Mod with a chip embedded in it from Keyssa, a small Silicon Valley startup that hired the minds behind HDMI and the LPDDR4 memory standard, among others. The company's short-range Kiss wireless technology transfers data at about 6Gbps over very short ranges, and preserves USB, HDMI and DisplayPort protocols as well. (Acer built the Kiss technology into the Acer Aspire Switch 12 S and its associated dock.)
Most Android tablets use MHL to reproduce an Android display onto an external monitor, but "MHL has limitations," Motorola executives said. For one thing, MHL can be laggy. That might be because MHL also supports both 5-pin and 11-pin connectors, and most manufacturers haven't done a good job of telling you whether the phone or tablet actually supports MHL, let alone which connector it supports.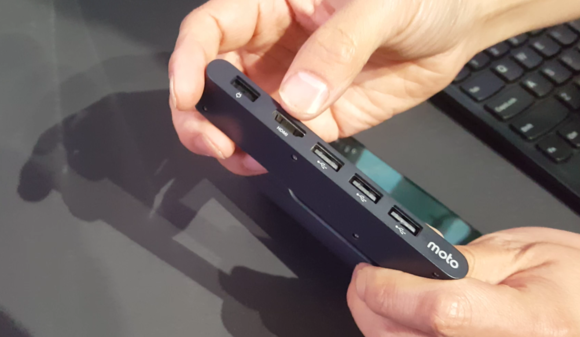 Motorola built its own dock, which boasts three USB 2.0 ports, an HDMI output, and a power connector—all connected to the receiver via a short cable. The external receiver's important because it includes a charging plate, wirelessly charging the phone as it communicates with the display. Conceptually, the whole setup is pretty ungainly—data is passed from the phone to the Mod to the receiver to the dock to the display via an HDMI cable—but it seemed to work in practice.
A functional desktop interface
Connected, the Moto Z displayed a desktop similar to that of Android tablets like the Samsung Galaxy series, with an few key icons (phone, contacts, email) at the bottom of the screen, and a familiar array of icons at the top. The only hint that the setup is somewhat unusual are the three familiar Android buttons—back, home, and the menu key—that are tucked into the corner of the screen, rather than the bottom.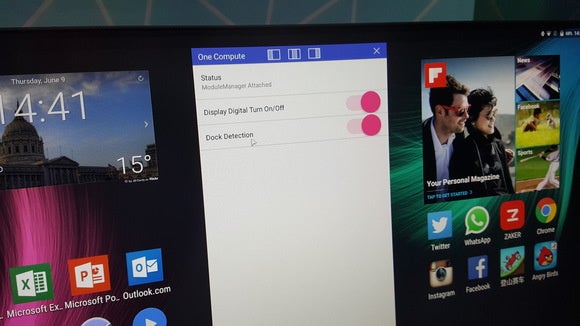 It's not exactly clear what changes Motorola made to Android to enable OneCompute, though the company says they were minimal. Certain tweaks, however, are very Windows-like: Windows had options to snap it to the left, right, or top of the screen. Apps could be windowed, and information cut and pasted from app to app. Applications could also be run inside standard windows, though this could have just been a standard Android N implementation.
Otherwise, Motorola doesn't seem to have done too much to facilitate OneCompute. The company authored a OneCompute management app and built separate AMP Connect and AMP Disconnect apps. (A demo video that the company created—and which is in our attached video, above—shows that one of the advantages of OneCompute is the ability to dock and undock a video, while streaming, without needing to restart it.)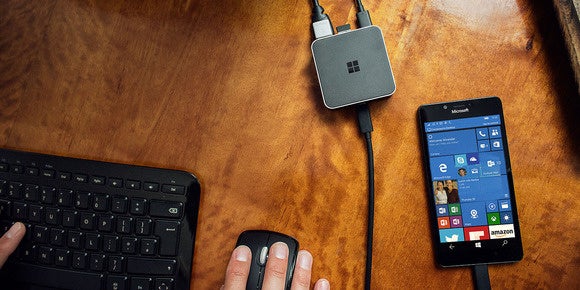 Consumers can be finicky about such things as plugging in cables, and the $99.99 price Microsoft charges for its wired Display Dock means that probably only a tiny subset of users bought one for work and home. Plopping your phone onto a wireless charging dock that also connects to your monitor, though, seems a lot more appealing.
Two pieces still have to fall into place: Motorola needs to ensure that the OneCompute solution works, and cheaply—and that includes the price of the Moto Mod and the dock, too. Unfortunately, combining a wireless charging pad, USB ports, and an HDMI connection will probably push up the price considerably higher than the $30 or so I'd prefer. Still, the OneCompute concept means that Android phones could increasingly pressure Windows PCs—bad news for Microsoft, maybe, but a win for consumers.