Downloading and storing apps from the Windows Store on Windows 10 is currently an all or nothing proposal. You either install your Windows Store apps on the Windows partition or a secondary drive. But when the Windows 10 Anniversary Update hits in the coming weeks that may not be the case for large app installs (i.e. PC games).
Windows Insiders are reporting that the newest Windows 10 allow users to choose the install location for large apps from the Windows Store, on a per-download basis. The screenshot below (from a Reddit user) shows an installation dialog from the Windows Store, as first spotted by Neowin. "Select a drive with at least 26.83GB," the prompt pictured above says in German.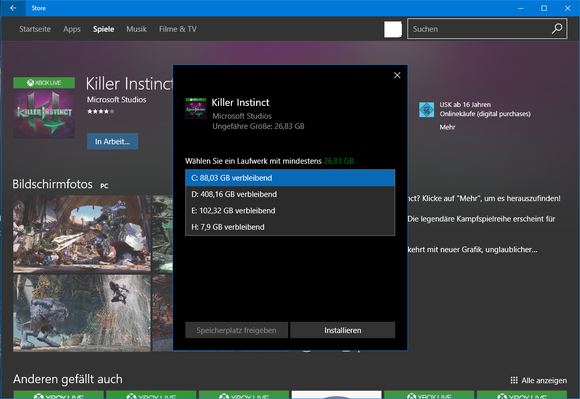 It's not clear when the new feature was added, but Neowin says the feature was present on builds 14361 and 14366 in their tests.
Without an announcement from Microsoft it's not entirely surprising that this feature went unnoticed. First of all, the ability to choose app install locations on a per-app basis may be a server side feature, meaning Microsoft may have only recently flipped the switch for it.
Second, it's unlikely that a ton of people are downloading and installing AAA game titles on Windows 10 Insider builds, since these cutting-edge versions of the operating system are generally unstable and bug-ridden. Many PC gamers also turn to established platforms like Steam or GOG over the Windows Store, reducing the potential pool of users even further.
Further reading: How Microsoft's former PC gaming glory could help fix today's Windows gaming woes
Why this matters: There may be other apps in the Windows Store with large install packages, but really this feature is all about catering to gamers. The ability to choose where to install large games on a per-download basis is just one of those critical niceties PC gamers need. When Valve's Steam rolled out a similar feature in late 2012 it was met with an exasperated "finally" by PC gamers everywhere, as this Rock, Paper, Shotgun post will attest.
Appealing to PC gamers is a key part of Microsoft's strategy as it looks to be a larger player in PC gaming through the Xbox Play Anywhere program. Without the flexibility that PC gaming is famous for, however, few hardcore gamers will be willing to invest their hard-earned gaming dollars on Windows Store apps, Xbox cross-play be damned.