Here at PCWorld, most of our PC gaming coverage revolves around a central premise: that you have a graphics card in your system. But not all gamers can afford spending a couple hundred bucks (or more!) on dedicated graphics hardware. In fact, if you look at the Steam hardware survey, a sizeable chunk of users play solely with the graphics integrated into their computer processors.
Before you enthusiast types shake your head is disdain, remember that one of PC gaming's most wonderful qualities is its extreme hardware flexibility. And the most popular PC games, the ones being played by millions and millions of gamers day-in and day-out, don't even demand extreme graphics performance. Yes, I'm talking about competitive e-sports like Counter-Strike: Global Offensive, Dota 2, and League of Legends.
So when AMD offered me the chance to review an affordable small form factor APU-based system designed in conjunction with the e-sports pros from team Fnatic, I leaped at the chance.
Important note: This is not a review of the AMD A10-7860K. We won't be looking at compute performance or comparing it to rival chips. This examination is devoted solely to e-sports gaming performance.
Meet the challenger
The system AMD sent our way for testing is seriously slick and seriously small, built around a mini-ITX In Win case with a jaw-dropping aluminum design.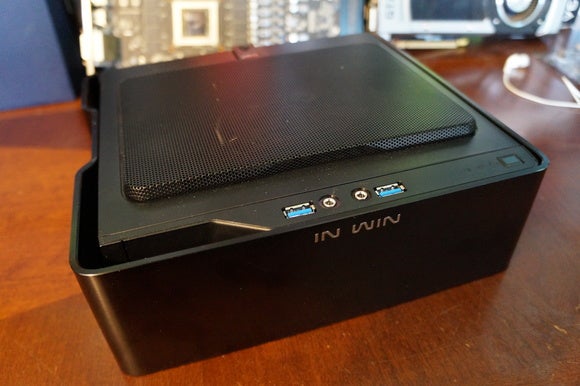 The In Win Chopin ($90 at Newegg) measures a mere 9.6 x 3.3 x 8.6 inches, including an integrated 150-watt power supply. It's so small, I tested the rig by setting it on top of the Corsair 750D full tower case used for PCWorld's primary GPU testing machine. The case would fit nicely on any desk or living room entertainment center, and can stand vertically or be laid flat. Large mesh openings on the top and side of the case facilitate airflow nicely despite the cramped quarters—this box never ran hot during testing.
But of course, it's what's inside the PC that counts when it comes to performance. Here's the full specification list:
All told, the complete system costs $469 at the time of publication. While the (disclosure: affliliate) links above point you toward everything you need to build out a version of your own, AMD and Fnatic plan to offer the complete build as a Newegg supercombo at some point. (Fnatic also recently held a giveaway for a nearly identical version of the system, signed by the League of Legends team.)
You'll need to bring your own operating system, of course. Windows 10 will set you back $100 if you stick to legalities, but if you don't plan on playing League of Legends—which is only available for Windows and Macs—no-cost Linux operating systems can play many more games than they used to, including Dota 2 and CS:GO. Valve even offers its own living-room ready SteamOS. We tested the rig with Windows 10, however, and you can expect some loss in performance if you opt for a Linux distro.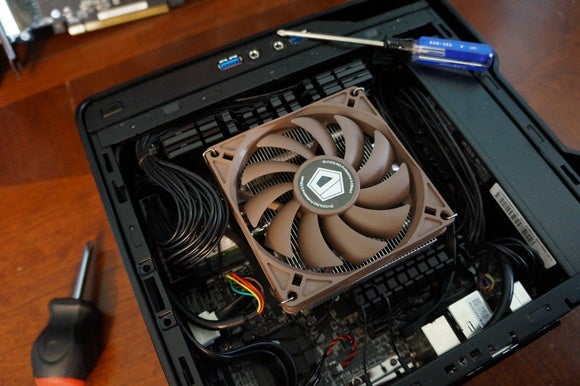 While driving home the "AMD APUs are great for entry-level e-sports gaming" message was no doubt a core focus when AMD and Fnatic designed this system, it wasn't the only one. Getting that performance into a portable small form-factor system you can drag to LAN parties was another—hence the itty-bitty case and extremely low-profile cooler. You could possibly shave $60 or so off the total if you built a A10-7860K system around the standard ATX form factor, especially if you opted for a cheaper motherboard and the APU's stock "quiet" cooler. But the result wouldn't be nearly as attractive nor as portable as this.
Just don't skimp if you're inspired by this system but want to swap out the RAM. AMD APU performance is directly tied to memory clock speed. You'll want RAM clocked at 2166MHz or higher to eke out better frame rates.
But enough tech talk! Let's see how this rig holds up in some real-world games.
AMD's A10-7860K tested
Let's start off with the usual chart of benchmarks, but with a caveat. While AMD's A10-7860K APU is definitely capable of playing e-sports games at a good-enough clip—even newer ones like Rainbow Six Siege and Overwatch—it doesn't pack nearly as much power as a dedicated graphics solution. Thus, you'll need to tinker with the resolutions and display settings a bit in individual games to find the best mix of aesthetics and frame rate.
In the chart below, I've listed what settings you need to run to hit roughly 50 to 60 frames per second in each of the games. If you don't mind playing at a console-esque 30 frames per second, you can enable more eye candy and potentially higher resolutions. In games where doing so requires dropping from 1080p to 720p resolution, I've also listed a 1080p configuration so you can see why.
Rainbow Six Siege was tested using the in-game benchmarking tool; CS:GO was tested via the FPS Benchmark Map available in the Steam Workshop; and the other titles were benchmarked by running the game with FRAPS active and observing overall frame rate trends. We left the advanced video settings enabled in Dota 2; if you take the time to disable some—particularly Specular and High Water Quality, maybe with a few more—you may be able to hit decent frames rates at 1080p.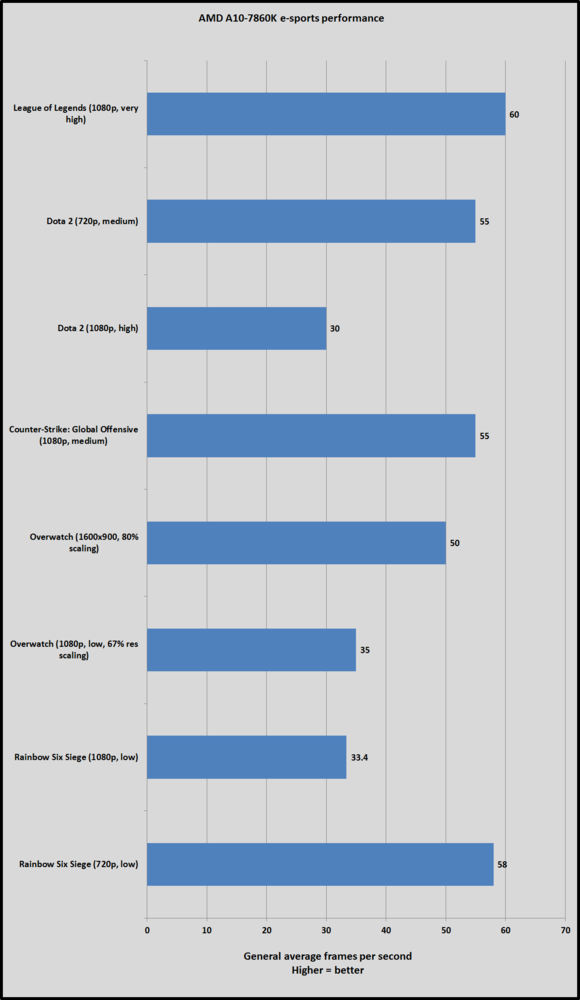 The numbers above are an approximate average of what to expect at that resolution and graphics detail setting. Performance can dip a bit during hectic gameplay sections, and spike when you're in less crowded areas. (For example, CS:GO frame rates more than doubled the stated average in wide-open areas, and downright sputtered when close to billowing smoke grenades, a known CS:GO issue.) That's true with all graphics solutions, but the modest GPU cores inside the Radeon A10-7860K make variations more noticeable—though League of Legends rarely drops below 60 fps.
Because of that, I'd recommend pairing an A10-7860K-powered PC like this Fnatic rig with a monitor that supports AMD's FreeSync technology if you're able. FreeSync synchronizes the refresh rates of your monitor and graphics to eliminate tearing and stuttering, which results in a far smoother overall experience. FreeSync monitors don't have to break the bank, either: The 21.5-inch AOC G2260VWQ6 (which I haven't personally tested) starts at just $120 at Newegg, and several FreeSync monitors of various sizes can be found for under $200 if you shop around.
The system topped out at a mere 89 watts of power use, too, and runs remarkably quiet—even under full load while gaming.
Bottom line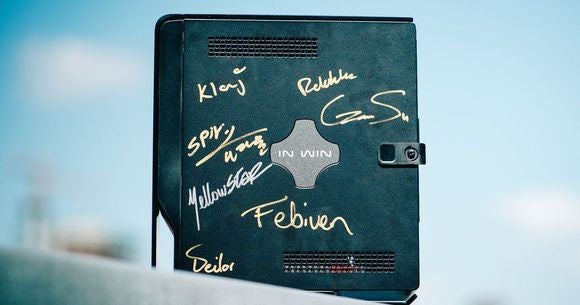 It's eye-opening to see what sort of performance this diminutive box can pump out at this price, though. AMD's been beating the PR drums all year long about APUs' enabling low-cost gaming experiences, and the numbers don't lie: AMD's processor clearly provides a solid entry into competitive e-sports for an affordable price, no graphics card required. You can even play newer games like Rainbow Six Siege and Overwatch if you're willing to turn down graphics/resolution settings or play with a 30 fps cap.
That's damned impressive for integrated graphics in a $110 chip. Doubly so in a sexy little whisper-quiet system that costs under $500. You'll start to run into performance problems if you expand into beefier modern games, though you'll be able to play some less intensive titles at low settings and 720p resolution. If you're looking to get even more performance out of an APU, the A10-7870K ($140 at Newegg) should deliver a wee bit more bite for an additional $30.
But put all that aside. The AMD A10-7860K absolutely gets the job done for the most popular competitive e-sports games in the world, and this Fnatic build in particular oozes style in the process. Tucking this under your arm and heading to a CS:GO LAN party wouldn't be a problem whatsoever—though you'll want to use somebody else's system as the server.