Facebook, Twitter, Cortana, Google Now. There are numerous ways to get a stream of news delivered straight to your eyeballs whenever you want. But you know what? I want more.
If you do too then you'll want to take a look at the Chrome extension Newsprompt. This extension turns your new-tab page into a latest-news dashboard with top news, trending news, and the ability to drill down into specific news categories.
Newsprompt is also designed to take a look at your browser history and use that information to source stories the service thinks you'll be interested in.
Get started by downloading and installing the extension from the Chrome Web Store. Notice the permissions you are granting Newsprompt. As I just mentioned, the extension wants to take a look at your browsing history in order to better suggest news stories based on your interests.
You'll also want to check out Newsprompt's privacy policy to make sure you're comfortable with it. The policy used to say that Newsprompt allowed third-party behavioral tracking, but that policy has since been changed. "We do not allow third-party behavioral tracking," Newsprompt developer Alex Kornel said. "We also do not foresee doing this in the future either. The policy has been corrected."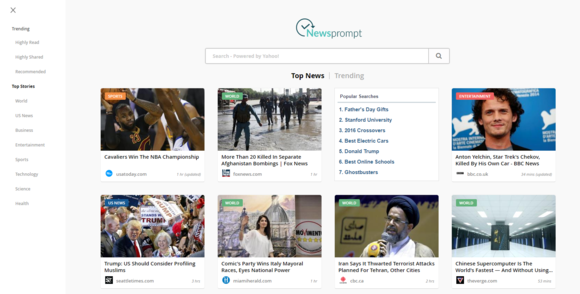 Once you've installed Newsprompt, open a new tab. You'll see a selection of top news stories displayed in a card format, and a Yahoo search bar at the top.The news items will be from various categories such as domestic and international news, entertainment, sports, and business. In my tests there was also one card reserved for what looked like a Yahoo search affiliate program. The card listed popular Yahoo searches and clicking on one would lead you to a Yahoo search results page. Presumably this is how Newsprompt makes money.
Click on the hamburger menu icon in the upper-left corner, and you can switch to the various different news categories. There are also sections for trending news, most-read stories, and most shared, as well as the recommended section based on your interests.
Once you find a story you like, click on it, and Newsprompt takes you to the original news source.
As long as you don't mind Newsprompt looking at your browsing history, it's a nice little extension to fill Chrome's new tab page with all kinds of potentially pertinent information.
Update: This article was updated at 12:15 PM on June 21, 2016 to clarify that Newsprompt does not allow third-party behavorial tracking.