At a Glance
Expert's Rating
Pros
Solid performance, among the upper echelon of convertible tablets.
Luxurious faux-leather cases exude quality
Some artful design touches, including "nests" to store expansion cables
Cons
Foldable keyboard doesn't offer the stability of a kickstand
Battery life is disappointing
Eliminating the SD card slot is a risky move
Our Verdict
Huawei's MateBook convertible Windows tablet offers good performance packaged inside luxurious faux-leather cases. But the company leaned a bit too much toward fashion, sacrificing utility in the process.
Best Prices Today: Huawei MateBook
Leather accents, a vibrant display, strong lines: Huawei clearly envisioned its MateBook as not just a luxurious convertible tablet, but as a fashion accessory. But a flimsy folding kickstand is just one of the flaws threatening to bring the whole ensemble crashing down.
While the 12-inch MateBook communicates a premium experience, prices begin at just $699 for a Core m3-based model with 4GB of RAM and 128GB of storage, though the obligatory MateBook Portfolio keyboard is $129 more. At most, you'll pay $1,199 for a Core m5 version with 8GB of RAM and a 512GB SSD.
Optional accessories include the $59 MatePen as well as the $89 MateDock. Given that the MateBook's only native expansion capability is a single USB-C port, however, I wouldn't classify the MateDock as optional. Add together the price of the tablet, keyboard, and dock, and the minimum price you'll pay increases from $699 to a more realistic $976. Our review unit's MSRP is $849 before accessories.
In our tests, the MateBook proved once again that a Core m-based convertible tablet delivers all the day-to-day performance you'll need, provided those needs don't involve intensive gaming. On paper, you certainly won't regret it. But be aware that the kickstand issue isn't the only bold choice Huawei made: The company also eliminated the tablet's rear camera, and there are no SD card slots to be found. Add those drawbacks to the mandatory MateDock, and you may begin wondering if all that speed is worth it.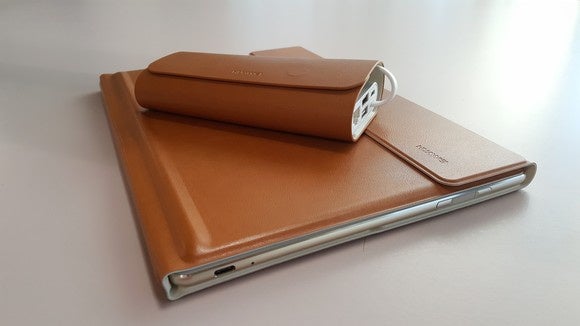 Unboxing and specs
Out of the box, the MateBook strongly impresses. My review sample came all in white, with all-white accessories, a nice change. (At some point, some hardware maker is going to allow you to buy cables and accessories in different colors, allowing me to distinguish one cable from another at a glance.) The MateBook is accompanied by a chunky power supply that connects to the tablet via its one, lonely USB-C port—which means that, if the tablet is charging, you can't connect additional peripherals to it without the MateDock.
Huawei also includes a USB-C-to-microUSB adapter, and a small intermediary microUSB-to-USB-A connector. It sounds a bit more complicated than it looks. You can also transmit data wirelessly, via either the 802.11 a/b/g/n/ac MIMO Wi-Fi or via Bluetooth 4.1.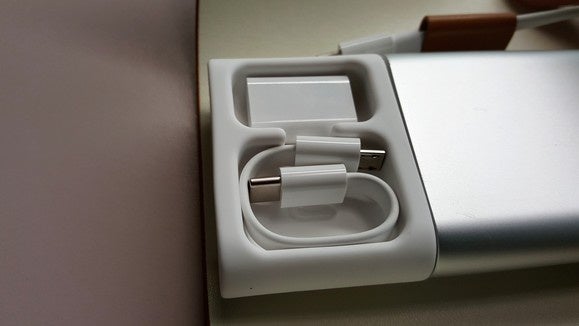 Physically, the MateBook is rather average, measuring 10.98 x 7.64 x 0.27 inches thick and weighing 1.41 pounds. Once you start toting up all the accessories—keyboard, dock, and pen—the weight climbs to 3.36 pounds, which is laptop territory.
Booting the tablet is quick, and assisted by the inconspicuous fingerprint reader nestled between the volume buttons. The reader is Windows Hello enabled, which means that you can quickly sign in to the tablet by simply swiping your fingerprint. It seemed to work just fine.
One of the MateBook's strengths is its 2160×1440 TFT IPS display, one of the higher-resolution displays within the current crop of convertible tablets. We ranked the Samsung Tab Pro S's AMOLED screen as the one we preferred the most, but you'll find no fault with the MateBook's display. (I did encounter a weird, occasional flicker every few hours or so, though I'm willing to chalk it up to a driver glitch.)
Inside, you'll find sixth-generation Core m5 options. Our unit shipped with a 1.52GHz Core m5 6Y54, significantly faster than the 1.1GHz Core m5 6Y54 included in the HP Elite x2, which we called out as a top performer among the Core m convertibles. (Our unit also shipped with 4GB of RAM, though 8GB options are available.) In our performance tests below, however, we detected some thermal throttling, which could impair the MateBook's performance if the tablet runs protracted, CPU-intensive applications.
Also be aware that the MateBook ships with just one 5MP front-facing camera. If you're the type of person who likes taking pictures with your tablet (please don't), you'll need to look elsewhere. Fortunately, the MateBook does include a standard headphone jack.
I'm more concerned about a graver omission: There's simply no SD expansion capability on the tablet, accessory, dock, or keyboard. I know some smartphone tablet makers have made this choice because of aesthetics, as well as the fact that photos taken with a smartphone are almost always loaded into the cloud. But chalk me up as a grumpy old fogey who always likes to have a physical backup option. Sneakernet is still a thing!
The Portfolio keyboard: Form, not function
The MateBook's Portfolio keyboard is the tablet's biggest drawback. But first, I must give credit where credit is due: The keyboard cover's attractive faux-leather folio design enfolds the entire tablet, magnetically clasping it at several points. A small series of pogo pins provides a physical connection between keyboard and tablet, reliably connecting the two time after time.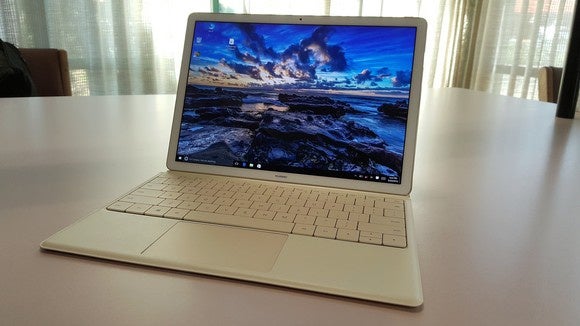 Typing on the backlit, full-size keyboard itself was fairly comfortable, and reminded me of the Surface Pro 3's Type Cover in terms of key spacing and travel (1.5mm). Still, there are a few quirks: The Insert key was nowhere to be found (no real loss), and the primary function of the F7 key is to turn off the trackpad, a choice I've never seen a notebook make before.
Before you can even begin typing, though, you have to come to terms with the keyboard's limited adjustability. The Portfolio folds back on itself to support the tablet, in much the same way that the Amazon Kindle Fire HDX did, or the Apple Smart Keyboard for the iPad Pro. You can also slide the magnetic coupling up and down for a bit more leeway.
But it's still not quite enough. If I want to place the MateBook on the desk in front of me, the viewing angle's actually just fine. But I normally prefer typing with my tablet resting on my keyboard drawer—and if I do so, the angle's just off enough to bother me. Sure, that may be nitpicking, but everyone has their PC set up just so.
The default viewing angle is excellent for lap work. The lap experience with the MateBook is also slightly wobbly, however, though this is true of most convertible tablets.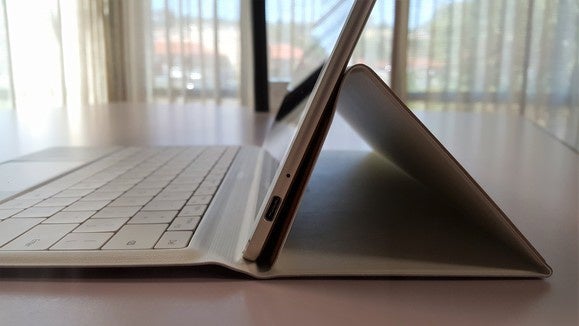 The MateBook's large display helps compensate for the limited leaning angles, and you can connect the MateBook to an external display via the MateDock. On a flat surface, like a counter, typing is adequate, though the keyboard lies flat and there's a quite a lot of transverse wobble across its width. The trackpad is about average in sensitivity.
Comparing the physical kickstand of any Surface tablet (or the Lenovo ThinkPad X1 Tablet) to the floppy, folding MateBook Portfolio, however, is like comparing a round wheel to a square one. Numerous competitors have moved on to integrated, fully adjustable kickstands that support the tablet through a range of motion.
The MateDock: A bit too necessary
While the MateBook's USB-C connector allows you to connect a single compatible device, you'll probably opt for the MateDock if you own an older display or simply want the flexibility to connect to multiple USB devices at once. Enter the MateDock.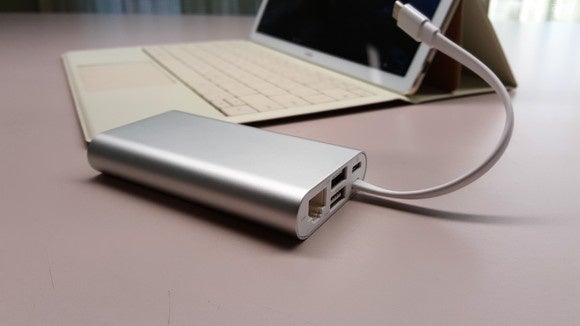 About the size of an external battery pack (4 x 2 x 1 inches), the MateDock ships with its own faux leather case, which envelops the MateDock, a MatePen pen loop, and a plastic housing for both the small USB-A to microUSB connector and the USB-C to microUSB cable. I immediately dismissed the whole thing as pretentious—and later discovered I was wrong. After years of fishing around my backpack for indistinguishable black cables, I found the MateDock's case quite useful.
The MateDock itself? Slightly less so. The MateDock includes two USB-C connectors: an inbound one for charging only, as well as a second, 5-inch USB-C cable that connects the MateBook to the dock itself. The short length of the connector cable limits how the dock can be placed on your desk—and because it's built into the internals of the dock itself, it can't be replaced with a longer alternative. Even worse, the cables had an incredibly irritating tendency to loosen whenever I adjusted the dock's position, enough that charging would (unknowingly) cease.
Unlike the Surface docks, which tend to align themselves with the miniDisplayPort standard, the MateDock includes an ethernet jack plus VGA and HDMI connections on one end, as well as two USB 3.0 ports on the other, which supply 0.5W and 0.9W, respectively, for charging.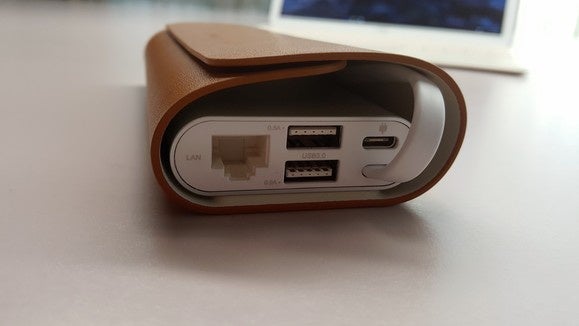 When I'm on the go I'm often content with just a single USB connection, and the USB-C to USB-A cord Huawei includes serves that purpose. I think of a dock as a desktop accessory, though, and I'd like to see a microSD card reader built in at the very least. From a connectivity standpoint, the MateBook and its MateDock still feel like they fall just a bit short—and it gets even more complicated when the MatePen is factored in.
MatePen: Swiss Army meets Rube Goldberg
Though digital ink may eventually become predominant with technologies like Windows Ink, e-ink largely remains a matter of personal choice. I tend not to use it except in certain specific cases. Nothing struck me as that unusual about the MatePen, although I do like its broad nib (a spare was provided) and its 2,048 levels of pressure sensitivity, which is a step up from the 1,024-level sensitivity provided by styluses for other, older tablets. In a bit of a Swiss-Army-knife move, its upper half separates to become a battery-powered laser pointer.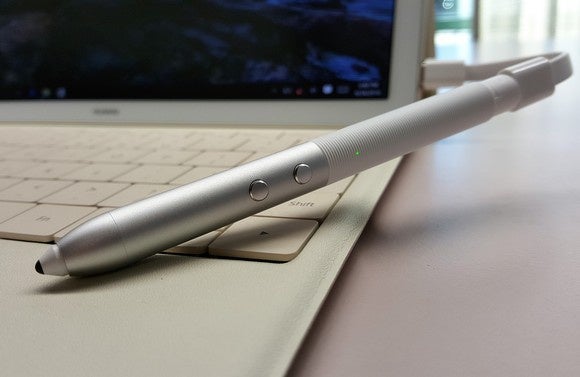 Charging the MatePen, though, is where Swiss-Army versatility crashes into Rube-Goldbergian complexity. The Apple iPad Pro's Apple Pencil requires you to connect a Lightning cable to its top. Huawei apparently thought that was too easy, and requires you to unscrew the upper, laser-pointer half of the pen and connect a microUSB cable to the lower half of the pen to charge the main battery. Huawei hasn't said whether you can use a third-party cable or USB charger to charge the pen. (The compnay has since said that you should be able to use a third-party charger.) To be on the safe side, we charged directly from the tablet, using the associated USB-C-to-microUSB cable. Of course, that meant we couldn't charge the pen and the tablet at the same time.
When you're done charging the pen half, you remove the charging cable and reattach the laser-pointer half. At that point, the pen's main battery, which you just charged, generously gives some of its juice to the laser pointer's own little battery. Huawei also hasn't said whether the laser pointer may be charged independently.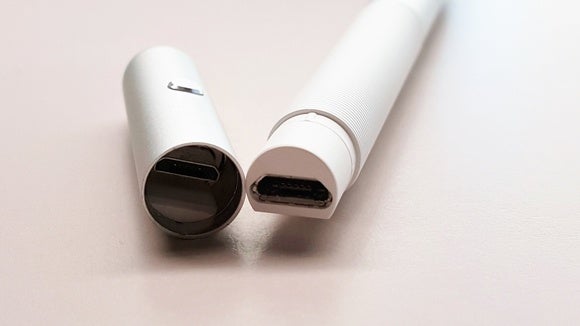 Otherwise, the pen is round, tends to roll away, and can be stored in the MateDock's pen loop or your own pocket.
Performance leans toward productivity, not games
We compared the MateBook against a number of other convertible tablets in its class, as well as a couple of ultrabooks. Performance tends to break down across product categories: Atom at the bottom, than the Core m chips, and on up to the Core i-series components.
The relatively speedy 1.52GHz Core m5 within the MateBook means that you won't be hurting for raw speed, though you really shouldn't think of the MateBook as a machine for too much more than productivity applications. (It should be noted that the MateBook is configured as a "Signature Edition" device, meaning that it's free of the type of third-party bloatware that can otherwise slow a tablet down.)
Although the MateBook does offer enough horsepower for light gaming, anything that leans toward video or computationally intensive applications (like gaming) really demands a Core i-series chip. In standard office benchmarks, though, you'll sometimes see tablets with the more vanilla Core m chips outperform tablets with the more expensive Core i-series chips.
Here, we compared the MateBook and some of its competition using the PCMark series of benchmarks. As the charts show, a Core m tablet is an excellent choice for a general productivity machine.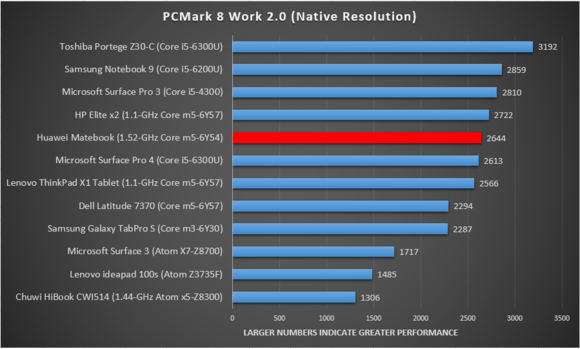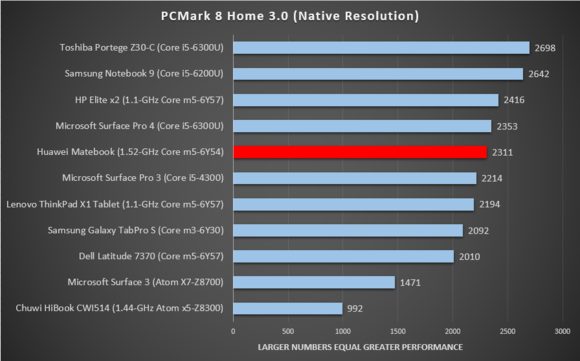 As you move into the "Home" and "Creative" tests, where video and gaming become more of an emphasis, the Core chips begin moving up the performance ladder. Note that there really isn't too much difference, in these benchmarks, between the MateBook and the well-designed HP Elite x2.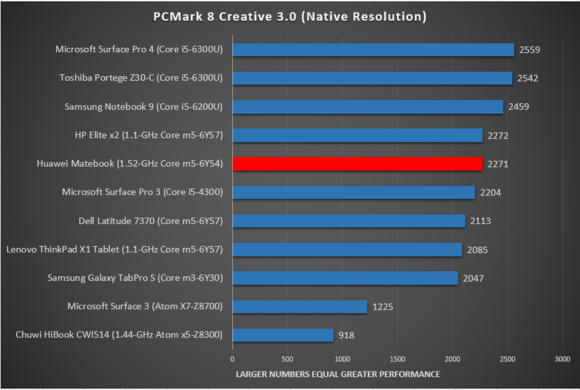 This becomes especially true when we transition into our image processing and transcoding tests. CineBench asks every available microprocessor core and thread to render a photorealistic scene, attempting to stress each of the tablet's CPU cores to the maximum.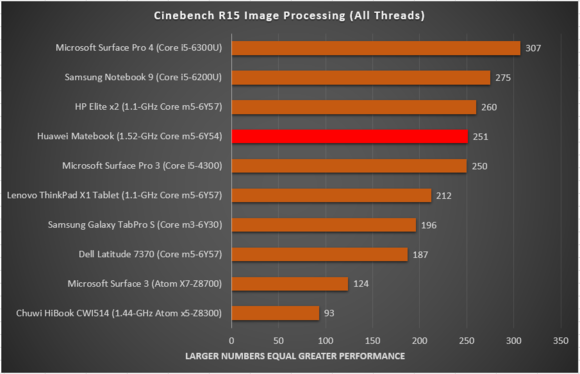 Note that we did see some evidence of thermal throttling within the MateBook, which will limit performance under prolonged load. I never experienced any unexpected BSODs (Blue Screens of Death) as a result of overheating, but the throttling—compared to tablets like the HP Elite x2, whose aluminum chassis appeared to dissipate heat quite well—would be a possible explanation for why the MateBook underperformed the Elite x2 on our HandBrake movie transcoding test, for example.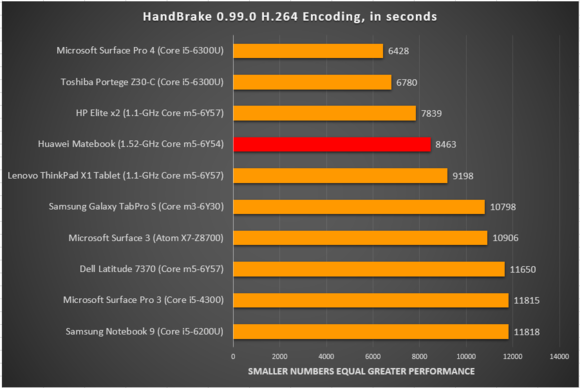 The MateBook's performance holds up quite consistently across our tests—among the top performers, if never the best. The same holds true in our 3DMark Sky Diver score.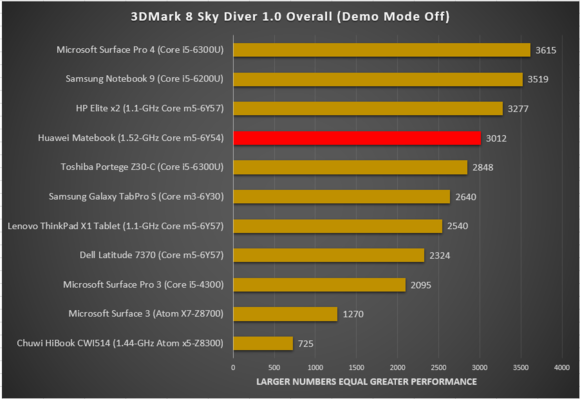 About the only test where we were truly disappointed was battery life. We test battery life by calibrating the display to a fixed luminosity, then loop a video repeatedly until the battery runs down. The MateBook just doesn't hold up compared to the competition. The additional pixels the higher-resolution display must push could be a detriment.
According to Huawei, we received a pre-production device. "The MateBook has been designed in a slim and thin form factor – and the production version that goes for sale in stores will have a longer battery life as compared to competitive products," a Huawei representative said in a statement. "Based on our tests, the MateBook supports up to 9 hours using Microsoft Office, 9 hours of video, or 29 hours of music."
The MateDock available in stores will be updated, and be able to maintain a charge and run an external display at the same time, a Huawei spokeswoman added.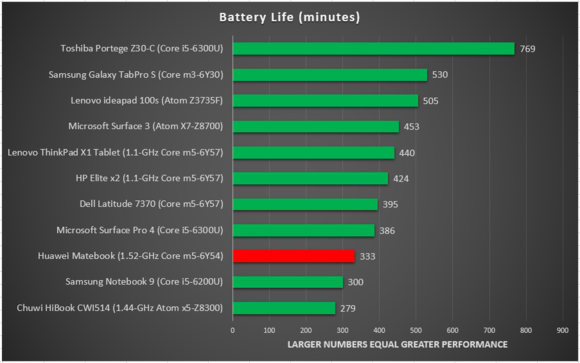 A line in the sand
Hundreds to thousands of components combine to form the tablets, notebooks and desktops we use every day. Certain features are so integral to the system that any flaws are immediately noticeable. A tablet's display may be its defining feature, but a keyboard follows close behind. It's the difference between buying a tablet and a notebook.
Microsoft's Surface tablets, the Elite x2, the Lenovo ThinkPad X1 tablet, and others feature adjustable kickstands that recline the tablet as you see fit. The wraparound keyboards of the Samsung Galaxy TabPro S and Apple iPad Pro—and now the MateBook—seem to put a higher priority on protecting a product than using it.
Kudos to Huawei for its lovely, artfully designed hardware. But I'm not willing to accept the poor ergonomics of a floppy fixed-angle keyboard, not when so many of its competitors offer better solutions. A single USB-C slot, the lack of an SD reader, optional accessories that are essentially required equipment—these are all sacrifices that I might grudgingly make. But I have to draw the line somewhere, and these poor excuses for keyboards are it. Samsung and Apple could have done better. Huawei, too, could do better.
This review has been updated on July 8 to include Huawei's statement that production units will be improved over the current review units, and that the MatePen will work with third-party chargers. We've also added additional details about the fingerprint reader that were accidentally omitted from the original review.
Best Prices Today: Huawei MateBook
When you purchase through links in our articles, we may earn a small commission. This doesn't affect our editorial independence.