If you routinely have a dozen or more favicons staring at you when you open your browser, you have a problem. Working with too many tabs makes it difficult to process information and puts a strain on your PC. Sooner or later your browser —and your productivity—will buckle.
Fortunately, if you're a Chrome user, there are a number of extensions that can help you manage your tab usage. Here are a few of our favorites.
OneTab
We've talked about OneTab before, but given it can reduce memory use by up to 95 percent, it's worth mentioning again. Activating this extension condenses all your open tabs into a single tab, keeping links to the others within it. From there you can restore one tab at a time or all together as needed. You can also export or import your tabs as a list of URLs. Best of all, Chrome will retain your tab list even if you accidentally close OneTab, restart your computer, or experience a browser crash.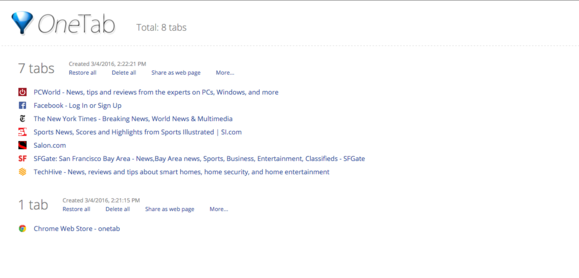 The Great Suspender
The Great Suspender takes a different tack by "suspending" rather than closing the tabs that are bogging down browser performance. It monitors your open tabs and puts to sleep those that haven't been used in a designated period of time. When a tab is suspended, it turns blue with the message "Tab suspended. Click to reload," but stays visible for easy access. You configure the grace period for open tabs—from seconds to days—and can even whitelist important sites need to stay open no matter what.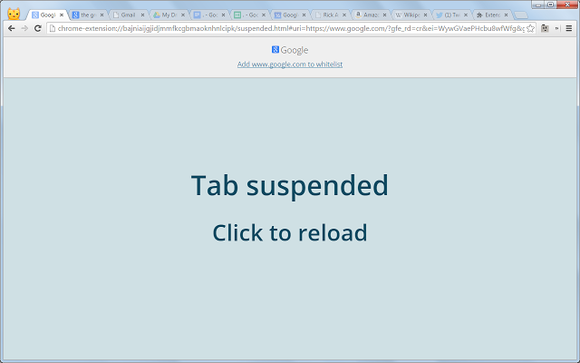 Tab Wrangler
Combining some features of both OneTab and The Great Suspender, Tab Wrangler automatically closes tabs and compiles them in a list—called the Tab Corral—so you can easily review and restore them. You can prevent certain tabs from being closed by "locking" them or adding them to an exclude list. With plenty of customization options, Tab Wrangler makes it a breeze to tailor it to your workflow.
Tab Snooze
This extension makes tab management as easy as hitting the snooze button on your alarm clock. Click the Tab Snooze button in your toolbar and you're given the option to hide a tab for anywhere from a few hours, to a month, to a specific date. They'll automatically reappear at the designated time. Though they're out of sight, snoozed tabs are kept in a date-ordered list so you can wake them up earlier than scheduled if you need to.
Panic button
More a privacy tool than productivity tool, this no-nonsense extension will quickly hide all your open tabs with the click of a button. They're kept as bookmarks in a separate folder and can be restored by simply clicking the button again. For even more stealth, you can password protect your stored tabs, enable a keyboard shortcut to use instead of the toolbar icon, and set a "safe page" that will appear each time you hit the panic button.