Working from home is great, but it also has its drawbacks. Especially if you have small children walking into your office every half-hour looking for a coloring page—and it's the same page every time. Luckily, I've been able to reduce the length of these interruptions thanks to Google Save.
If you've never heard of it, Save is a service Google offers to help you save items you find online. If you are constantly logged in to your Google account, and need a place to stash images you find in a search results page, here's how Google Save can help.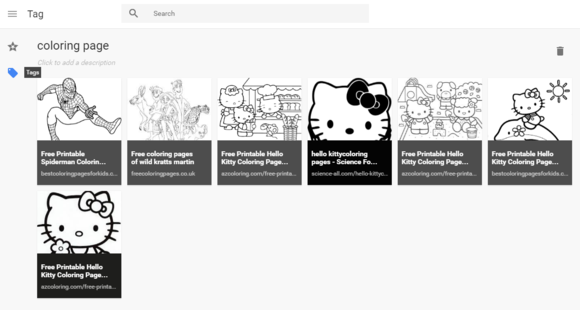 Sticking with the previous example, let's say we're looking for a Hello Kitty coloring page. As usual, you start with a Google image search and then click on the image you're interested in.
Google will then expand the image within the search results page. To the right are several buttons including Visit page, View image, Save, and View saved.
Click on Save and the star in that button will change color signaling that the item is in Google Save. Now to see the image in Google Save, either click View saved or point your browser to Google.com/save. From here you can tag items for easier searching later or just get quick access to your saves. Keep in mind that Google Save really only saves links to stuff you find online. So if the website you saved from deletes that image you will no longer have access to it.
If you want to go beyond images and use Google Save for stashing links to webpages as well, you can download the Save to Google extension for Chrome.
Note: When you purchase something after clicking links in our articles, we may earn a small commission. Read our affiliate link policy for more details.
Ian is an independent writer based in Israel who has never met a tech subject he didn't like. He primarily covers Windows, PC and gaming hardware, video and music streaming services, social networks, and browsers. When he's not covering the news he's working on how-to tips for PC users, or tuning his eGPU setup.