At a Glance
Expert's Rating
Pros
Dual 8-pin connections amps up the potential for lofty overclocks
Efficient ACX 3.0 cooling
Overclocked in excess of 2.1GHz on air
Outstanding performance on all benchmarks
Cons
Requires a little more power than the Founder's Edition
Our Verdict
This is the GeForce GTX 1080 you've been waiting for. The EVGA GTX 1080 FTW puts EVGA's personal touch on Nvidia's beastly card, and it's a winner, from its high base clock and custom cooling to its extra 8-pin power connection.
This is the GeForce GTX 1080 you've been waiting for.
Don't get me wrong: The reference version of the GTX 1080 exploded onto the scene as the most badass graphics card ever. But the first volley of GTX 1080s available—in very limited quantities—were restricted to rebrands of the Nvidia Founders Edition alone. While that's a nice card, the Founders Edition costs $100 over the GTX 1080's $600 MSRP, and that surcharge doesn't even get you an overclock or a beefy custom cooling solution. You couldn't help but wonder what would happen once the wide world of graphics card vendors out there were able to stamp their personal touch on Nvidia's beastly card.
The EVGA GTX 1080 FTW ($680 on Newegg, when it's in stock) is the answer. This overclocked graphics card's base clock is nearly as high as the GTX 1080 Founders Edition boost clock, and between its custom cooling and extra 8-pin power connection, it has the potential to go a hell of a hot higher.
Oh, and did I mention that it's cheaper than Nvidia's less capable Founders Edition? Let's dig in.
Meet the EVGA GTX 1080 FTW
With EVGA yet to release a Classified, Kingpin, or Hydro Copper versions of the GTX 1080, the EVGA GTX 1080 FTW currently represents the pinnacle of the company's lineup. As with all custom graphics cards, the core specs of the GTX 1080 FTW largely mirror what you'll find with the reference version. It's still built around Nvidia's new 16nm Pascal GPU, with 8GB of cutting-edge GDDR5X memory running at a speedy 10Gbps. EVGA didn't overclock the RAM. You can catch up on all of the base-level technical details on the first page of PCWorld's GeForce GTX 1080 review.
That said, there are some major, major differences between the EVGA GTX 1080 FTW and its Founders Edition counterpart. You'll notice the first one as soon as you install the card: While the Founders Edition draws 180 watts of power over a single 8-pin connection, the EVGA GTX 1080 FTW is rated at a 215W TDP via a pair of 8-pin connections. That extra juice amps up the potential for lofty overclocks, though your GPU's maximum speed always depends on how lucky you get in the silicon lottery. (That's why we don't often include overclocking results in graphics card reviews, though we will for this one.)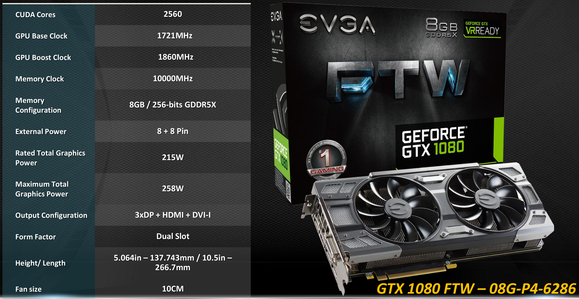 Speaking of which, the EVGA GTX 1080 FTW rocks a fairly healthy overclock out of the box. While the stock GTX 1080 uses a 1,607MHz base and 1,733MHz boost clock, the EVGA FTW starts at 1,721MHz and boosts up to 1,860MHz. That gives EVGA's card a decent leg up over Nvidia's Founders Edition.
And that advantage is multiplied by the EVGA GTX 1080 FTW's efficient ACX 3.0 cooling. The new generation of EVGA's vaunted custom-cooling solution features a pair of massive 100mm fans that shut off in low power scenarios and contain double ball-bearings that help them last up to four times longer than competing cards, EVGA claims. Those sit over a full-sized set of heat sink fans, with the GPU itself covered by a large copper plate with six heat pipes of various sizes snaking out of it. The card's memory and MOSFET are covered by a cooling plate, too, and the EVGA GTX 1080 FTW supports 10 power phases (compared to the Founders Edition's five).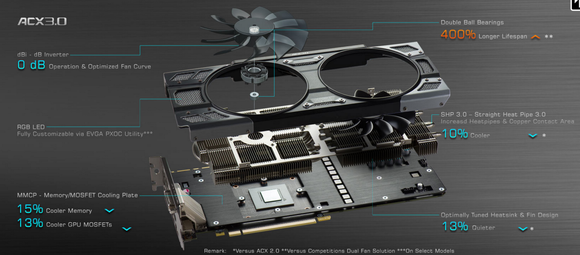 The importance of slapping a powerful custom cooler on the GTX 1080 can't be overstated. While we technically overclocked the Founders Edition to up to 2,088MHz (on air!!!), in practice the card began thermal-throttling speeds down to 1,870MHz or less under load, as Nvidia's single-fan vapor chamber cooler struggled to keep the GPU cool. EVGA's ACX 3.0 solution, on the other hand, kept an overclock running at 2,050MHz or higher across the board, topping out at a mere 74 degrees Celsius in gameplay scenarios.
Beyond the cooler, the EVGA GTX 1080 FTW packs multi-hued RGB lighting across the entire length of the card that can be adjusted via the company's PrecisionXOC software, which can also be used to overclock your card. (There's a dual BIOS switch onboard to help you recover if you push things too far.)
The overall physical design of the card is attractive indeed, with a black and silver design, metal everywhere, and an eye-fetching EVGA-branded backplate. The port selection consists of an HDMI 2.0b port, DVI-I (rather than the GTX 1080-standard DVI-D), and three DisplayPort 1.4 connections.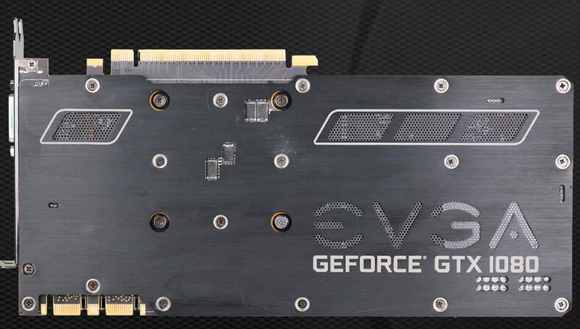 Of course, the EVGA GTX 1080 also supports the Pascal GPU's arsenal of fresh features, including DirectX 12-boosting asynchronous compute additions and simultaneous multi-projection (detailed in depth on page two of PCWorld's GTX 1080 review), software perks like Ansel screenshots, and fancy customized overclocking with GPU Boost 3.0 (detailed on page three of our GTX 1080 review), and Nvidia's new high-speed SLI bridge.
Got it? Good. Let's move on to the fun stuff—game performance!
Next page: Testing setup
Testing the EVGA GTX 1080 FTW
Just like always, we tested the GeForce GTX 1080 on PCWorld's dedicated graphics card benchmark system, which is loaded with high-end components to avoid potential bottlenecks in other parts of the machine and show true, unfettered graphics performance. Key highlights of the build:
To see how badass EVGA's beast really is, we're comparing it against a slew of high-end graphics cards. There's the reference $500 GTX 980, $460 MSI Radeon 390X Gaming 8GB, and $500 air-cooled Asus Strix Fury, as well as $650 Radeon Fury X and $1,000 Titan X. The $750 GTX 1080 Founders Edition (both stock and overclocked to up to 2,088MHz) and $550 GTX 1070 Founders Edition are also included, of course. AMD never sent us a $1500 Radeon Pro Duo to test, unfortunately, so you won't find dual-Fiji GPU results listed. All proprietary AMD/Nvidia graphics technology is disabled during testing, and we use the stated in-game default presets unless noted otherwise.
Overclocking results
Overclocking's always a roll of the dice thanks to the Silicon Lottery, but the EVGA GTX 1080 FTW was clearly built with overclocking in mind with those two 8-pin power connections, so we decided to include some overclocking results in a few of our tests.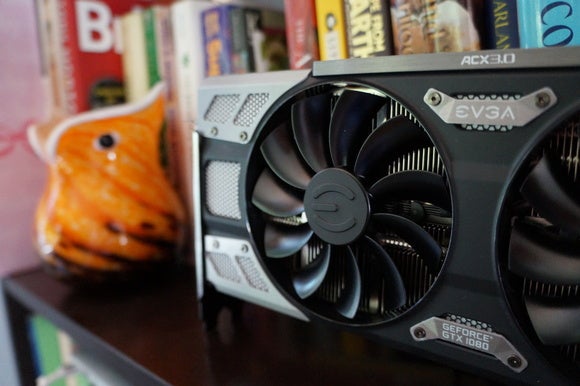 Ignoring the custom per-voltage overclocking capable with GPU Boost 3.0, we manually inched clock speeds upward in EVGA's PrecisionXOC software until things started to break. The final result: an additional 110MHz boost over the GTX 1080 FTW's already boosted core clock speeds, and an additional 175MHz added to its memory clock speeds. In practice, that resulted in a maximum core clock speed of 2,113MHz during a Unigine Heaven run, though speeds typically hung out around 2,050MHz in actual games.
Yes, that's an overclock in excess of 2.1GHz on air. The engineering work that Nvidia put into improving speeds for both the memory and the core clock are impressive indeed, as are the tweaks EVGA made to make the GTX 1080 more overclocking-friendly. The extra speed gives the overclocked EVGA 1080 FTW a decent (but not mind-blowing) boost over the GTX 1080 Founders Edition.
Next page: Division and Hitman performance
The Division
Ubisoft's The Division, a third-person shooter/RPG set that mixes elements of Destiny and Gears of War, kicks things off. The game's set in a gorgeous and gritty recreation of post-apocalyptic New York, running on Ubisoft's new Snowdrop engine. We've disabled the handful of Nvidia GameWorks features to level the playing field. Despite scaling well across all graphics cards the game actually tends to run slightly better on Radeon hardware—at least until the GTX 1080 gets involved.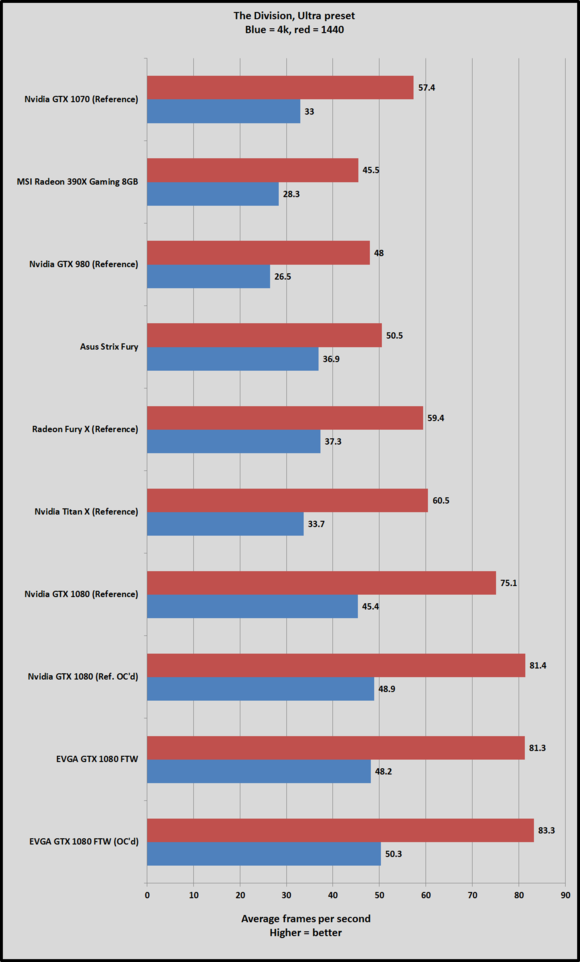 EVGA's GTX 1080 FTW commands a slight lead over the GTX 1080 Founders Edition here, though Nvidia's reference card inches slightly ahead of EVGA's model when overclocked. Nvidia's powerful GPU blows AMD's best cards out of the water, albeit for much more money.
Hitman
IO Interactive's wonderful sandbox of murder leans heavily toward AMD cards, though the GTX 1080's full-fat GP100 GPU has enough sheer power to outpunch AMD's Fury lineup. The GTX 1080s also significantly trump their GTX 900-series brethren.
Hitman's built around IO's Glacier engine. We tested the game in DirectX 11 mode, because Hitman's bolted-on DirectX 12 support can be pretty wonky even in the best of times.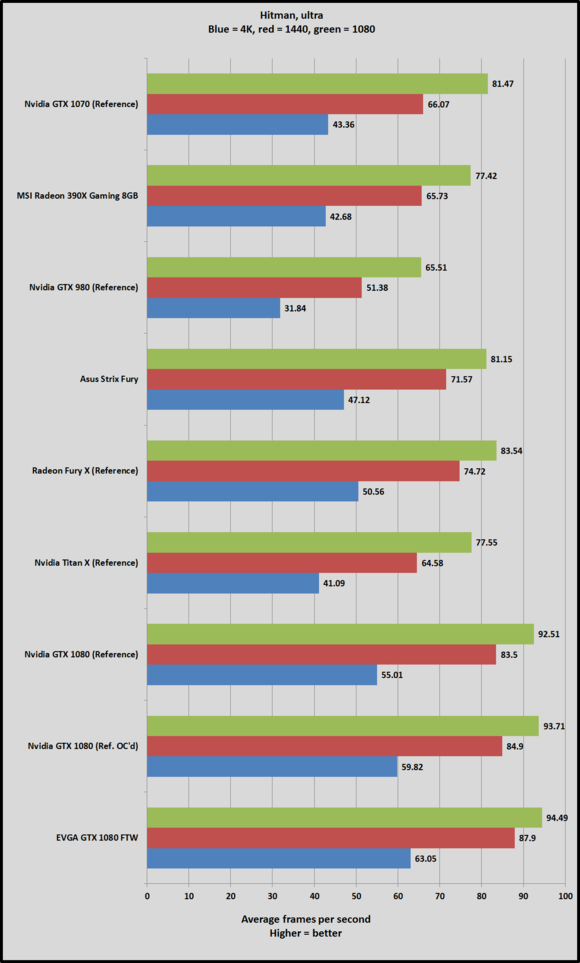 The EVGA GTX 1080 FTW's beefier cooler starts to show its benefits here. Because the card never tops 75 degrees Celsius while it's running the game, the GPU never starts to throttle back clock speeds, which allows EVGA's card to deliver higher performance results out-of-the-box than the overclocked Founders Edition, despite the ostensibly higher max clock speeds of the latter.
Next page: Rise of the Tomb Raider
Rise of the Tomb Raider
Rise of the Tomb Raider is flat-out one of the most gorgeous games ever released, especially if you have a powerful graphics card capable of pushing high frame rates with all the bells and whistles enabled. The GTX 1080 is just such a card, landing at around 60 frames per second even at 4K resolution. It blows everything else out of the water. AMD's flagship Fury X, meanwhile, can only hit roughly half that.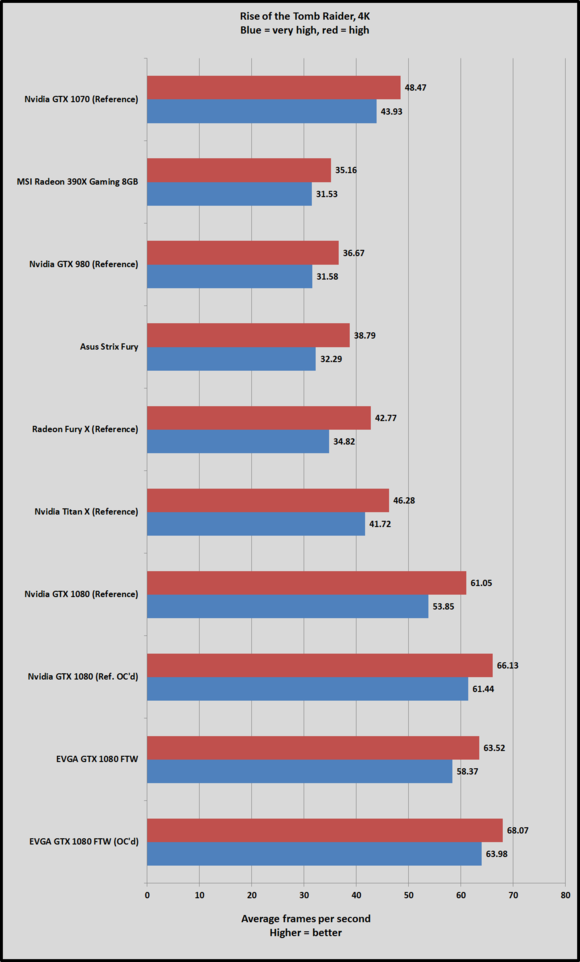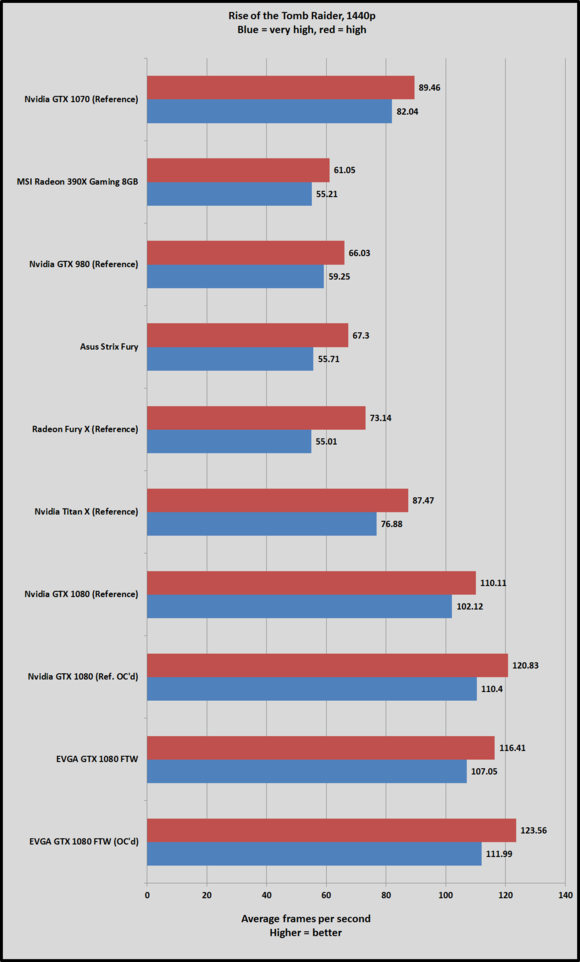 Out of the box, the EVGA GTX 1080 FTW's performance lands smack-dab between the stock GTX 1080 Founders Edition and the overclocked Founders Edition. As with Hitman, we test RoTR in DirectX 11, as its bolted-on DX12 support actually results in lower average frame rates—though it also raises minimum average frame rates by a decent margin, resulting in a smoother overall experience.
Next page: Far Cry Primal performance
Far Cry Primal
Yep, we use two different Ubisoft games in our lineup—but Far Cry Primal runs on a completely different engine than The Division, using the latest version of the long-running and well-respected Dunia engine. We test the game with the free 4K HD Texture Pack installed.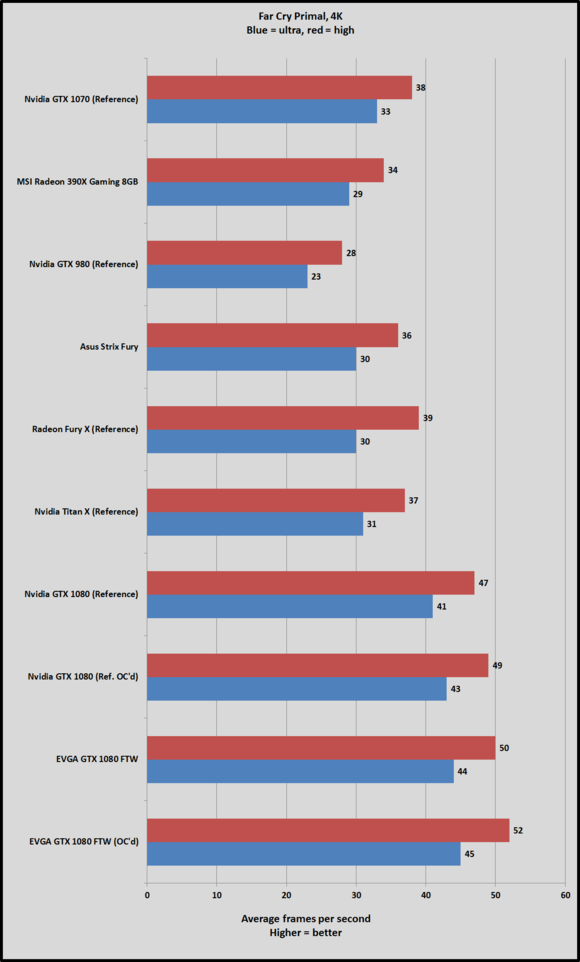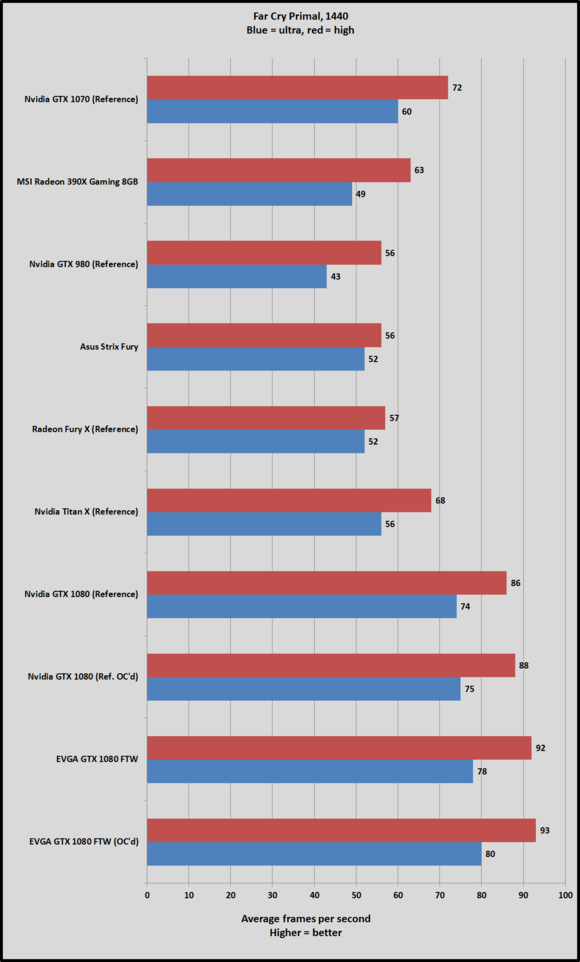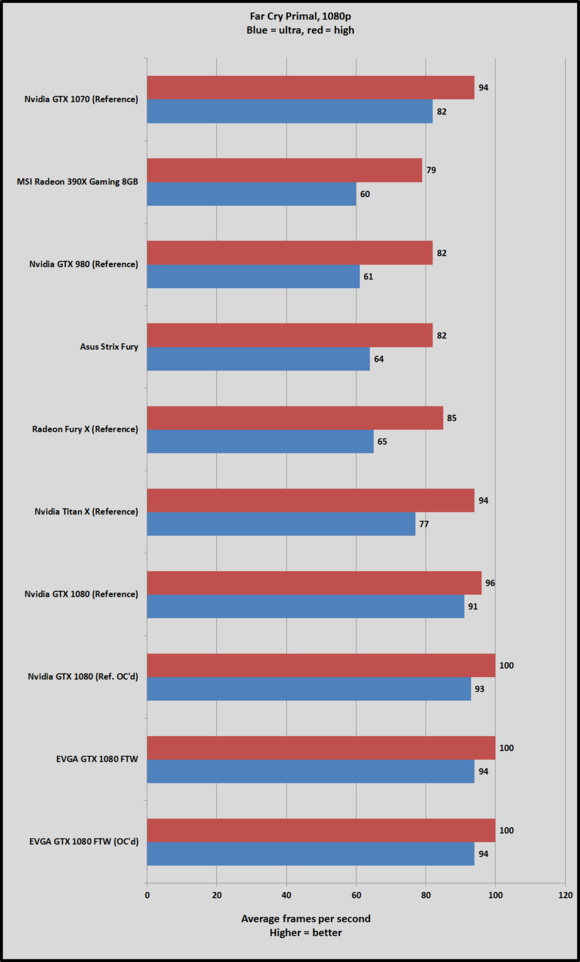 While Radeon cards hold the advantage at mainstream price points, the GTX 1080 pulls away from the pack, with the EVGA GTX 1080 FTW performing slightly better than the overclocked Founders Edition.
Next page: Ashes of the Singularity and DX12
Ashes of the Singularity and DX12
Between the bolted-on DirectX 12 support in Hitman and Rise of the Tomb Raider and the inherent limitations in testing Windows Store apps—which don't support overlays or benchmarking tools like FRAPS—there's only a single game with a stellar DX12 implementation to test: Ashes of the Singularity, running on Oxide's custom Nitrous engine.
Beyond being a refreshingly fun throwback inspired by classic real-time strategy games, AoTS was an early flag-bearer for DirectX 12, and the performance gains AoTS offers in DX12 over DX11 are eye-opening—at least on Radeon cards. The Fury X even manages to come within spitting distance of the GTX 1080 when it's running DX12!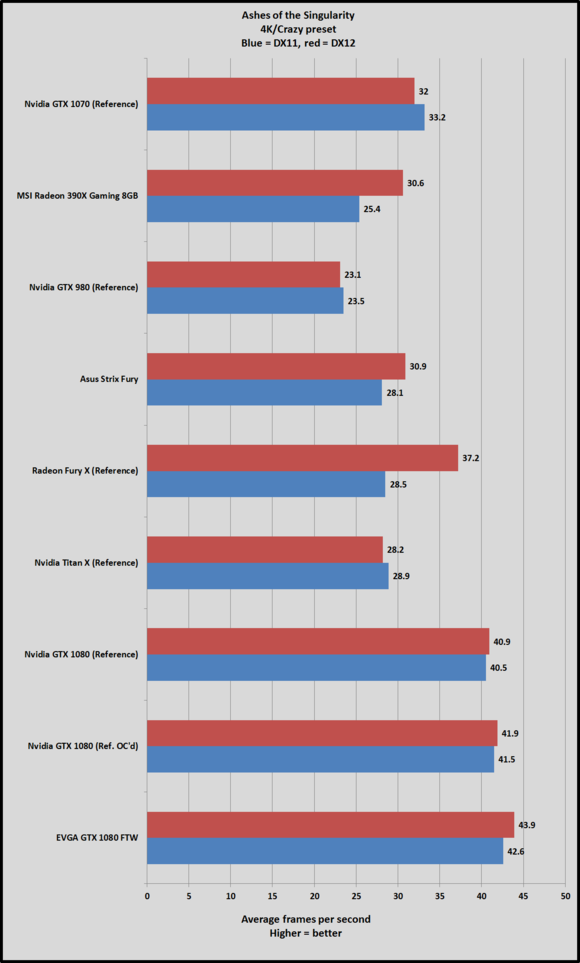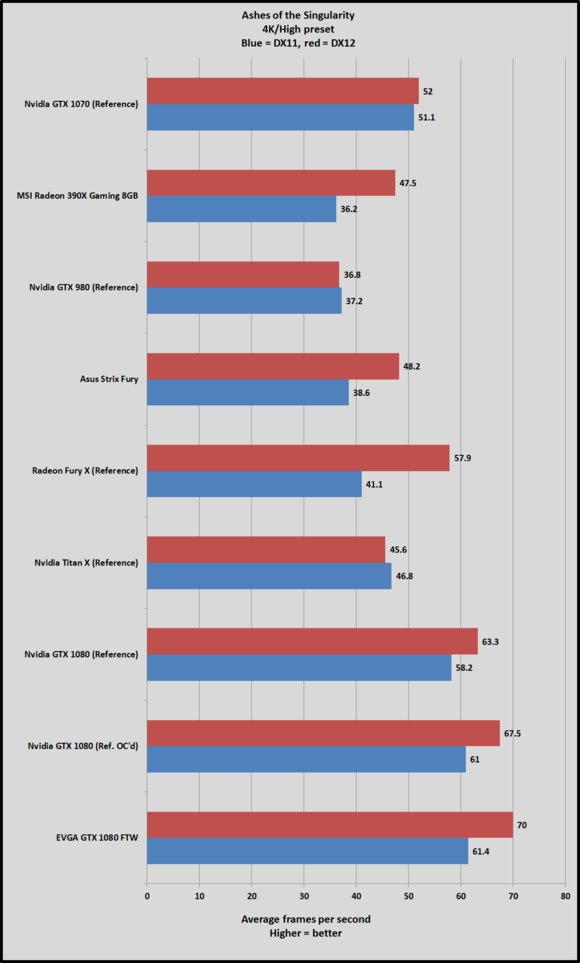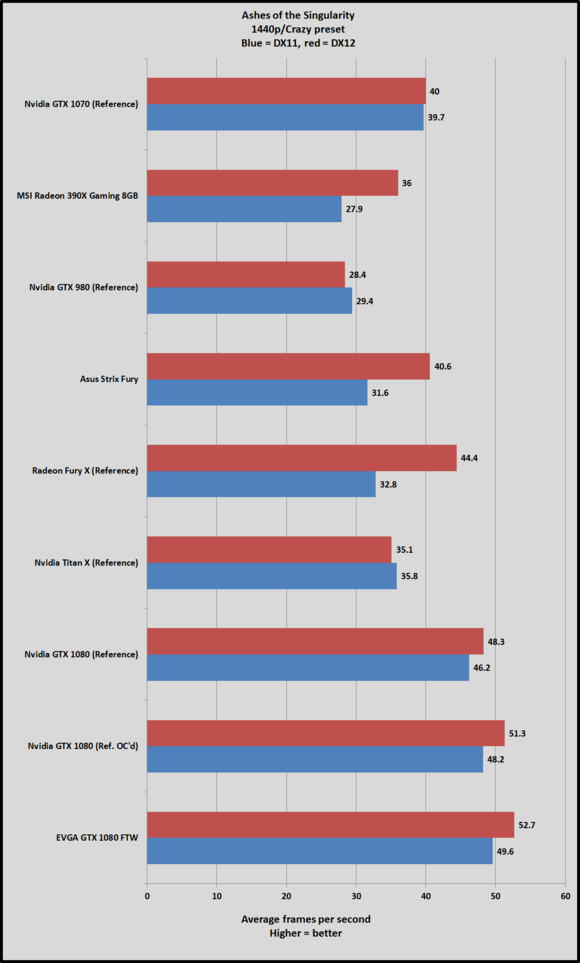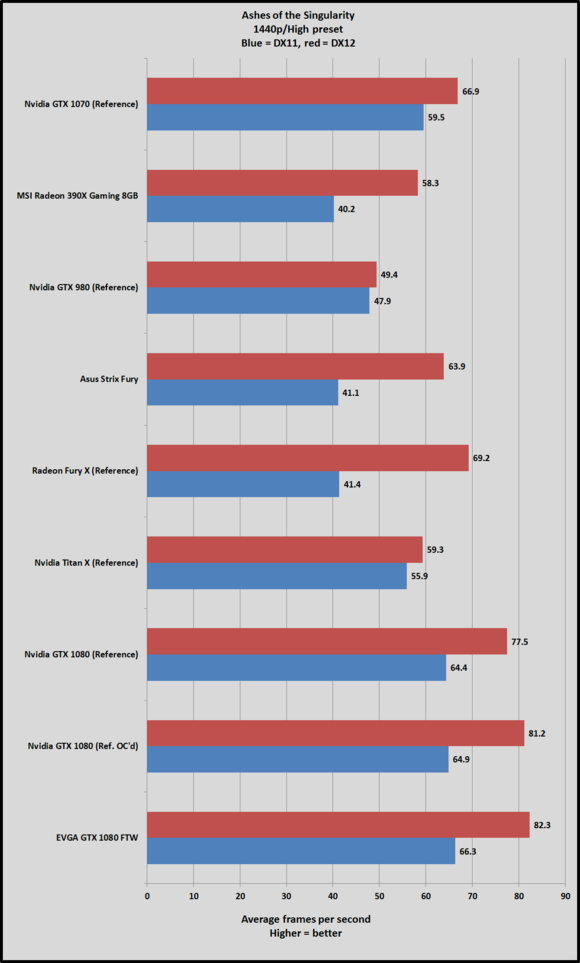 AoTS 's DX12 implementation makes heavy use of asynchronous compute features, which are supported by dedicated hardware in Radeon GPUs, but not GTX 900-series Nvidia cards. In fact, the software pre-emption workaround that Maxwell-based Nvidia cards use to mimic the async compute capabilities tank performance so hard that Oxide's game is coded to ignore async compute when it detects a GeForce GPU. Those cards actually perform worse when running AoTS in DX12 despite the large gains shown by AMD cards.
That's not true with GTX 10-series cards, which see humble gains in DX12 compared to DX11 even with async compute ostensibly still disabled.
The EVGA GTX 1080 FTW's impressive cooling solution and out-of-the-box overclock doesn't do much to compensate for Nvidia's ho-hum DX12 showing, but it is enough to increase average frame rates by a few frames per second over the Founders Edition, both at stock clocks and overclocked. And even with Radeon's async compute advantage, the GTX 1080 GPU's overwhelming power gives it the performance lead across the board, even when the Fury X is using DX12. That gap widens significantly when all cards are running in DX11.
Next page: Synthetic benchmarks.
3DMark Fire Strike and Fire Strike Ultra
We also tested the GTX 1080 using 3DMark's highly respected Fire Strike and Fire Strike Ultra synthetic benchmarks. Fire Strike runs at 1080p, while Fire Strike Ultra renders the same scene, but with more intense effects, at 4K resolution.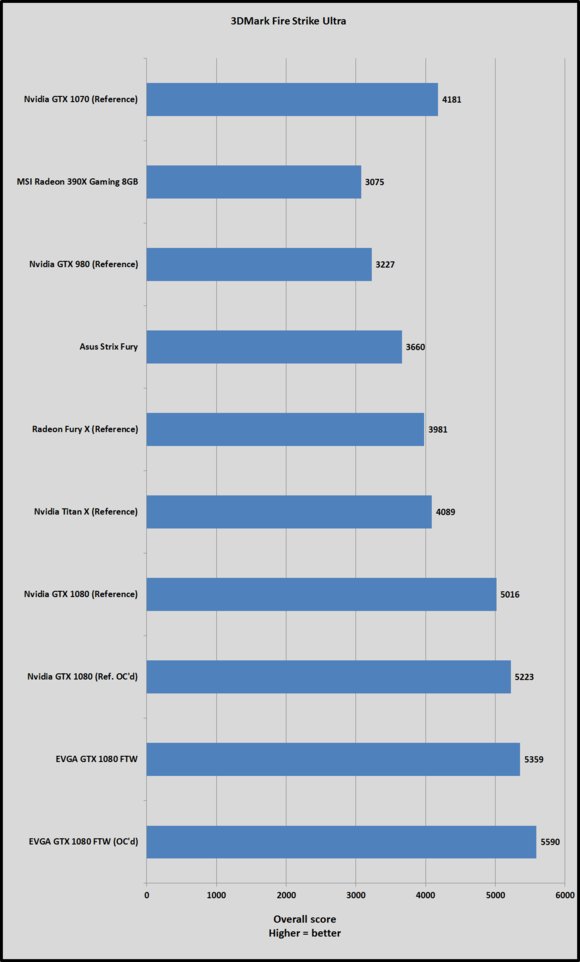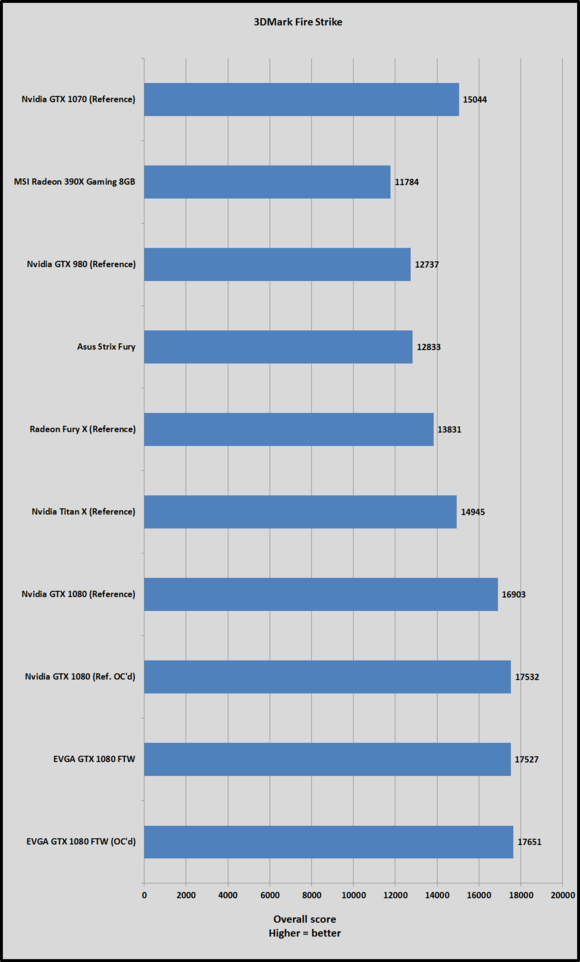 There are no major surprises here. The EVGA GTX 1080 FTW performs a bit better than the Founders Edition, as expected, and absolutely blows everything else away—as we've already established in the GTX 1080 Founders Edition review.
Next page: Power and heat.
Power and heat
Finally, let's take a look at the GTX 1080's power and thermal results.
The EVGA GTX 1080 consumes quite a bit more power than the GTX 1080 Founders Edition, but that's to be expected with its beefy overclock, additional fans, and extra 8-pin power slot. That said, even when EVGA's card is cranked to over 2GHz, it still draws roughly as much power as AMD's Fury and far less juice than the Radeon R9 390X. AMD's current cards are absolute power hogs.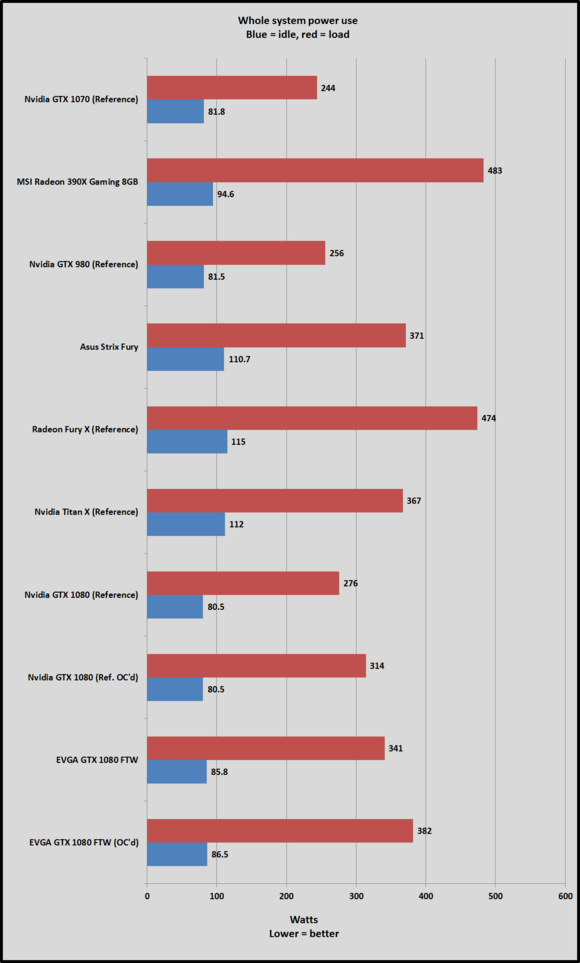 It's worth noting that our power and temperature tests represent a worst-case scenario, pushing graphics cards to their limits. Power is measured by plugging the entire system into a Watts Up meter, then running a stress test with Furmark—which Nvidia calls "a power virus"—for 15 minutes.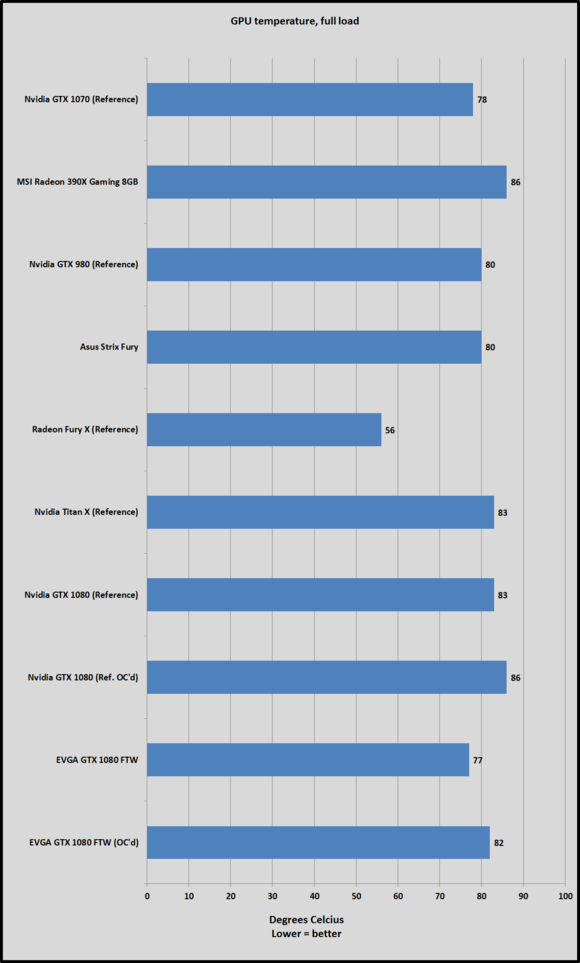 That obviously inches our maximum temperature readings upward too, which are taken during that Furmark run using both the software's built-in tool as well as Speedfan.
It's worth noting once more how efficient EVGA's ACX 3.0 cooling solution is. With its out-of-the-box overclock, the EVGA GTX 1080 FTW runs cooler than the GTX 1070 Founders Edition despite drawing 100 more watts. When we manually maxed out the card at 2113MHz, it still ran cooler than the stock GTX 1080 Founders Edition. And again, these numbers are the absolute worst-case scenario. Even at 2GHz, the EVGA GTX 1080 FTW hit 74 degrees Celsius in The Division, and 68 degrees in Far Cry Primal.
This air cooler does its job and does its job well, in other words—though the closed-loop liquid cooling integrated into AMD's Fury X naturally runs even colder. The EVGA GTX 1080 FTW's awesome cooling pays clear performance dividends, allowing the card to run at higher clocks much more consistently than the GX 1080 Founders Edition, which starts throttling the second you overclock it if you don't tinker with fan speeds.
Final page: The bottom line
The new king, now in royal garb
When we reviewed Nvidia's GeForce GTX 1080 Founders Edition, we hailed the GPU as the new king of PC gaming (at least until the inevitable GTX 1080 Ti hits). The card delivered a 70-plus percent leap in performance over the older GTX 980—an utterly monstrous jump for a single GPU generation—while veritably sipping power and running about as quiet as any air-cooled reference card we'd ever laid ears on. Moving on from 28nm GPUs is every bit as wonderful as gamers had hoped, and the GTX 1080 is everything Nvidia promised and more.
Our only major lament was the lack of customer partner cards at launch. The Founders Edition commands a steep price premium, and who knew what Nvidia's 16nm Pascal GPU would be capable of with fancy coolers, premium features, and hefty overclocks applied?
Now we know.
The GTX 1080 is the most powerful graphics card ever created, and EVGA's GTX 1080 FTW is superior to Nvidia's Founders Edition in every possible way. It's faster, it's quieter, it's cooler, it's gorgeous, and heck, it's even cheaper than Nvidia's card (though more basic GTX 1080 variants start at around $600). Nvidia's flagship GPU shines brighter in EVGA's capable hands.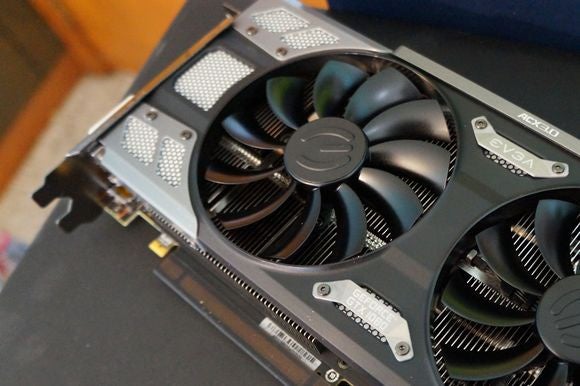 Sure, the EVGA GTX 1080 FTW demands slightly more power than the Founders Edition, but it uses the same 500W recommended power supply, and the handful of extra pennies you'll pay on your monthly energy bill is worth it for everything you get in exchange.
The GTX 1080 family still isn't for everyone. Current GTX 980 Ti and Titan X owners probably shouldn't upgrade for any rational reason unless you're eligible for EVGA's killer Step-Up Program. While it comes close, the GTX 1080 won't quite hit 60 fps at 4K with all the bells and whistles enabled in every game. And it's clearly overkill for gaming on a 1080p monitor—you should keep an eye out for reviews of AMD's $200 Radeon RX 480 instead, which is launching on June 29.
But forget all that. As I said in my original Founders Edition review, the GTX 1080 is badass incarnate. EVGA's GTX 1080 FTW is that badass incarnate on steroids. If you're on the market for a killer custom version of PC gaming's freshly crowned GPU champion, the EVGA GTX 1080 FTW ($680 on Newegg) comes highly, highly, highly recommended—if you can find one in stock. These things are selling like hotcakes when you can even find them available, and rightfully so.