At a Glance
Expert's Rating
Pros
Looks more high-quality than Razer's Kraken Pro
Extra-wide soundstage and excellent directionality
Eminently EQ-able
Cons
Overly bulky look
Horrible creaking plastic noise when flexed
Sound lacks punch, out of the box
Our Verdict
A fantastic microphone, incredible battery life, and amazing soundstage make Razer's Man O' War worth a look, even if it means spending a bit of time with its EQ settings.
For a long time, Razer has sort of been a one-headset company. Sure, you had the Tiamat for "real" 7.1 sound (more like "real gimmicky") or the Blackshark for people who wanted to look like Vietnam-era helicopter pilots. But by and large it's been variations of the Kraken design for the Cult of Razer.
Which makes the Man O' War sort of exciting. It's Razer's first foray into wireless headsets, and it sports a brand-new design aesthetic.
This review is part of our roundup of best gaming headsets. Go there for details on competing products and how we tested them.
It's a looker
The Man O' War (available on Amazon for $170) is sized to fit its name—this is a gigantic headset, thanks in part to an ultra-wide headband stamped with "Razer." The ears are similarly chunky, with puffy leather padding reminiscent of the SteelSeries Siberia Elite line.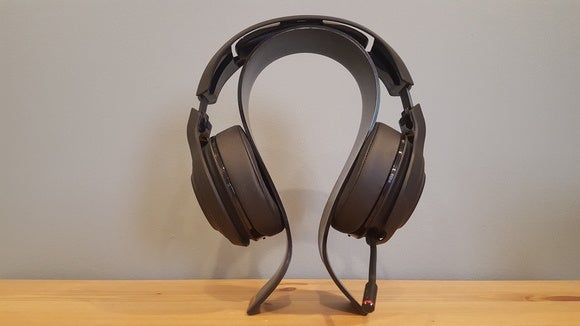 Despite its size, the Man O' War is actually surprisingly lightweight, especially given its 12-hour-plus battery life. It's actually the same weight as the Logitech G933 (about 0.85 pounds or 375 kilograms). And those puffy earcups are a joy, especially when you first put on the headset. They're so soft and comfortable—like marshmallows pressed against your face. They do tend to compress the longer you wear the headset, but regardless, the Man O' War is cozy. Much more so than the Kraken.
The Man O' War also looks high-quality, borrowing the soft matte-black finish used on Razer's top-tier mice, like the Mamba. Prepare to be impressed when you first open the box.
Unfortunately, the reality of the Man O' War is a bit less elegant. The headset is lightweight because it's built almost entirely from plastic, which makes it feel chintzy placed next to heftier counterparts like the HyperX Cloud, the Logitech G933, or even the SteelSeries Siberia Elite (with which the Man O' War shares so many design cues).
That's not the only issue: The Man O' War also makes an awful rattly plastic noise when you pick it up. The ears creak when they swivel. And flexing the headband to put it on your head makes a sound I can only compare to a cartoon skeleton cracking his knuckles. Take from that what you will.
Sure, you won't notice any of that once it's on your head. It's comfortable, and that's what matters most. However, given the Man O' War's price, I expected something a bit more refined.
Creaky skeletons aside, Razer does nail some of the finer aspects of a wireless headset. The built-in controls are easy and obvious, and they're also powerful compared to some of the competition. The bottom of the right ear sports a volume wheel, while the bottom of the left has the power button, charging port, and a second volume wheel dedicated solely to the microphone. That's a rarity.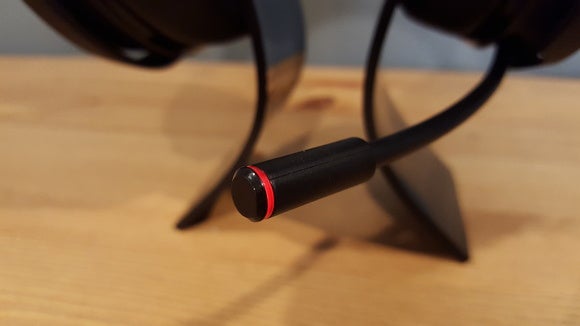 You can also click either wheel inward to mute its respective source. Doing so with the mic wheel illuminates a red LED band around the end of the retractable-and-bendable microphone—again, very similar to the SteelSeries Siberia Elite. It's a winning design, though. Bright enough that you can see it, subtle enough to not be distracting. Much better than the tiny LEDs on Corsair's Void Wireless.
The wireless dongle is a stubby USB receiver that would be bound to get lost, if not for the fact it cleverly slots inside the bottom of the right earcup. It sits flush but pops out when you push on it. Smart.
Finally, like all modern-era Razer products, the Man O' War features RGB lighting, configured through its Synapse software. It's subtle on this headset though, with only the Razer logo illuminated on each earcup.
Thar she blows
I'm impressed with the Man O' War's sound, too. It's not the best headset I've heard—not even in its division, as I think the similarly priced (and also wireless) Logitech G933 just edges it out. But you could do a lot worse.
To touch on specifics, the Man O' War is a moderately bright headset in its default state. There's not much of a bass punch to it, especially when listening to music. Instead, you get crystal-clear mids and crisp highs—similar to the approach taken by Corsair with both the H2100 and Void Wireless. But there are two aspects of the Man O' War that elevate it in my esteem.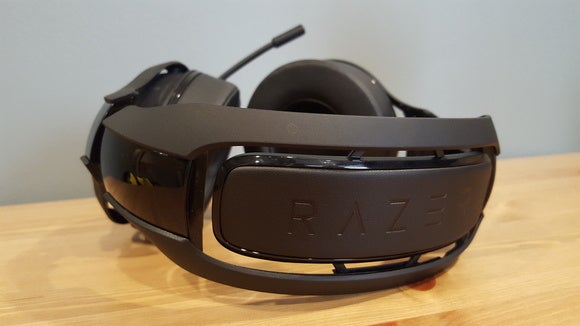 The first is that there's a lot of headroom in the EQ. In its default state, the Man O' War sounds okay. Tweak the bass and the highs, though, and you've got an entirely different headset. You can do so by way of Synapse, either through Razer's "Bass Boost" setting or by creating your own full-blown EQ profile.
With a lot of headsets, you can tweak the EQ and barely notice a difference. With the Man O' War, even small adjustments transform the sound. I ended up running the "Rock" EQ setting for most music listening, with the bass rolled off slightly, and the headset's sound really popped. Though I will say, it's a bit baffling that this gaming headset ships with EQ settings named after music, not games.
The second is that the directionality on the Man O' War is excellent. I haven't heard a gaming headset with this much roominess to its sound since the original HyperX Cloud, and listening to a good stereo-mixed music track on this headset is a treat. All of the instruments break out into their proper placements, and there's a ton of width between the furthest-left and furthest-right sounds.
One other aspect I love: You can configure whether each program runs in 2.0 Stereo or 7.1 virtual surround individually, through Synapse. Want Spotify to output in stereo while playing a game in simulated 7.1? You can do that.
As for whether you should? Debatable. The Man O' War's "surround" is about as good as the G933—which is to say, good for a headset. Still, the stereo output on the Man O' War is so incredible I'd dare say you're better off simply relying on that.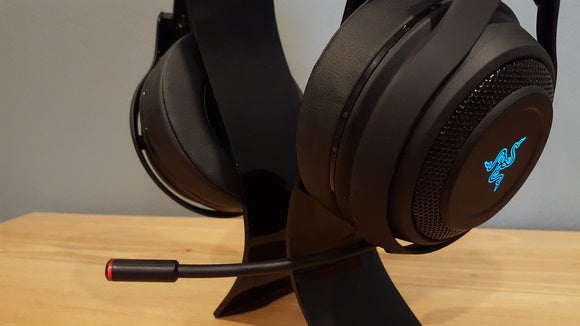 And then there's the microphone. Again, Razer impresses here. The microphone's voice reproduction is pretty great, but the dedicated volume wheel scores extra points for making it easy to adjust how loud you are. Whether you run with the microphone close to your mouth or further away, you can dial your volume in and ensure you're not coming through too loud or getting cut off by the noise-gate. As a bonus, the mic is decent at cutting out background noise, which is a problem on the G933.
Bottom line
As I said, within their price category, I think the G933 just barely edges out the Man O' War. Logitech's headset has better sound out-of-the-box, and it doesn't make the creepy creaking-skeleton noises when you flex it to put on your head.
But don't discount Razer. A fantastic microphone, incredible battery life, and an amazing soundstage make the Man O' War worth a second look, even if it means spending a bit more time tweaking the EQ to your tastes.