At a Glance
Expert's Rating
Pros
Incredible price for a wireless headset
Top-notch battery life
Long live the Sails logo
Cons
Feels heavy, slips around
Plosive-prone microphone
Not as soundproof as overear competitors
Our Verdict
At just under $100, Corsair's Void Wireless is mostly a good wireless headset, but you will encounter some compromises.
Best Prices Today: Void Wireless
Once upon a time, a wireless gaming headset would cost you $300. That's quite a premium, considering you can find a quality wired headset for under $100.
But over the last few years, the push for affordable wireless headsets has grown. Corsair in particular hasspearheaded the push for cheaper wireless, and the Void Wireless is its latest iteration. The price is phenomenal—only $100 on Amazon (and sometimes even less)—but it's so low that it's hard not to be suspicious. Can you really get a quality wireless headset for that cheap?
This review is part of our roundup of best gaming headsets. Go there for details on competing products and how we tested them.
An unconventional approach
The answer is "Sort of."It's important to point out that I think the Void Wireless is a solid improvement over Corsair's previous wireless model, the H2100—and not just because Corsair ditched the tribal tattoo logo and went back to the traditional trio of sails.
It's a markedly better design. Weird, for sure—the earcups are kite-shaped rather than round, which looks odd. But the Void Wireless feels solid, with metal hinges and a padded metal headband that sits slightly forward on the head. I wasn't a huge fan at first, but it helps offset the weight of the set.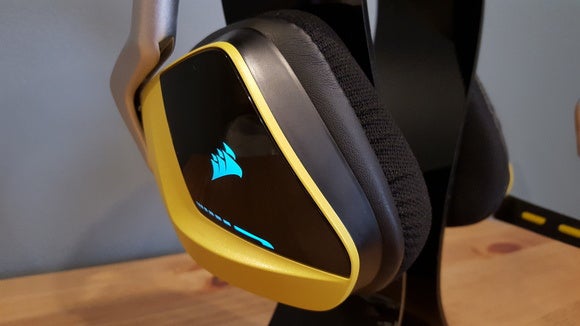 Yes, the Void Wireless is heavy. Not just heavier than your average wired set, but heavier-feeling than its wireless competitors, too. And while the forward-slanted band alleviates the problem a bit, it still has a tendency to slip around if you look down.
That being said, it's comfortable enough for long gaming sessions. The ears are a bit on the small side, and you should expect to play around with the headband adjustments until you get the earcups situated perfectly, but once you do there should be little-to-no tension on your jaw. The band controls most of the fit.
And despite the fact Corsair sent us the bright-yellow version of the Void Wireless to review (complete with yellow-accented USB dongle), it seems like the default is now the black model. A relief, particularly because the Void Wireless comes with RGB lighting, and it turns out that not much goes with "Stab Me In The Eyes Yellow." The lighting is understated here though—just the sails logo and a small accent line on each cup. It's a nice nod to the RGB capabilities of other Corsair peripherals without being overly showy or distracting.
Battery life is top-notch for a wireless headset, hitting 12 hours reliably with all the RGB lighting on and turned up. You should get 15 hours easily if you go dark. Point is, it's enough to get you through a long day or two of gaming. And if you need to, you can also still charge while using the set.
The microphone is your standard boom design. You can flip it out of the way when idle but it doesn't detach. This is a gaming headset first, not a pair of headphones pulling double-duty.
Corsair touts a feature called "InfoMic" which is actually just some LEDs embedded into the mic boom. It's meant to convey a range of information—not just mute but EQ, Dolby status, and battery life. In practice, however, I found the LEDs too small and out of the way for them to be at all informative.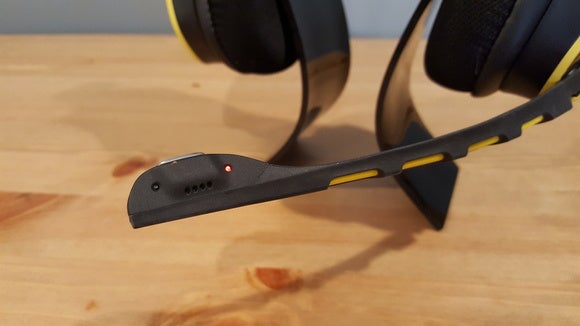 Finally, the Void Wireless comes festooned (like any half-decent wireless headset) with a handful of controls built into it. On the outside face of the left ear are the mute and power buttons, while a volume rocker sits on the rear. The rocker also pulls double duty as a button to cycle through EQ settings, but it's a bit like trying to push down on a Jell-O mold—it has a tendency to rock back and forth instead of pressing neatly inwards.
Solid untethered sound
The real test for Corsair is audio quality, though—especially in light of the ultra-bright, ear-fatiguing sound of the H2100s.
The Void Wireless sounds pretty good. Yes, you can get better audio for cheaper if you go wired—like, say, the always-popular HyperX Cloud, or any number of headphones if you don't need a microphone. And yes, you can get better audio quality from a different wireless headset if you spend more money.
But for under $100? The Void Wireless is a huge improvement over its predecessor and good enough that I feel comfortable recommending it for everyday gaming usage.
It's still a bright headset on account of the bass being a bit underpowered. The midrange is clear and punchy though, and the highs have been rolled off enough that you don't get the sharp sound of the H2100. Audio does have a weird, overly compressed slickness, but it's only really noticeable if you compare the Void Wireless to a better set of headphones.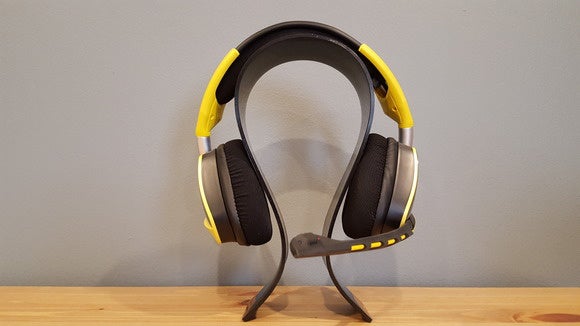 Things get even better if you're willing to download Corsair's CUE software and fiddle with the equalizer for a while. While the Void Wireless will never be a bass powerhouse, you can get it to sound pretty decent by pushing the low end up a bit and maybe bumping a few of the highs if you want guns and the like to sound extra crisp.
Again, it's not going to win an award for sound—but for under $100? Wireless? Yeah, it's pretty damned good.
The microphone is probably the biggest letdown. Which, if you read a lot of headset reviews, is not too surprising. Corsair's problem is twofold. First, the range is pretty narrow and it sounds like you're talking through a cell-phone mic. Second, it has a bad habit of picking up any and all plosives.
Another notable issue: sound leakage, both incoming and outgoing. Even though this is an over-ear headset, the Void Wireless doesn't seal well at all. As a user, it's hard to hear in noisy environments. In quiet ones, other people can clearly hear sound coming from the set, even at low volumes—not good if you don't want to annoy your roommates.
And don't get me started on the Void Wireless's faux-surround. It's awful, just like it was on the H2100. If anything, audio actually sounds less three-dimensional with the software-driven 7.1 turned on. Leave the Void Wireless on stereo at all times. You'll be much happier.
Bottom line
If you don't absolutely need to go wireless, I'd still recommend saving a few bucks and getting a better headset—the aforementioned HyperX Cloud is still our top recommendation.
But for wireless on a budget, Corsair's Void Wireless is your best bet. It's cheap, and it gets the job done. You could ask for a few more things, but we'll leave that to Corsair's next iteration. It's not like anyone's giving them real competition in this price range.
Best Prices TodayVoid Wireless