Cortana in Windows 10 is a great tool to take a quick look at news headlines on your PC, but compared to competitors like Google Now I sometimes find Microsoft's choice of news sites lacking. Recently, Microsoft added a new capability to fix that—at least a little bit. Cortana now lets you banish news sites you don't like from your feed. There are some reports that this is a U.S.-only feature for now.
Here's how it works.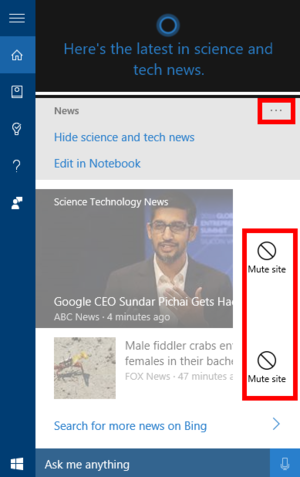 First, if you're not using Cortana to deliver news open the personal digital assistant on your PC. Next click the notebook icon in the left-hand navigation panel and then click on News. In the next panel, activate the option called News Cards and then any other news features you'd like to use.
Now go back to Cortana's home screen to view your news updates.
Let's say the Top News section offers news stories from BobsSuperNews.com, and you're not a fan of the site. Click on the three horizontal dots above Cortana's top news section.
Once you do that, to the right of each news story you'll see a Mute site option as pictured here. Click that and Cortana will stop showing you news stories across all categories for that site.

If you mute a site by accident, you'll see an option to undo your action almost right away. For anyone who regrets their banishments long after the fact, you can "unmute" a site by opening Cortana, clicking the notebook icon again, and selecting News.
Scroll down to the bottom of the News settings panel, and you'll see all your muted sites. Click the site you want to "unmute," and then in the next panel, click the trash icon in the lower right corner.
The "unmute" interface is a little janky, but at least there's a fallback for those times you regret muting a site.