Rejoice o' ye forgotten gamers, or as most people would call us, "Steam gamers who have Windows phones." Valve has heard our entreaties and answered with an official Steam app for Windows Phone 8.1 and Windows 10 Mobile.
The new app went live last night; it's still so new that the app didn't appear as a top result when searching for "Steam" on the Windows Store. Searching for "Valve Corporation," however, did bring up the app.
Why this matters: As we've mentioned before, Steam does not let users expedite trades and market transactions without a phone using Steam's Mobile Authenticator. There were some third-party apps that claimed to provide this functionality to Windows mobile users, but trusting a third-party app with your Steam account is insecure and basically madness. Thus Windows phone fans still clamored for an official app. Now it's here, and it looks pretty good.
Well, almost.

Hands-on with Steam's Windows Phone app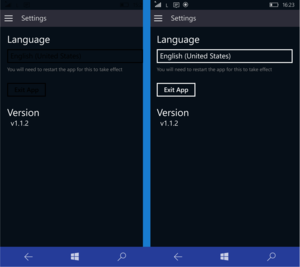 One small quibble is the new Steam app doesn't work well with Windows 10 Mobile's light theme. In my tests with a Lumia 950 certain sections of the Steam app were nearly invisible with the light theme enabled, including the Settings screen and chat windows. That's an obvious design flaw that Valve will hopefully fix with an update. (Assuming the company remembers it has a Windows mobile app. You'd be surprised how many developers don't.)
Overall, the Steam app looks pretty nice and is similar to the versions for Android and iOS. The Windows version, however, has far fewer options hidden behind the "hamburger" menu icon on the left hand side.
On Windows, you have menu options for your profile, confirmations, chat, the Steam store, the ability to switch accounts, and the app's settings. The essentials are there, but options like inventory, groups, a friends list, friend activity, and Steam news are missing.
Some of the missing options are still accessible, however—just not from the menu. Your inventory and library, for example, are available via your profile page. You can also get to various games-related information such as news and forum posts by selecting a game from your profile page.
But even with a minimal feature list it's great to see an official Steam app arrive for Windows phone users.
Notably, this app is not a universal windows (UWP) app. Most likely, Valve didn't want to do that since UWP apps work with Windows 10 devices only. Supporting Windows 10 Mobile exclusively doesn't make much sense when a good chunk of Steam users with Windows phones are probably running 8.1. Plus, Valve just needs this app to work on phones, not PCs, tablets, the HoloLens, and Xbox.