Folding Bluetooth keyboards solve a problem with virtually every tablet and smartphone out there: Their on-screen keyboards all kind of suck.
Sure, some tablets are large enough to provide users with a full-sized keyboard, but a lack of tactile feedback and key travel still make for a crummy typing experience over time. And while tablet keyboard covers or cases exist, many of them work only with a specific model, and can be prohibitively expensive.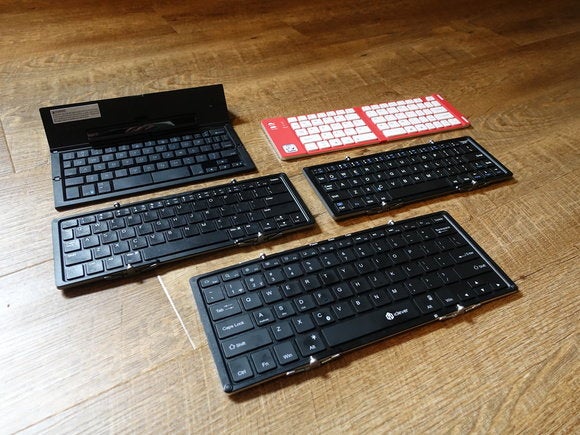 A folding Bluetooth keyboard can be used with multiple devices and can be a different size than the tablet or smartphone they're paired with. And when you're finished typing, you can fold them up into a very small and easily stowed item.
We've reviewed five popular ones, paying careful attention to price, build quality, and most importantly, how they feel to type on. We won't lie to you—none of the five achieve perfection. One is downright terrible. But if you can see past their shortcomings, you'll be able to get some serious work done regardless of where you are.
Items reviewed in this roundup:
What to look for
Highly portable keyboards typically require some trade-offs. Here's what you should keep in mind to find the right balance between ease of transport and usability.
• Size: A portable keyboard will likely be smaller in scale than a typical desktop model, but the closer it is to that ideal, the more likely the keys will be sized and spaced comfortably for typing.
• Layout: Look for a portable keyboard whose keys are arranged as similarly as possible to what you're used to on your primary keyboard at home. It's no fun having to retrain yourself to type. Two specific things to note about layout: Function keys' placement and size shouldn't diminish the experience of using letter and number keys. Important keys like Return, Tab, Backspace, Delete or Shift should always be in their traditional spots. If they're not, avoid buying that keyboard. It'll only drive you insane.
• Durability: You want a portable keyboard that's durable, but not heavy. Seek out a keyboard made from aluminum and high-quality nylon or plastic. If possible, handle a few before buying one.
• Battery monitoring: Most portable keyboards come with batteries large enough to provide weeks of typing between recharging. But only a few have lights that'll let you know when it's time to top one off. Invest in one that offers this feature, if you can.
How we tested
Each keyboard got days' worth of attention—many hours of writing, internet browsing, and general computing. We banged on keys, folded them up and then set them back up, stowed them in bags, and diligently monitored battery life. (That said, for the very long-lasting keyboards, they drain pretty slowly even under heavy use.)
All keyboards endured numerous trips with varying destinations. We tested the keyboards on planes, in cars, at cafes, at home, at friends' houses, and other places people might take them. Sturdiness comes strongly into play for these travel scenarios, as a flimsy keyboard won't handle uneven surfaces or a slippery lap with grace.