Does the world want another Windows phone? With Lumia device sales in free fall, common sense would suggest, "no." Nevertheless, Japanese company NuAns is gauging interest via Kickstarter to see if users outside of Japan want to buy its Windows 10 Mobile device, the Neo.
The company is hoping to raise at least $750,000 with backers pledging $250 or more to get their hands on the handset. The Neo was originally launched in Japan in late 2015 as a $300 phone.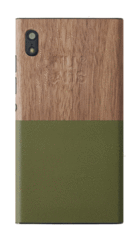 The appeal of the Neo isn't so much the device's specs as its style. The phone comes with a removable "twotone" back cover featuring two separate panels allowing for interchangeable colors. The back cover also comes with a credit card slot on the inside, allowing you to leave your wallet at home for nights out and daytime jaunts to the grocery store.
The specs of the device are nice but not exciting. The Neo offers a 5-inch touch display with 720p resolution at 295 pixels per inch, a 1.5GHz Snapdragon 617 processor, 2GB RAM, and 16GB of onboard storage. There's also a microSD slot for an extra 128GB, bringing the total potential storage of the device to 144GB.
There's a 13-megapixel rear facing camera, and a 5-megapixel snapper on the front. The battery life claim tops out at 16 hours of talk time or 400 hours standby. Just don't take a company's battery life claims too seriously until they've been tested by an independent third-party.
The Neo also has a USB Type-C port, but it's not clear if the device has fast-charging capabilities. As for the operating system, the Neo runs Windows 10 Mobile with Continuum. It also has integrated NFC, and NuAns says it will work with the new mobile payment system coming to Windows 10 Mobile with the Anniversary Update.
The story behind the story: A Kickstarter project from a small Japanese company probably isn't what Microsoft had in mind for the future of Windows 10 Mobile consumer devices. Nevertheless, Microsoft did hope that other companies would try to sell Windows 10 phones now that the Lumia line appears to be over. It will be interesting to see if NuAns' campaign succeeds with U.S. buyers since Windows phones have struggled here in the past.
The Kickstarter campaign runs until August 9, but if you're interested in the phone don't wait until the last minute. NuAns is only offering a limited number of Neo devices at $270. After those devices are gone the price goes up to $325-$380.
[via The Verge]