The bot revolution is happening fast for Facebook. After launching third-party bots in April offering everything from forecasts to your boarding pass, the social network says there are now more than 11,000 bots active on Facebook.
To celebrate, Facebook is adding a bunch of new features that could show up on your favorite bots soon—if developers enable them, that is.
Persistent menu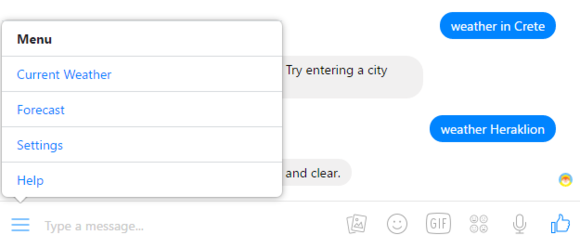 One big problem with bots is they feel a little antiquated. Many of them will only respond to certain commands, which can make the whole experience kind of tedious. You try a certain command. That doesn't work, so the bot comes back with a selection of commands you can use. Then you pick one, and the bot delivers its information.
Hoping to overcome this deficit, Facebook is introducing a persistent menu feature. With a persistent menu, users will always have quick access to key commands for the bot. Developers can enable up to five options on the menu.
Quick replies
Building on something bots can already do, Facebook is offering quick-reply buttons to make interactions with the various bots more efficient. Many bots already offer Yes/No response buttons or other next steps, such as viewing a full news story in your browser.
Now, bots will be able to offer up to 10 quick response buttons. Only the response you choose will appear in the chat history. Facebook says this makes the chat history cleaner and easier to read.
GIFs, audio, video, and more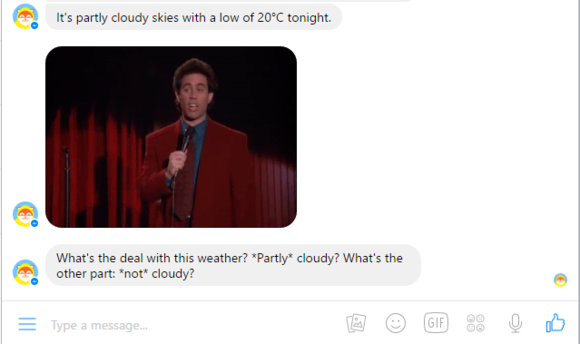 Bots can now send GIFs, audio clips, and video clips in their responses, as well as regular files. Audio and video clips will play inside Messenger. The obvious advantage of this is that bots can offer richer responses such as instructional videos or, if there's nothing better to do, an entertaining Seinfeld GIF.
Account linking
Taking the concept of customer service a step further, some bots will let you link your Facebook account with your customer account. Imagine, for example, linking your mobile phone account to Facebook Messenger. That would let you take care of some basic tasks inside Messenger, such as requesting your monthly bill balance or finding out about additional services.
Why this matters: The race is on between the major tech companies to make smart bots the next great frontier for consumer technology. Facebook currently dominates with thousands of available bots, and now new features to make the bots more user-friendly. But Google is expected to make a strong showing once its recently announced Google Assistant is more widely available. Amazon's Alexa is popular on the company's Echo products and integrates with third-party developers. Microsoft is adding bots to Skype, and pushing its "conversations as a platform" concept. Apple appears to be furthest behind—a fact that has some Apple watchers concerned—with nary a purpose-built bot in sight. Recently, however, Apple announced Siri would open up to third-party developers.