Nvidia's more modestly priced graphics cards often roll out months after the more luxurious GeForce models. Look at the last generation: The GeForce GTX 960 debuted four months after the GTX 980 and GTX 970 exploded onto the scene. A few generations before that, the GTX 660 launched a full half-year after the GTX 680.
But not the GeForce GTX 1060.
Nvidia announced its new sweet-spot graphics card Thursday morning, a mere month after the launch of the GTX 1080 and GTX 1070, and hot on the heels of AMD's surprisingly powerful, shockingly cheap Radeon RX 480—which no doubt spurred the speedy release.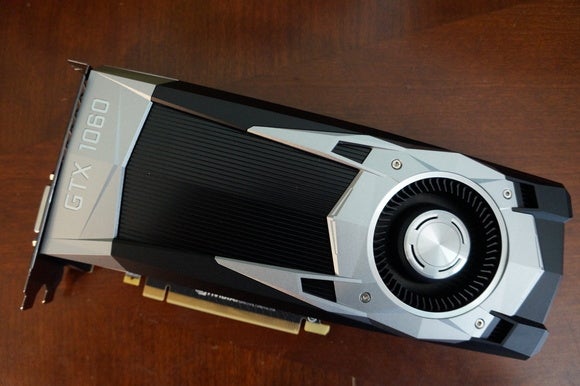 And get this: The GTX 1060 is even faster than AMD's $200 stunner and Nvidia's former $500 flagship, the GTX 980, but still won't break the bank at $250 (or $300 for the pictured Nvidia Founders Edition).
Nvidia's new 16nm Pascal-based GP106 graphics processor beats in the heart of the GeForce GTX 1060. It packs 1280 CUDA cores—down from the GTX 1070's 1920—and builds upon the same engineering tricks that lets its bigger cousins hit insane clock speeds, boosting up to 1.7GHz when extra oomph is required.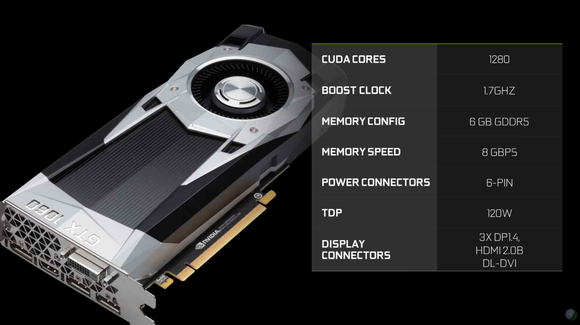 Much like AMD's RX 480, the GTX 1060 can power the Oculus Rift and HTC Vive headsets despite its relatively low cost, and Nvidia loaded the card with memory to help maintain smooth frame rates in both virtual reality and demanding games played at 2560×1440 resolution. While the GTX 1060 doesn't utilize the cutting-edge GDDR5X found in the GTX 1080 (which costs $600), the card features 6GB of GDDR5 memory clocked at 8Gbps. Nvidia's new card sports the same HDMI 2.0b port and trio of DisplayPort 1.4 connections as the other GTX 10-series GPUs to ensure compatibility with VR headsets and ultra-high resolutions alike, along with a DVI-D (not DVI-I) port for lower cost displays.
Nvidia's also maintaining its efficiency lead with the GTX 1060. While AMD's 150-watt RX 480 essentially equaled the older GTX 970 in both performance and power draw—and pulled an excessive amount of juice from the motherboard to do so—the GTX 1060 sips a mere 120W over a single 6-pin power connection.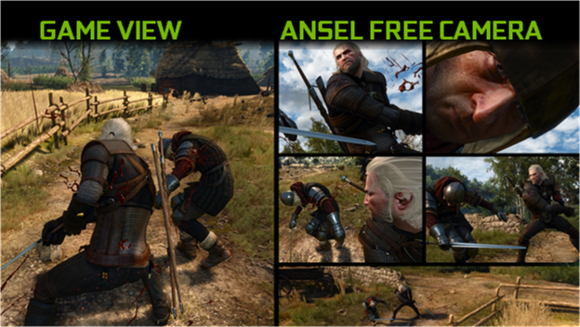 The GTX 1060 supports the same new bells and whistles as the higher-priced cards, including enhanced asynchronous compute features, simultaneous multi-projection, and the killer-looking Ansel 3D screenshot tool, which I personally can't wait to try out as an enthusiastic Dead End Thrills-wannabe.
Nvidia's making a couple of announcements on that end. Ansel will make its debut in July with support added to The Witcher 3 and Mirror's Edge Catalyst, two gorgeous open-world games that will no doubt showcase what the tool is capable of. Mirror's Edge's Ansel support is actually going live today. Likewise, Nvidia's free Funhouse VR demo will hit Steam this month, loaded will all sorts of Nvidia VRWorks tech. (Try shooting the water guns into the sky and catching the liquid on your face!) Nvidia plans to open-source the demo so that developers can make Funhouse attractions.
And yes, it'll all work on the GTX 1060. Many more games are working to integrate both Ansel and simultaneous multi-projection over the coming months.
A closer look at the GeForce GTX 1060
That's all the concrete info Nvidia's indulging today, but the company dropped a GeForce GTX 1060 in my hands more than a week ago, and examining its physical construction reveals a few more interesting tidbits. For an even deeper dive into the design—inside and out—check out our GeForce GTX 1060 first look.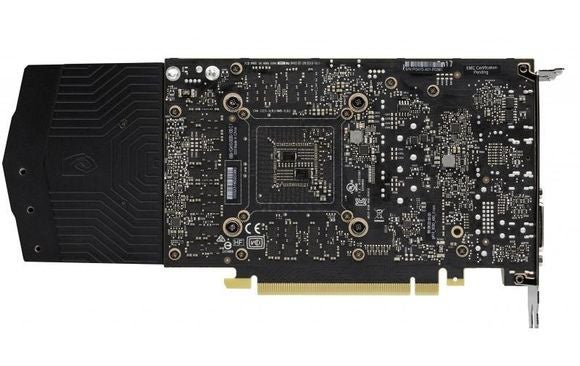 Similar to what we noticed with the RX 480's visual preview, the GeForce GTX 1060's circuit board is small—only about seven inches long, which is roughly equal to the RX 480's PCB and a mere inch longer than the remarkably tiny Radeon Nano. That portends a potentially exciting future for itty-bitty mini-ITX GTX 1060 variants, especially since Gigabyte's already managed to cram the more powerful GTX 1070 into a mini-ITX form factor.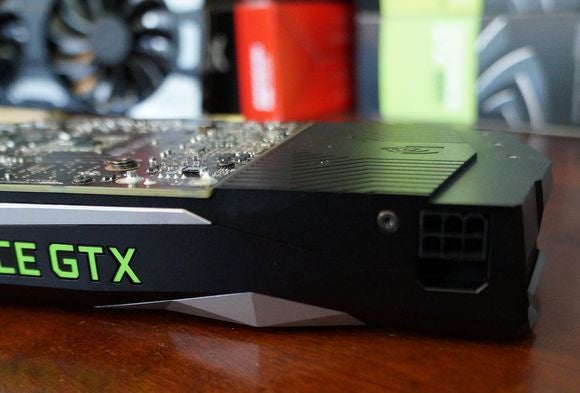 Also like the Radeon RX 480, the GTX 1060's a full-length dual-slot graphics card despite its shrunken PCB. The final quarter of the card is pure fan and shroud—almost. Interestingly enough, Nvidia still slapped the 6-pin power connector on the end of the card's edge, and not on the PCB itself. That may make aftermarket water cooling tricky.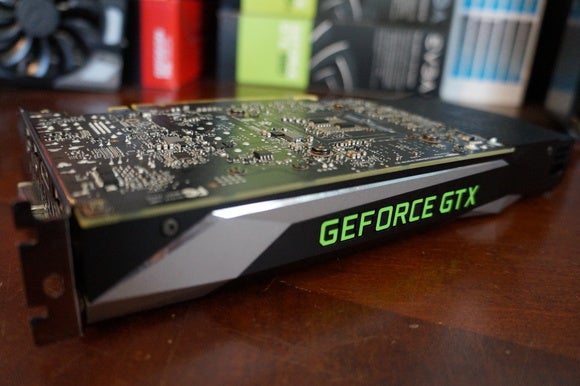 But more crucially, there aren't any connectors for Nvidia's fancy new SLI bridge on the GTX 1060. That probably has less to do with Nvidia's tightening of the multi-GPU belt than sheer economics. Dual GTX 980s outpunch the $600-plus GeForce GTX 1080. If the $250 GTX 1060 indeed out performs the GTX 980, you'd be able to pick up a pair of them for just $500—instantly undercutting the GTX 1080's market position despite the questionable future of multi-GPU support in games.
Here's what Nvidia's Bryan Del Rizzo said when I asked him about it:
"GTX 1060 delivers tremendous performance and power efficiency in its class.

However, SLI was created to build the world's fastest gaming platforms, bar none – and squarely focused on enthusiast and hardcore gamers.

In fact, very few gamers build SLI machines out of mainstream GPUs.

With SLI we focused our efforts on creating the biggest and the best gaming PCs possible, using our high end enthusiast-class GPUs with our new high-bandwidth bridges."
The lack of SLI may be a major bummer for enthusiasts, but it makes sense here given that Nvidia's offering the GTX 1060 for such a comparatively low price. AMD's $200 RX 480 supports up to 4-way CrossFire setups, however. It's worth noting that games built using DirectX 12 and Vulkan can opt to directly support multi-GPU setups, though.
Both the GeForce GTX 1060 Founders Edition and custom cards from Asus, Colorful, EVGA, Gainward, Galaxy, Gigabyte, Innovision 3D, MSI, Palit, PNY and Zotac will be available in just a couple of weeks, on July 19.
The story behind the story: The real question, though, is how much GeForce GTX 1060 stock will be available at the graphics card's launch. The GTX 1070 and GTX 1080 still suffer from crippling supply shortages more than a month after their respective launches, which Nvidia says is because it ramped up production faster than for any other GPU in the company's history. It certainly feels like AMD's $200 RX 480 forced Nvidia into rushing up the GTX 1060's launch. Will you actually be able to buy one of Nvidia's new cards when they hit the streets? That's the million-dollar question.