At a Glance
Expert's Rating
Pros
Tough and submersible
Can light up objects almost half a mile away
Cons
Too much flashlight for most people
Heavy and bulky
Best Prices Today
The smartphone may have replaced the flashlight for most consumers, but when you really need to light it up, nothing beats the real thing.
And when it comes to a really good flashlight, it's hard to beat the Fenix RC40. Upgraded this year with the latest Cree XM-L2 U2 LEDs, the RC40 (available for $380 on Amazon), will put out a scorching 6,000 lumens from its six-LED cluster. That's enough output to reach almost half a mile away.
Mind you, a typical 4D alkaline Maglite might hit 122 lumens. Using the RC40 at an abandoned military base, I could easily light up the sides of ginormous aircraft hangers.
The battery and the build
With great output, comes great power though. The RC40 eschews alkalines, which could never support its current draw, in favor of what appears to be a custom gigantic lithium-ion cell.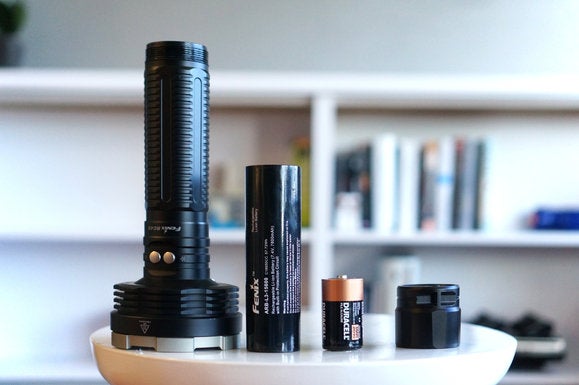 The battery is the approximate size of two-and-a-half D-cells stacked end-to-end. The battery is charged via a standard barrel charger plugged into the end of the flashlight. Fenix includes an AC power brick as well as a cigarette-lighter adapter.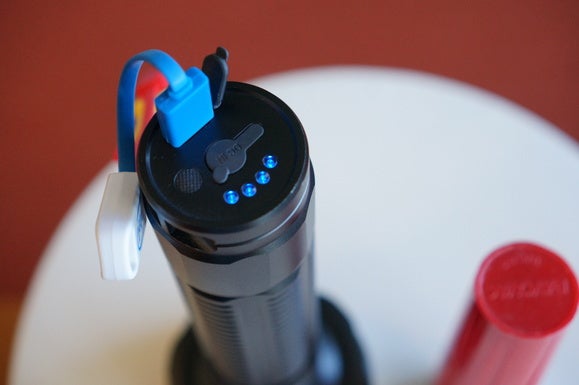 Perhaps even cooler, if you need USB power, there's a single USB Type A port on the end of the flashlight, so you can use the power bank to charge your phone or other device. I measured output of the USB port to my Galaxy S5 phone at just under 1 amp.
All of the ports have gaskets and Fenix rates the flashlight at IPX-8, saying it can be fully submerged up to two meters underwater.
Besides being submersible, the RC40 is also tough. During a video shoot, I dropped the light—bezel-side down—from about three feet onto solid concrete. The antireflective coated glass lens didn't shatter and the only damage was a slight deformation of the bezel. Functionality wasn't impacted at all.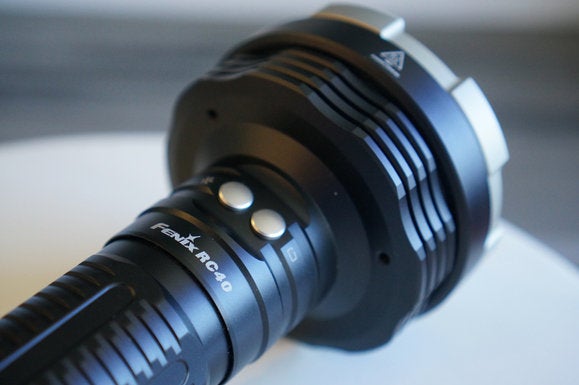 The RC40 in action
The RC40 features two buttons for operation. The right button cycles through the power levels: Eco, Low, Medium, High, and Turbo. Eco is 45 lumens for up to 125 hours, low is 500 lumens for up to 18 hours, medium is 2,000 lumens for a little over 4 hours, high hits 4,000 lumens for just under 2 hours, and the turbo mode will hit 6,000 lumens for 1 hour— but don't expect to run the flashlight at 6,000 lumens continously.
To prevent the LEDs from overheating, the light output will drop when the temperature hits 149 degrees Fahrenheit. This is typical in high-performance LED lights, which throttle output to protect the LEDs from damage. For what it's worth, I ran the light on turbo mode on a cool night and didn't notice any reduction in output after five minutes. Your mileage will vary depending on the conditions, of course.
The left button lets you activate the strobe, or SOS mode. Pressing both buttons locks the flashlight. If you try to turn on the light while locked, it will blink three times to let you know it's locked.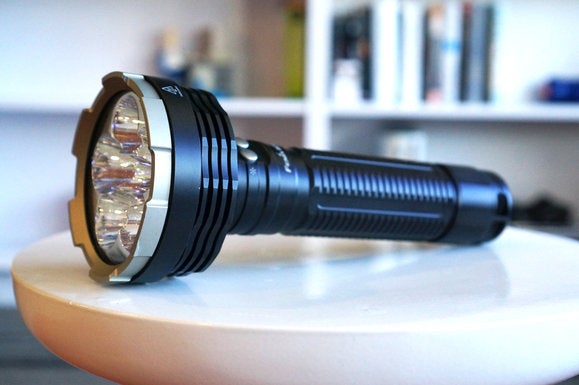 Flashlight aficionados will bounce beams on a ceiling to measure relative output, and the RC40 will totally illuminate a small room. Like I said, I took the RC40 to an abandoned military base to creep around and could easily light up whole buildings 1,000 feet away.
The RC40 is what flashlight fans call a "thrower," meaning its beam profile is better for lighting up objects far away. It's bright enough to be competitive with less-efficient HID (high-intensity-discharge) flashlights while giving you better battery life.
Walking between the decrepit airplane hangers, I felt like I had a vehicle-mounted searchlight rather than a flashlight. The RC40 was bright enough to attract the attention of the sprawling base's sole security guard and get me kicked out.
You can thank Moore's Law for that, as the efficiency of LEDs has advanced as quickly as computer processors. Last year's RC40 could only push its four Cree XM-L U2 LEDs to 3,500 lumens. Without changing the power source, Fenix is now able to push six Cree XM-L2 (note the 2) U2 LEDs to 6,000 lumens.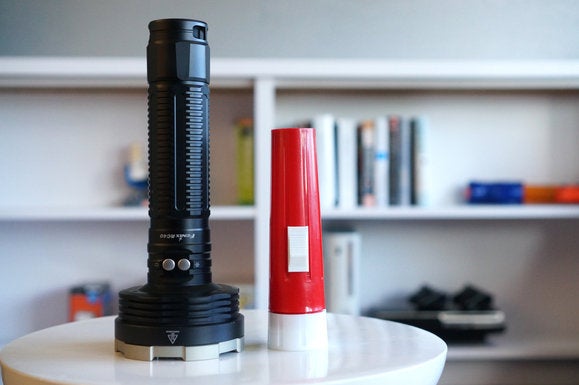 The downsides
So what are the negatives? The most obvious one is the power source. I have a large collection of flashlights and most of the higher-performance ones run on lithium-ion, as well. But they use commodity 18650 cells. The large ARB-L3-15600 in the RC40 is far from common. Replacements are about $65 on the internet and unless other flashlight makers or device makers support the form factor, you better hope Fenix keeps sourcing them for you. Should Fenix stop selling them, that'll be it for the flashlight once the battery wears out.
The other negative is the bulk. While a 10.7-inch flashlight with a 4.6-inch diameter head would be no big deal in 1994, we've come along way in flashlight technology. People are spoiled by the output and size of today's torches. You can get a pocket light that's brighter than the heaviest flashlights from the 1990s.
Most people, frankly, just don't need this kind of output unless they're a cop, on a search-and-rescue team, a night hog hunter, or, well, a flashlight buff.
That's a pretty small market, which explains its steep price. That doesn't take away from the performance of the RC40, though. If you're looking for the ultimate flashlight, the RC40 should definitely make the short list.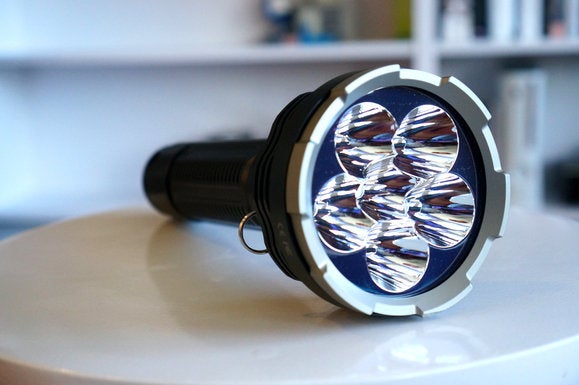 Best Prices Today
Note: When you purchase something after clicking links in our articles, we may earn a small commission. Read our affiliate link policy for more details.
One of founding fathers of hardcore tech reporting, Gordon has been covering PCs and components since 1998.