When Turtle Rock teased an Evolve announcement for today, I assumed it was a set-up for Evolve II. Call me cynical, but that's often how the industry works nowadays: Screw up the first go-round, then catch them back on the second. Destiny did it. Titanfall's doing it.
But the reality concerning Evolve is far more interesting. Turtle Rock is trying to save it—by making the monster vs. hunters multiplayer game free-to-play, among other things. Yes, as of roughly noon Eastern time today Evolve is officially a free-to-play game on the PC, albeit in beta form. Writes Turtle Rock:
"When Evolve launched, the reception wasn't what we expected. Sure, there were some good reviews. There were also bad reviews. Yes, there was excitement. There was also disappointment – for players and for us. The DLC #%&!storm hit full force and washed away people's enthusiasm, dragging us further and further from that first magical pick-up-and-play experience.

We want that magic back and we aim to make it happen. We've made a lot of changes, improvements and additions to Evolve over the past year and we've got a lot more coming… Most importantly, we just want to put the game in your hands. Try Evolve out. See what you think. We hope you like it and we're not going to charge you to give it a try."
If Turtle Rock truly wants to salvage Evolve then free-to-play is probably a smart move, as I can't imagine many people were still playing prior to today. The "DLC #&$!storm," as the news post puts it, certainly didn't help, though there were also problems with the longevity of the actual game.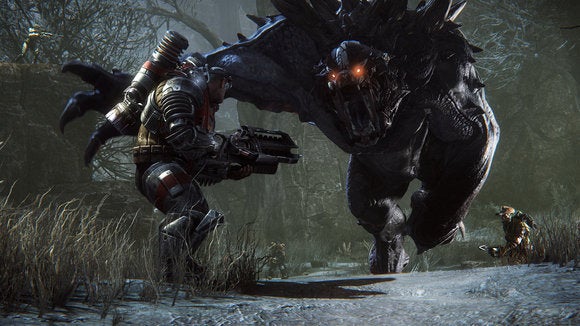 Supposedly Turtle Rock is addressing those too. There's a lengthy section about upcoming changes, including reworked trapper/medic roles to make them easier to play, more customization options (cosmetic free-to-play items I'd guess), and a new progression system.
And for those who've already paid for the game? Or paid for the game's ludicrously over-priced DLC?
"Anyone who owns classic Evolve will be given "Founder" status in the new free version, and all the content you already own comes with you to the new version. As long as we work on Evolve, we will show our appreciation for our committed fans and early adopters with gifts, rewards, and special access. Why? Because you believed like we did, and we will never forget that."
So that's that. I don't know whether Turtle Rock will successfully save Evolve, nor if it can reposition the narrative around the game from "shameless cash grab" to "consumer-friendly funhouse," but I've got my fingers crossed for them. As I said up top, they could've easily written it off and sold everyone on an Evolve II instead. Color me pleasantly surprised by today's announcement.