It's almost here. Microsoft's Anniversary Update (AU) for Windows 10 rolls out to users on Tuesday, August 2. The second major update to Windows 10, the Anniversary Update promises a ton of new features.
Everything you need to know
Windows Insiders have seen sneak peeks of AU features in preview builds over the past few months, including big changes like extensions for Microsoft Edge, the ability to run a third-party antivirus suite alongside Windows Defender, full-screen Game Bar support, multi-account switching for Skype's Universal Windows Platform (UWP) app, and smarter inking features via Windows Ink.
All the Anniversary Update changes aren't necessarily for the better, however. In mid-May, we learned that Microsoft may increase the number of promoted app tiles in the Start menu. There's also an insane rumor that Windows-watcher Brad Sams recently reported on in his podcast: that internal AU builds at Microsoft include pop-up advertisements for apps and games when you have the Windows Store pinned to your taskbar. It's far from clear, however, if this is just an internal test that will never see an actual release, or a desperate attempt to get more users to engage with the Windows Store that might actually see the light of day.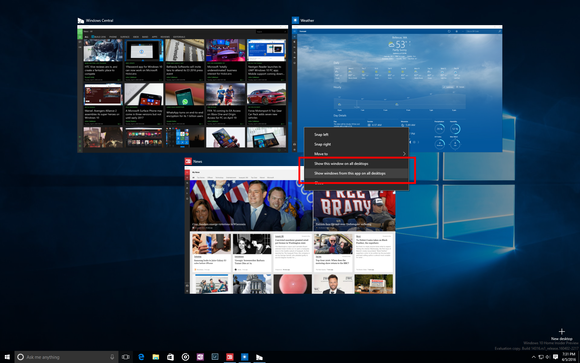 While Microsoft will be rolling out new Insider previews between now and August 2, we don't expect another build with major new features before the big day. At this point, the company has enough on its hands just squashing bugs and fixing any other outstanding issues.
For non-Insiders who've already upgraded to Windows 10—remember, the deadline to get the free upgrade is July 29—the Anniversary Update will land on your PC via Windows Update. The rollout will happen gradually, beginning August 2, "given the scale of delivering updates to more than 350 million devices around the world," Microsoft told PCWorld in a written statement. "Our rollout will be measured and deliberate to ensure we deliver a great customer experience."
If you don't receive the Anniversary Update automatically go to Start > Settings > Update & security > Windows Update, and then click Check for updates. This should force the Anniversary Update for your PC.
If that doesn't work, the AU will also be available via Microsoft's Windows Media Creation Tool. This is a great backup plan for anyone having trouble accessing AU via the regular Windows Update. The MCT was designed for new installations, but many people also use it as a way to do an in-place upgrade.
Microsoft advises that you'll need roughly 3GB of internal storage space for the Anniversary Update, and don't forget to do a backup before the big day arrives. For a more detailed look at how to get ready for the AU update, check out our previous tips on preparing for a hassle-free Windows 10 upgrade.
Some of the features the AU promises
The Anniversary Update promises to bring Windows 10 closer to the operating system we all want it to be. The AU beefs up inking capabilities, and offers deeper integration between your PC and mobile device via Cortana (iPhones not include). There will also be improvements to Edge, making it a web browser you might actually want to use, and—for you hard-core types—a Linux Bash shell.
Check out our previous list of all the biggest improvements coming to Windows 10 with the Anniversary Update, as well as our story on the features users are clamoring for. Below are other changes we're excited about:
Re-designed Start menu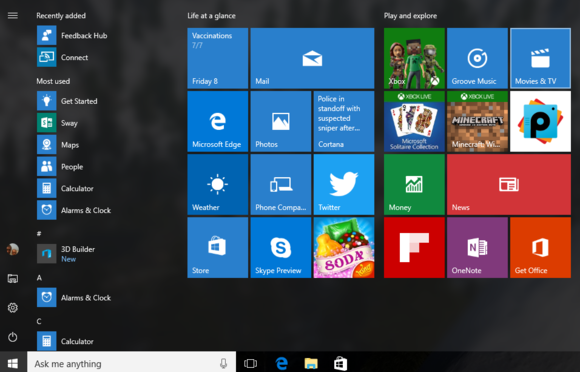 The Start menu is getting a few tweaks that will make it a little different than what you have now. The most noticeable change is that the All apps option is gone. Instead, you'll just get the alphabetized list of apps and programs the minute you open the Start menu. Meanwhile, items like the power button, the Settings app, and your account picture will move under a "hamburger" menu icon on the upper-left side.
'Chaseable' Live Tiles
Right now, if you click on a Live Tile in the Start menu it takes you to an app's homepage. After the Anniversary Update, if you see an interesting game on the Windows Store tile, for example, clicking on the icon takes you to that game's page in the app. It's a small but intuitive change.
The iPhone on your taskbar
Microsoft is going nuts with notifications in the Anniversary Update. You'll be able to get phone notifications on your PC, the Action Center is getting a revamp (we'll talk about both of those shortly), and Windows apps will soon get a notification count badge on the taskbar. This is similar to the notification count badge iPhone and Windows 10 Mobile users see on their devices.
Web notifications in Action Center
One final addition for Edge will be support for website notifications. If you currently use Chrome and get alerts from Facebook even when the site isn't open, then you're familiar with web notifications. A big difference with Edge's notifications, however, is they'll live in the Action Center with all the rest of your notifications, unlike Chrome's.
New emoji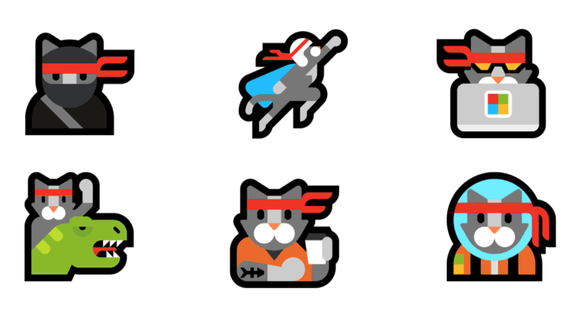 Microsoft cooked up some special Ninja Cat emoji additions to Windows 10. The new OS will also support Unicode 9.0 with all of its new emoji including ROFL, facepalm, and bacon.
Calendar appointments in the taskbar
If you click on the clock in the Windows 10 taskbar right now, you'll see a calendar that looks a lot like a mini-Windows Store app. After the Anniversary Update, this calendar will add listings for upcoming appointments right below it. A small but handy addition.
Tap to Pay
Finally, Microsoft is getting in the game of mobile payments by partnering with MasterCard and Visa to bring NFC-based tap to pay to Windows 10 Mobile devices. The feature will be U.S.-only at launch and part of the new Wallet mobile app.