One of the most interesting features of the Anniversary Update for Windows 10 is the beefed-up inking capability. Particularly when combined with Cortana, which can turn handwriting into actionable tasks such as reminders.
It's a neat feature, and you don't have to be a stylus-wielding user to take advantage of it. Even someone with a keyboard and mouse can use Cortana's smarts in collaboration with the new Sticky Notes app.
Here's a preview of this new functionality, and how it currently works in the latest Insider Preview Build of the Anniversary Update, before the new bits roll out to our PCs on August 2.
It all starts with Sticky Notes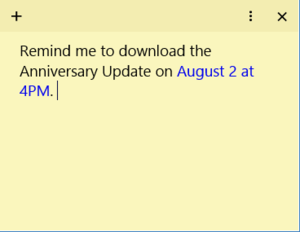 Windows has had a built-in Sticky Notes program ever since Windows XP arrived nearly 15 years ago. In that time, it really hasn't changed that much: You type something on a sticky note, and it sits on your desktop until you deal with it.
With the Anniversary Update, Microsoft is converting the old program into a shiny, new Windows Store app. It's still an app that comes bundled with Windows, but now it's built on a different platform and it integrates with Cortana.

Creating a sticky reminder in the Anniversary Update
Here's how it works. First, type Sticky Notes into Cortana's search bar and select the app, or go to Start > S > Sticky Notes. The window that appears doesn't look all that different from previous iterations—though thankfully the horrible handwriting font is gone.
Now, type in a reminder such as, "Remind me to download the Anniversary Update on August 2 at 4PM"—I'm just using 4 p.m. as an example; I have no idea what time the update will actually drop.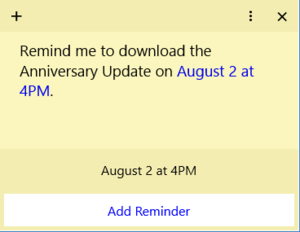 Now if you wait a few seconds, the "August 2 at 4PM" part will turn into a blue link. Click it and a button appears at the bottom that says Add Reminder. Click Add Reminder and Cortana pops up on the taskbar with your reminder ready to go (see the picture at the top of this post). Now click Remind in the Cortana panel and you're done.
The reminder even includes a copy of your original Sticky Note, which doesn't make much sense when you're typing but would be helpful for stylus users who want to see their own handwriting.
It feels like a lot of steps but it's really not. If you're not a fan of the new Sticky Notes method you can also set Cortana reminders through voice commands or by simply typing them out in Cortana's search box.